Together with his disciples – Edmundas Seilius, Vaidas Vyšniauskas, and Merūnas Vitulskis – Maestro Noreika is giving good-bye concerts in Lithuania's major cities. The first of them took place last Saturday in Alytus. On the eve of the concert, Noreika met with 15min to talk about his leisure, career, untapped potential, and lessons drawn from life.
- Have you had the chance to peacefully sit at a lake with a fishing rod this summer?
- With that weather, I couldn't even do some proper fishing! The heat almost made me faint at the lake – before I noticed it, I was starting to chat with the Lord. And then it got too cold.
I really sang a lot last season, so I wanted to give some rest to my voice throughout the summer, to not get cold. Interesting things can happen with your voice – sometimes you're so tired you can't even talk, your throat aches. But a little time passes and, unwittingly, you start humming some folk tune or a song that your mother used to sing in childhood – that's the first sign that your voice is fine. My gear had some rest this summer.
- This autumn promises to be very intense and emotionally charged.
- Yes. A friend of mine, Eugenijus Šaltis, talked me into singing a little while longer in big concerts. What else is there to do – singing is the art I am best at. Whereas as a kid, I used to write poems and sit at the same school desk with Tomas Venclova.
- There are not many singers in Lithuania who venture into publicly announcing that they are quitting the big stage. How did you make that decision?
- You know, on the occasion of Klaipėda's anniversary this year, Giedrius Kuprevičius wrote an oratorio that he first offered to me. I studied the piece and realized it was too late for me to perform it. It required being in a certain shape, a lot of training. I thought – I'd need so many rehearsals and what if I got tired and wouldn't be able to perform? What was the author to do then? You must take such things into consideration – you can't outbid yourself.
The programme in the farewell tour "Thank You for Your Love" is made up of pieces that I still feel confident about performing and that can showcase a wide tenor range. My voice still sounds well, there are no crackles in the timbre.
After the tour is over, however, I will be performing in small spaces only. I find chamber repertoire more acceptable – it does not make people pity me; on the contrary – it is quite demanding, so I can feel better about myself.
- You demand a lot from your talent and, as a result, your career has been acknowledged by awards in Lithuania as well as abroad.
- I can brag that the American magazine Opera News included me in the list of tenors of the century for my part as Edgardo in Lucia di Lammermoor, alongside Luciano Pavarotti, Enrico Caruso, and others. It is an acknowledgement for work worth more than one season or decade!
I'm also proud of deserving the highest award from Lithuania – the Order for Merits to Lithuania Grand Cross that I cherish a great deal. Interesting that I was given the first ever copy of the order. [Late poet and playwright] Justinas Marcinkevičius received the second one on the same day.
- Despite a successful on-stage career spanning 55 years, you've repeatedly said that you haven't had the opportunity to exploit your potential to the very fullest.
- In the Soviet Union, a singer could not personally negotiate and sign a contract with managers.
After I gave a performance at the Teatro alla Scala in Milan, I was offered a one-year contract at Tel Aviv Opera House and also invited to San Francisco, to perform in Manon Lescaut. While still in Italy, I made a call to Moscow, informed them about the offers, and they told me they'd give an answer... within a week. But just think how many tenors were waiting in line – the manager expected a reply the next day!
Later I met with the Minister of Culture of the USSR and asked why they wouldn't let me out to perform – I was always giving away almost all of my fees. Out of several thousand US dollars, I would keep only 167 dollars. But the minister just brushed me off with the legendary saying: "That's not something we do here."
I was in my early 30s then and theatre managers were willing to sign me up, since I would have made a career and earned them a decent buck. When we regained independence, I was 55 already – no one would take me, since it takes at least ten years to earn a name! No one needs old men.
- They wouldn't let you go to the West, while you yourself refused to work at Moscow Bolshoi Theatre?
- I performed about 50 times in the Balshoi Theatre as guest singer, I even opened Bolshoi's tour in La Scala, with the president of Italy in the audience. A little later, they invited me and offered a full-time position, but the proposition was quite unexpected and I turned it down. Then I was told I would not be performing in that theatre ever again – since it was not an offer that people refuse. It was unheard of.
- Looking back, do you now regret any of the choices you made?
- To be honest, I do not. I've a great family, I've been living with Loreta for thirty years, we get along well. Had I had more career opportunities, I might not have created a new family, I might have even failed to preserve my voice, since there were risks of "wearing out" my body.
Life could have been different, but it would still be connected to Lithuania, in one way or another, a country I hold very dear.
- You fans sometimes dub you the golden voice of Lithuania, or the Lithuanian Pavarotti, the grandee of the stage. Which signs of reverence please you most?
- You know, the greatest joy that almost left me speechless, a moment of unexpected happiness and pride, came four years ago, when I was performing in a New Year gala in Kaunas. As soon as I entered the stage, before I even began to sing, everyone in the audience stood up. I was so touched, I had difficulty performing the piece.
- In addition to pleasing your listeners, you are a great master to other singers whom you teach. In spring, you said you'd give up your role as the head of the Singing Department at the Lithuanian Academy of Music and Theatre. Have you changed your mind?
- I told the president of the Music Academy that I wanted to resign as department head since I had more trouble working. When I started in the post, I had more energy, I put together a solid programme, I assembled a team of qualified teachers. Now, the programme might be developed further, but I do not have enough energy for that. I would have burdened everything.
- You've once said that your first tutor, Antanas Norvaiša, gave you a solid base in singing, while the celebrated Kipras Petrauskas did not possess a calling for tutoring. You are now yourself a tutor. Do you feel that you're doing as good a job in sharing your experience with others as being on stage?
- I think I'm good at teaching – I've shaped about forty singers most of whom are very good. Among my tutees, I've had late Sergej Larin, who achieved international fame, Edgaras Montvidas, Kęstutis Alčiauskis, Vaidas Vyšniauskas, Audrius Rubežius, Arvydas Markauskas, Edmundas Seilius, Merūnas Vitulskis. I can see that I'm providing an entire school for them.
Every once in a while, students come to me and ask to sit at my lesson. I always say yes, on condition that their tutors are informed about it. I teach people to give up any scheming, since I do not do it either.
For instance, I have great respect for Merūnas' first tutor Jonas Antanavičius who did a great job in giving him the basics before handing him to me. And when I heard, through third parties, that Marta Lukošiūtė wanted to have a few sessions with me, I instantly contacted her tutor Sigutė Stonytė. I later worked a lot with Marta, but this never clouded things between me and Stonytė.
I think it is a matter of tact and culture. Both on my part as a teacher and on the part of the would-be tutee.
- That must be the reason why your tutees say that Noreika gives you lessons in singing as well as life.
- I explain many things to them and I do not rush with lessons. I tell everyone that I'm not teaching them to get a good exam mark – they will start to sing properly in their final year at the earliest, perhaps several years after graduation. I provide them with a school – and after that, it is up to them.
In your dealings with people, you must first treat them decently and only then demand that they do the same. That's all (smiles).
- Decency and integrity is what kept you a healthy and bright person?
- I might have kept my health because I am not a nightbird, I like to go to sleep on time and rise early. I stick to the schedule even during holidays, I get up between half five and six and do something, like learning new lyrics.
Except that now, it is getting increasingly difficult to memorize them. Before, I could learn several stanzas an hour, while now I really have to toil.
Once in my youth, I was asked to rescue a performance of Rigoletto in Moscow which was due the following day. I said OK, even though I didn't know the part. I found myself a clavier, boarded a plane, and used the time onboard for memorizing. I learned the part in 7-8 hours. I was an adventurer back then (laughs). Not any more.
The ship has sailed. I do prepare several new pieces each season, but I do not want to learn them. I'm too lazy. I'd rather attach a hook to a fishing-line than learn.
But I've already got a huge repertoire – there are 800-900 pieces in my notebook, I could rehearse them a few times, add a stanza, and perform quite well.
- On the subject of notebooks, can your fans expect a memoir book?
- I have just bought a Japanese voice recorder today – so now I'll be able to recount my memories while doing something else or going somewhere. Viktoras Gerulaitis will be putting it down on paper. He has accumulated a huge archive of my music, over fifty boxes.
I intend to give a witty account of my life, starting with the early days of my childhood – I was born on the same day as [composer and painter] Mikalojus Konstantinas Čiurlionis, [former president] Algirdas Brazauskas. I can remember many things, even though I was a small kid – things that no one has documented yet, so I want to share them.
Virgilijus Noreika
Virgilijus Noreika was born in 1935 in Šiauliai. He graduated from the Lithuanian Academy of Music and Theatre in 1958, with a degree in solo singing (class of Kipras Petrauskas). 1965-1966, he was the first post-war Lithuanian singers to intern at the Teatro alla Scala in Milan, where he prepared six parts.
Since 1957, he has been a soloist at the Lithuanian National Opera and Ballet Theatre. Between 1976 and 1991, he headed the theatre. In 1993-1994, he taught in the Latin American Singing Academy in Caracas, Venezuela.
Over the span of his career, Noreika has performed in Moscow Bolshoi Theatre (over 50 times), Berlin State Opera, Grand Opéra in Paris, Buenos Aires Teatro Colon, in opera houses of Stockholm, Sofia, Belgrade, Budapest, Bucharest, Warsaw, Prague, Bratislava, Kiev, Minsk, Tallinn, Riga, and other cities.
Noreika has prepared over 50 roles, including leads in many famous operas by Lithuanian and foreign composers. He has given over 700 solo concerts. He has performed tenor parts in Requiem by Giuseppe Verdi, 9th Symphony by Ludwig van Beethoven, cantatas by Alexander Arutiunian.
He has been teaching at the Lithuanian Academy of Music and Theatre since 1976. Art director and tutor at the Opera Studio of the Lithuanian National Opera and Ballet Theatre since 2003. Guest professor at the Estonian Music Academy since 1997 and its Singing Department head since 2000.
In 1995, Noreika was awarded the 4th class Order of the Lithuanian Grand Duke Gediminas. In 1995, he received the Order of the Polar Star of Sweden. In 1997, he was honoured with the Kipras Award from the Lithuanian Opera Lovers' Society and the Golden Disc award of the Lithuanian Musicians Union in 2001. In 2007, he received the National Culture Advancement Prize and in 2010, the Lithuanian National Culture and Art Prize.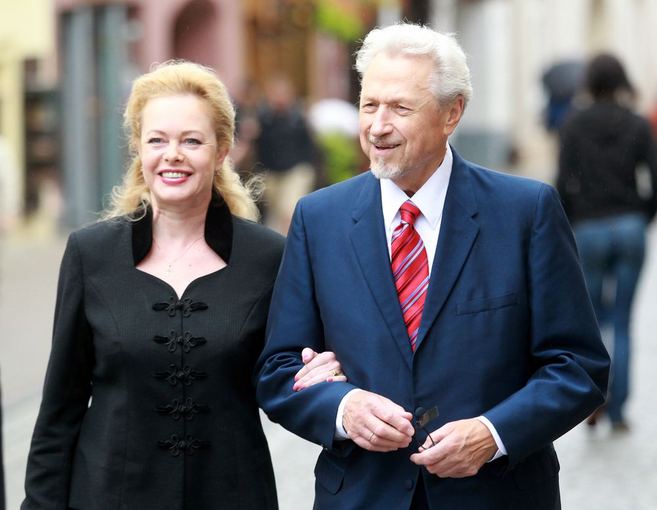 Irmanto Gelūno/15min.lt nuotr./Virgilijus Noreika and is wife Loreta