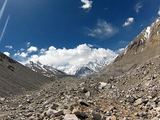 E.Nichols nuotr./Everest
As Edita has informed on Wednesday night, weather conditions are tough. Most of the team members seem to be suffering from one ailment or another but this is to be expected with such an increase in altitude in such a short time. They are at slightly over 6,400 metres now and going higher.
Edita herself says her coughs is getting better.
On Wednesday, the Sherpas accopanying the team had already hiked up oxygen supplies to the North Col and come back to the Advanced Base Camp (ABC). Team leader Phil Crampton says there are 60 oxygen tanks waiting that the climbers will be using in the near future.
E.Nichols nuotr./Checking the equipment
On Thursday morning, Edita and her mates started up towards the camp set up by the Sherpas. According to Crampton, strong winds are in forecast and should weather conditions turn out to be too severe, the mission can be interrupted.
According to the plan, once the team reaches the 7,020-metre mark, they will climb back down to the Advanced Base Camp.
"The plan is to go up to the ABC for a long rotation which may last from 5 to 8 days. At the ABC, we spend three nights acclimatizing before we climb higher, but no more than 7,500 meters. During the first rotation above the ABC, we may go half way to the North Col (7,020 meters) or if we are strong enough, we will tag the North Col and go back to ABC. We will rest a day or two, and then do another rotation to the Col. Tagging the North Col once (twice if possible) is our aim. We have no plans of staying or sleeping there before our summit push," Edita had explained the plan before.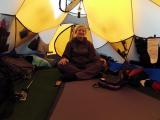 E.Nichols nuotr./Inside the tent
According to team leader Phil, sleeping above 7,000 metres is not advisable, because every moment spent so high up drains climbers' energy. Staying there is possible only after a thorough acclimatization and with a supply of oxygen.
After tagging the North Col the second time, the climbers will descend to the ABC, where they will rest for a few days and go furthed down to the Base Camp. The second rotation will be over. Edita hopes that it will be enough for acclimatizing and once the weather is good enough, the team will push for the summit.
Climb dedicated to poor African region
Edita dedicates her ambitious quest to a campaign called "Everest for Sahel 2013". She says she wants to draw attention to a serious food crisis that affects millions of families in the region and also collect some funds to help.
"When I was working in Niger, the media initially paid much attention to the food crisis. But later the interest abated. And people there are suffering not just famine. An armed conflict is currently raging in Mali," she says.
Sahel is a zone in west Africa stretching across eight states. The food crises was triggered by crop failure in 2011 due to adverse natural conditions. As stocks went down, food prices spiraled up. Many families cannot afford it and risk starving to death.
Edita saw suffering people with her own eyes and resolved to try and help them – she thought she could draw attention to their problems and maybe even collect some money for relief. She says her life changed after seeing suffering people.
"To finance the Everest trip, I spend my own hard-earned money and borrowed funds. I finance all my expeditions myself. This trip, too, is entirely covered by my personal funds and those of my sponsors (this time, though, sponsors cover only 3 percent of the trip, - 15min). Meanwhile all the money donated or collected during the expedition, and intended for the people of Sahel, does not go to my own account but rather to one of the World Food Programme," Edita points out.
You can support Edita's Everest quest. To learn more about how you can contribute, press here.
To support Edita directly, press here.