The Utena-born newcomer to Toronto Raptors says he does not have a secret formula to make him an overnight success in America, so he will have to climb up the NBA ladder slowly and one step at a time.
The 2.13-metres-tall center is not deterred by challenges. On the contrary, he is looking forward to competing with world's best players, chances to grow and establish himself in a new team. NBA commentators are already forecasting great success for Valančiūnas, who was number five pick in last year's NBA Draft, but the Lithuanian basketball player looks at such prophecies reservedly.
- Throwing balls as a kid, you must have imagined yourself playing in an NBA game, scoring the decisive points. How do you feel now, knowing that these daydreams are to become a reality?
- The feeling is hard to describe. I feel excited, restless, interested, and curious about how things are over there. As for my dreams, even to be able to test myself in the most powerful basketball league of the world is a dream come true.
- What are you dreaming about now?
- I'm dreaming to go over there and establish myself in the team.
- You've already participated in NBA rookie training in August. Have you experienced the NBA spirit? What have you learnt there?
- I learned many useful things in the training. For example, how to protect my money and myself from various dangers one encounters in the NBA.
- NBA players are measured with their shoes on. How much have you "grown" in that manner?
- During Treviso camp in June 2011, I measured exactly 211 centimetres, without shoes. Footwear, I think, adds 2 to 3 centimetres. I haven't measured my height since, but I certainly will once I'm in Toronto.
- When are you going to Canada?
- I am leaving for Canada this Saturday. Preparations for the season officially start in the beginning of October, but players have to come earlier. Because I didn't have any rest last summer, club leaders were very generous and gave me extra time off after the Olympics.
- Did you spend the time resting or getting ready for the NBA?
- As soon as I returned from rookie training in New York, I was in gym. I'm working with trainer Gediminas Adomaitis, following a special training programme prepared by the club.
- How are preparations for a new season in the NBA different from what you've done before?
- I cannot say yet how preparation will be different in Toronto. Ask me again in our next interview.
- Do you know where you're going to live in Toronto? Are you planning to get your own place and invest into real estate, just like Žydrūnas Ilgauskas did?
- At first, I'll be renting an apartment close to the arena. I'd like to get to know the town first and then decide in which neighbourhood I'd like to live. I might consider buying a place then. So far, I can only dream of a career like Žydrūnas'. He is a great basketball player.
- Raptors strategist Dwane Casey is known as a tough defence specialist. Will that be an advantage or disadvantage for your playing time? Perhaps you've already spoken to the coach and know the role he's envisaged for you?
- Yes, the coach puts much stress on defence. That will be a great way to test myself, since I've still a lot to improve in defence. So far, we haven't spoken about my role on the floor.
- What do you think you will lack most during your first year in the NBA?
- I think I will be short on physical strength and experience. It will take time to adapt to referees and busy travelling schedule.
- How do you imagine your first season? What achievements would make it a good start? A spot in the starting five, enough playing time, solid statistic of scoring and rebounds?
- I will be happy if I feel that I've made progress.
- Raptors' frontcourt last season consisted of little-known, mediocre, or retiring players: Solomon Alabi, Aaron Gray, and Jamaal Magloire. All are currently free agents. Will that make it easier to establish yourself? Or perhaps, on the contrary, there won't be any role models to learn from?
- I value competition. It drives us forward, gives motivation. Besides, I want to have the best possible partners during training. The tougher the exercise, the easier the game.
- During your last season with Vilnius Lietuvos rytas, you hardly ever received passes from the team's point guards and therefore had to create opportunities for scoring yourself. In Raptors, you'll be playing alongside one of the best assist masters in the NBA, Jose Calderon. Do you think he will give you more opportunities to score?
- I am of the best possible opinion about Calderon – both as a person and a player. I believe I will be able to do more with him in the court than without.
- American NBA reviewers promise you a bright future: You are shortlisted for the NBA Rookie of the Year, while Sachin Arora of Rantsports.com says you might become the best Raptor center of all times. Do such great expectations inspire or burden you?
- They oblige. I'd rather there weren't any forecasts like that at all. We'll see how it goes.
- In Raptors, you will be playing alongside [fellow Lithuanian] Linas Kleiza. It probably goes without saying that this fact should make it much easier to adapt to Toronto and the NBA. Have you showered Kleiza with questions?
- Linas has shared his rich experience with me. I won't reveal everything, but yes, I think it will be much easier for me with him around.
- Another rookie from Lithuania, Donatas Motiejūnas, will also be entering the NBA this season. At home, everyone keeps comparing you two. Have you perhaps made a bet about which one of you will be the first one to score 30 points in an NBA game?
- We talked in New York, we get along really well. There is no bet. Donatas is a very good player. He will have a great future in the NBA.
- This summer hasn't been easy for you. Hell in Venezuela, your first Olympic Games in London, where you unexpectedly had to carry the load of the team's main center. What have you learnt?
- This summer made me tougher. In some sense, I'm glad I was given a cold shower, since one must learn to get up after a fall.
- You have been an example of fidelity to your national team – you've forgone vacation several summers in a row in order to defend your country's honour. Once in the NBA, however, players are often bound by strict contract terms, obliging them to spend summers resting. What is your take on that?
- If health permits, I will always play for Lithuania. I hope that the club won't interfere with that.
- What are you spending your first NBA paycheck on? A Cadillac, perhaps, like Martynas Andriuškevičius?
- I will pay severance to my former club. Then I'll save. I'm joking. I don't know yet what I'll spend it on. All my thoughts are on basketball now.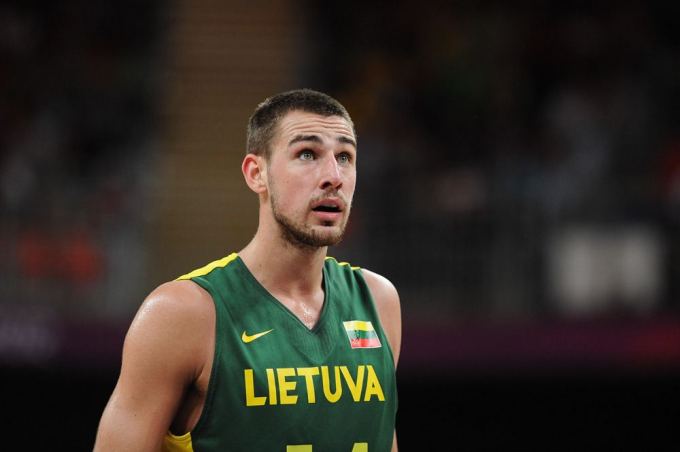 Fotodiena/Roberto Dačkaus nuotr./Jonas Valančiūnas