"I'll be wearing green braces and a beard," 28-year-old Šileika wrote to me in an email, instructing me how to recognize him after we arranged an interview.
And indeed, he is impossible to miss in the street. Like a museum piece, as Dainius's wife Christine describes his style.
"But I like it," Dainius retorts, warmly. And I cannot argue – he looks good in baggy high-waisted trousers that used to be part of the Australian WW2 army uniform. But much as vintage clothes are in vogue right now, the pair of trousers seems much too warm for summer.
"I am used to uniforms. In Canada, I was a scout, besides, I served in Afghanistan," he explains and lights a cigarette. He holds it tight in his fist, as if covering from wind. Once a soldier, always a soldier.
This summer, Šileika is not a tourist in Vilnius. He has come to settle here, to live, work, and raise children in Lithuania. He also dreams of serving in the Lithuanian army. If that fails, he would be happy to work as a teacher.
"If I care about the history of Lithuania, if I want my children to speak Lithuanian, there's no better place to raise them," Šileika, himself a son of Lithuanian-Canadian parents, thinks. He has returned to the country of his grandparents – a mysterious land of book smugglers and guerillas.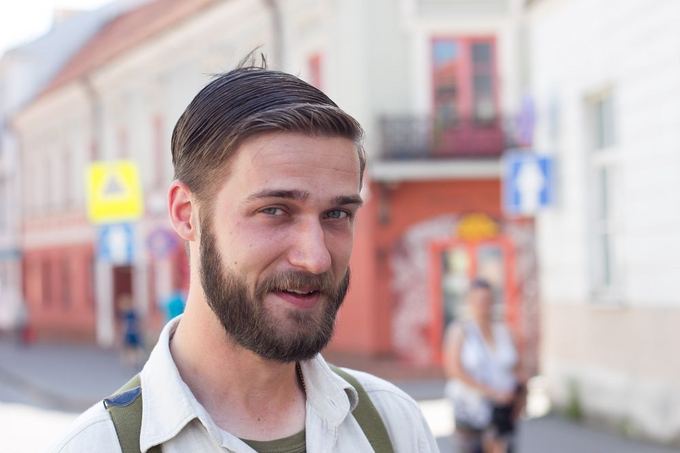 Dainius Šileika
Battle of two languages
– In February, your father, author Antanas Šileika, came to Vilnius Book Fair and he mentioned that his Canadian-born elder son Dainius was planning to move to Lithuania. "Yeah, right," was my thought when I heard that. And yet – here you are!
– It's something I've been dreaming about since childhood. My grandparents, who fled to Canada to escape the approaching Soviets, used to talk about how they wished to go back to Lithuania. Unfortunately, the Independence came too late. Grandfather died in 1988, before he could see Lithuania free again.
My both grandmothers visited the country in their late years. Hardly the age to stay and start a life anew. Parents, too, had already settled in Toronto, they had me and my brother to raise, attend to their careers. I believe they would have certainly returned, had the Independence been achieved a few years earlier.
I have met local Lithuanians who intimated that I could not call myself a true Lithuanian, that I was a Canadian. Yet we talk to one another in Lithuanian. I've never had any doubts about who I am, about my identity.
Whereas I see no obstacles for me to be here – Lithuania is free, I am mature enough, have my degrees – it is high time to make decisions about the future. Why not associate it with Lithuania? Why not fulfil the dream of my childhood? I was born and grew up in Canada, but I've always seen myself as a Lithuanian.
– You sound like someone who returned home after years of wandering.
– That's exactly how I feel! I have met local Lithuanians who intimated that I could not call myself a true Lithuanian, that I was a Canadian. "Were you born in Lithuania?" they ask. I say, no. "Were your parents born here?" Again, no. Yet we talk to one another in Lithuanian. I've never had any doubts about who I am, about my identity.
– And yet it is surprising how you, a third-generation Canadian, speak so good Lithuanian. Fluently, grammatically, using rich vocabulary.
– It was important for my parents that we speak the language of the grandparents, so we had a rule at home – not a word in English. If I didn't know a word, I'd just look it up in a dictionary. I went to a Lithuanian kindergarten.
However, in high school English took over – it became increasingly difficult to express myself in Lithuanian, especially while discussing hard topics: politics, philosophy, etc.
Following my parents will, we went to Lithuanian Saturday school until the eight grade. After that, we were allowed to choose whether we wanted to go on or not. My brother and I decided we did – after all, we were romantics, it was important to cherish the language, culture, and traditions of the grandparents who fled their motherland to escape war.
True, there's little pleasure in spending Friday evenings doing homework for Saturday school. But I felt the responsibility.
I arrived in Vilnius three weeks ago. At first I felt that my Lithuanian pronunciation was awkward, I struggled to find words, so I'd often use gap fillers, "mmm, like," but I've gathered pace since and now it's much easier.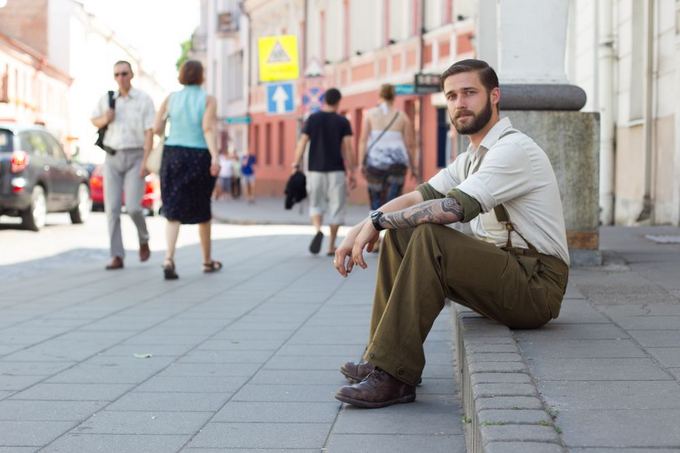 Dainius Šileika
Monk, homeless, soldier
– You were three when you visited Lithuania for the first time, in 1987. What do you remember from then?
– I remember us visiting our relatives in the country and rabbits running freely in a meadow. I also remember anthills that looked giant to me at the time – as high as my chest.
I also have vivid recollections from a kindergarten. They'd serve very sweet tea and soup for lunch. I liked that tea so much that I'd have three or four cups. After lunch, we had to go to sleep, but I needed to pee. So I'd get up from bed and run to the bathroom. I return, but a short while later, I need to go again. One time, the kindergarten teacher told me angrily that I wouldn't be allowed to go to the bathroom again – if I got up one more time, she'd catch me and nail me to the floor. (laughs)
– One might say you were restless even as a kid, and then became even more so as you grew – you father has told me that you lived on the street at one point. He was giving a lecture in Vancouver and, near the hotel he was staying in, he suddenly met his son – homeless...
– I was studying Eastern European religions in college and got particularly interested in Buddhism. After spending a month in a Zen Buddhist monastery in Taiwan, I returned to Montreal, opened my closet door and saw seven pairs of trousers, fourteen shirts. In the monastery I had realized how little a person really needed. It is written even in the New Testament that one can do with a pair of sandals and a shirt – everything else comes on its own. So I resolved to live more modestly.
One time, the kindergarten teacher told me angrily that I wouldn't be allowed to go to the bathroom again – if I got up one more time, she'd catch me and nail me to the floor.
Therefore I'd leave my rented flat on evenings and go to a park to sleep on a bench. I thus spent two or three weeks, but I didn't feel any more complete, I couldn't grasp the essence, felt that it was just a game. One day, I met a group of people in the park, they had been leading a nomadic life for three years – hitch-hiking, sleeping in tents or under the starry sky. They invited me to join them. I said I couldn't, I had classes starting one week later. I heard a simple reply: "As you wish, but remember, if you don't use the opportunity, you may never get a second one." Having spent several days with those people, I woke up one morning and I knew – I had to do it.
– You parents must have been less than thrilled?
– They lived in Toronto, so I didn't disclose my plans to them. I wrote a letter to the university management saying I was suspending my studies, I bought a backpack and spent three months traveling around Canada. We traveled secretly, jumping onto passing cargo trains. There were four of us and a dog. I'd make a few dollars each day by playing the harmonica to be spent on food – bread, ham, sometimes beer. It was one of the most impressive periods in my life.
– And yet it only lasted three months. Did you go back to your parents after that?
– No way. My parents had supported me, they had expectations, dreamed of me graduating from a university, but I upset their plans, therefore I had to find ways to support myself. I got a job in a candle factory. Very hard and badly-paid labour.
I'd get candles and had to drill holes for wicks. I had to do it morning to evening. Moreover, I'd get candles in glass cases. If the colour was wrong, I had to shake the candle out of the case. I had bruises on my palms from banging on the table. I lasted three months in the factory and after that found a job in a bagel bakery, where I spent six months. Then I returned to university.
– You had had enough adventures, you thought? It was time to grow up and finish what you'd started?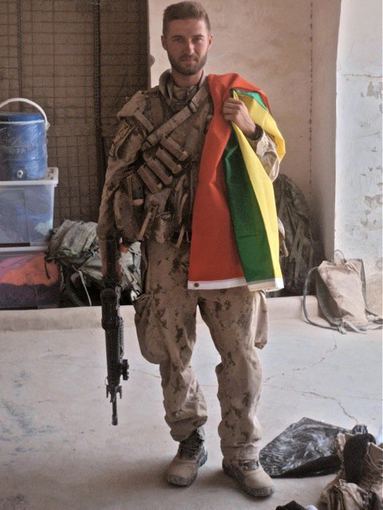 Asmeninio albumo nuotr./D.Šileika in Afghanistan
– How shall I put it... (smiles) When I returned to college, I realized that ordinary life was not my thing. So I signed up with the Canadian army reserve. In 2007, I volunteered to be sent to a mission in Afghanistan, so I started serving as a professional soldier, took part in drills and spent all time until 2009 in a base. I only finished my university degree after the service.
I told my parents about my decision to go to Afghanistan only when I received confirmation about my dispatch. They made no secret of the fact they disapproved, but they knew they better than to talk me out of it, so just wished me luck. Father also reminded that he had not had a smoke for years and, slamming his palm on a table, threatened: "If something happens to you, I'll start smoking again!"
Later, when I returned back from service, I discovered what my parents actually had gone through – they had had a really tough time during those seven months. Apparently, my father had already picked music for my funeral. If he saw a military helicopter flying above his summer house, the first thought that would come to his mind was: "They're probably looking for me to inform about my son's death."
– Luckily, here you are, safe and sound.
– Me, yes. But I've lost several close friends. One mate died at 21. He drove over a mine and was killed instantly. Another soldier, an engineer, found an explosive and tried to disarm it. He died on the spot – we collected his remains in pieces.
– What do soldiers do to get over such experiences?
– Risk is in a soldier's job description – we knew, when we went on the mission, that it might end tragically. I can now say that it was a reckless decision to go to Afghanistan. At first I thought I was doing it out of patriotism, but realized later, nothing of the sort – it was not my war.
We were infantrymen, simple people. I met a group of men similar to me in the army, I spent two years with them in various training camps for the mission. Everything we did, we did for a friend at our side. The mission in Afghanistan was a challenge for yourself, a desire to experience something extraordinary with other men.
Once a month, they'd give us a bottle of beer. When our first friend was killed, it was less than a month into the service, but our commander said: "Men, there will be beer tonight." They also held mass, a ceremony for loading the coffin onto a plane and seeing it off. The following day, we went back into routine, because work as usual is the best therapy. They prepared us well psychologically for such events in Canada.
Afghanistan left a good impression on me – it's an incredibly beautiful country of very generous people. They have a custom there: if an enemy comes to you as a guest, you must receive him as such. Very possibly the same farmer would put mines on our road at night, having treated us with tea or even lunch during the day.
Strategy of love
– You didn't come to Vilnius alone – your wife Christine, whom you married last September, accompanied you. How did you manage to find a woman of your dreams amidst studying, meditations in the monastery, wandering across Canada, and war zone missions?
– I've known Christine since the fifth grade – we went to elementary school together, later even dated, but our relationship broke off when I decided to go to Afghanistan – I did not want to leave her in uncertainty. But I thought often of her while serving, I felt she was the most amazing woman I'd ever met.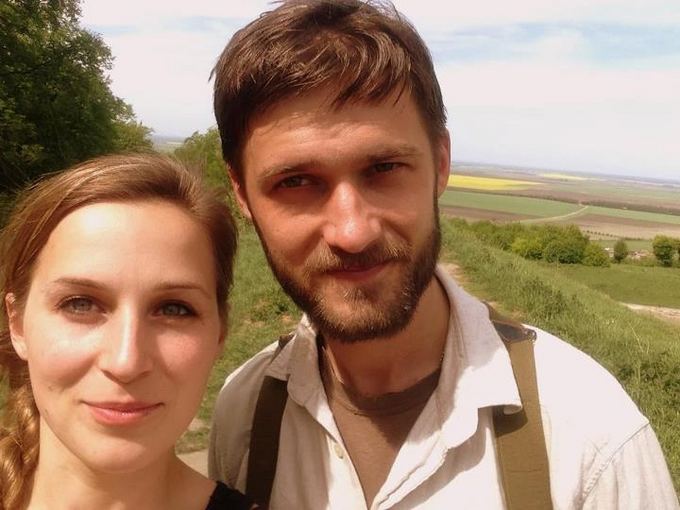 Asmeninio albumo nuotr./D.Šileika and his wife Chistine
I knew she had a boyfriend, but I started sending her silk scarves from Afghanistan, to make sure she did not forget me. Seven months into the mission, I returned to Canada via Dubai. Though we were not a couple, I bought a pair of earring for Christine, a necklace, and a ring. I resolved that I'd find her one day and give the necklace first. If she liked it, I'd give the earrings and, provided everything went smoothly, the ring. She had no clue about my intentions.
Another year had passed before I met Christine. One day, I rang her up in Ottawa and said I was coming. Six months later, we were engaged.
– Was it easy to talk Christine into leaving her family, home and following you to another end of the world?
– Christine is a third-generation Ukrainian. Unfortunately, she hardly spoke Ukrainian, because her mum had decided that her Canadian-born children would have no need of the language. So before coming to Vilnius, we spent three months in Lvov where Christine studied Ukrainian. She also tried locating some family or friends, albeit unsuccessfully.
Her origin and roots are of great importance to Christine. She wants our kids to speak both Lithuanian and Ukrainian.
We've already discovered a Ukrainian church at 7b Aušros Vartų Street (Vilnius Holly Trinity Greek Rite Catholic Church, – 15min). So we're planning to attend services, join the community which is rather small in Vilnius.
In autumn, Christine starts Lithuanian language courses in Vilnius University. I've already found a Ukrainian textbook and keep asking Christine to work with me in evenings. I'm sorry I didn't study Ukrainian with her in Lvov – working seemed more important to me, I taught English. However, I made only 100 dollars in two months, not enough even to pay the rent.
– And what if Christine said she did not want to live in Lithuania and wanted to go to Ukraine?
– I am lucky – I have a dual citizenship of Lithuania and Canada. Christine is a Canadian national and cannot live freely in Ukraine.
Moreover, at least until we adapt, Vilnius is a more suitable place. When we told local people in Lvov that we were going to move to Lithuania in summer, they'd remark that it was Europe, the West. Ukrainians have not made up their minds yet which way to go: on one side, they are tempted by Russia, on the other, they're enticed by the European Union. In Lvov, they still speak Ukrainian, but in Kiev Russian prevails.
Sure, I was uneasy at first, what would happen if Christine didn't like Lithuania? So I only looked for a place to rent in the old town of Vilnius, so she fell in love with the city, felt its pulse, and wanted to stay. That's my strategy.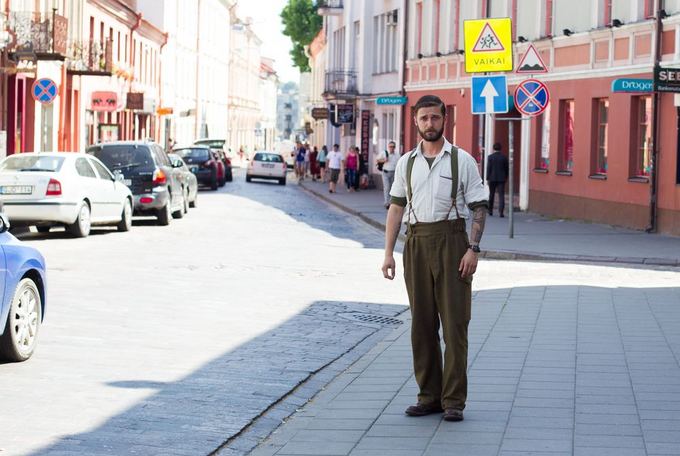 Dainius Šileika
Indebted for Lithuanian culture
– Do you have a plan of what you are going to do in Lithuania and how you'll make a living?
– We sold everything we had in Canada. Moreover, I had my hearing affected by a mine explosion in Afghanistan, so I received a compensation. So far, we've been living off our savings, but these a running out fast without steady income.
My speaking Lithuanian helped me a great deal in job hunting – I'm starting a job in a foreign languages school in July. I plan to give private English lessons in the future. Moreover, I speak fluent French. So I need to explore the market.
Christine wanted to be a cook since her childhood. In Canada, she was a manager of a bakery for seven years, so she knows baking techniques very well. An acquaintance wants to open a confectionery in Kaunas, Christine is going to supply recipes for him. In the future, though, she wants to open her own bakery. I think there's much potential in that, because people all over the world cannot resist the taste of freshly-baked bread, crunchy croissants, baguettes, etc.
Is it hard for me to speak Lithuanian? Of course, English is easier! But speaking Lithuanian is not nearly as hard as being a book smuggler or a guerilla fighter.
– What is your dream, Dainius? How do you imagine your life in Lithuania?
– If I could make it to the Lithuanian army, I'd be the happiest man! My future vision is either serving in the army or teaching. I know that teachers don't earn much in Lithuania, but my wife and I do not require much.
Say, I am now wearing wool trousers of the Australian army uniform from World War Two, I've got two pairs. Vintage, I got them very cheaply online. It might not be the height of fashion, even my wife mocks me about it. She says I look like a museum piece. But they fit me, I like them and it's cheap.
They have higher standards of living in Canada, but so what? If I care about the history of Lithuania, if I want my children to speak Lithuanian, there's no better place to raise them.
I remember hearing about Lithuanian book smugglers (who were secretly carrying books across the border from Prussia after the Russian tsar's government banned press in Latin alphabet in 1864, – 15min) and guerillas at Saturday school. So many people made sacrifice so that the Lithuanian culture survived. I feel indebted to them. Is it hard for me to speak Lithuanian? Of course, English is easier! But speaking Lithuanian is not nearly as hard as being a book smuggler or a guerilla fighter.
In kindergarten, I knew that Lithuania did not exist. There was just one big patch on the map. I also knew something was wrong. I remember a song: "A day will come when motherland will be free." That means that the motherland is not free, I inferred.
Later, I joined the scouts. And then I'd sing: "We'll return where the Nemunas and Neris flow..." So here we are, back. Hopefully, for good.
My father, who came to Santara-Šviesa conference in Alanta, told me yesterday: "I am very happy that you are in Lithuania. I don't know why, but I feel that it's good." Parents brought us up as Lithuanians and my being here vindicates that they were right.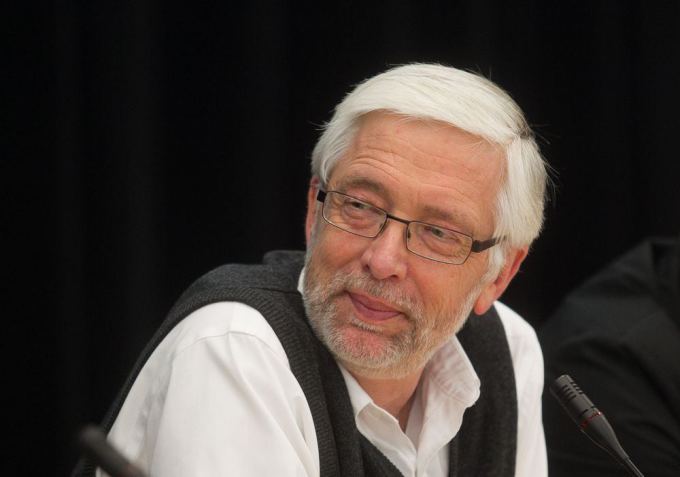 Dainius' father, author Antanas Šileika