After Asadauskaitė's victory, the Olympic tally for Lithuanian athletes stands at two gold medals, one silver, and two bronzes, making London the most successful Games in Lithuanian history. In Sydney 2000, Lithuanians won two gold and three bronze medals.
Britain's Samantha Murray, who was in fourth place after the first three events of fencing, swimming, and riding, took the silver to a deafening roar from the home crowd.
The nail-biting combined finale, in which athletes shoot at five targets before running 1,000 meters, a procedure they repeat three times, is making its Olympic debut in London. The events were previously held separately.
Brazil's Yane Marques, who had gone into the shoot and run on level points with world number one Asadauskaitė, stormed to an early lead after the first shoot but fell behind in the running laps around Greenwich Park, eventually taking bronze.
"While running, I knew I was unsurpassable," Asadauskaitė, 28, said after the golden finish. "All was great, I did all I could from the start. From the first event to the last. I wouldn't say it was a difficult day. I was sure about my victory during the entire final event and I said to myself: I'm not giving it away to anyone."
- When did you know no one would overtake you anymore?
- In the second round of the final event. Running is my strongest point. I didn't even exert myself to the fullest, since I knew I was unsurpassable.
- To whom are you dedicating your medal?
- To my kid. I've always promised my daughter a medal.
- You downright massacred your rivals. Is it because your are so strong or were they weak contestants?
- I had prepared well for the Olympics. And so I did everything right on that day, there were no mistakes. I could do even more, but I didn't have to run at full capacity.
- You were shaking your head while crossing the finish line. Why?
- I couldn't say. I've been going towards this goal for 18 years. Since I was a kid, I knew I'd be an Olympic champion. And that day has come – I have indeed become a champion.
- What were you thinking when you arrived in London?
- I had come several days before. It was important to not stress about things, to calm down. The audience was quite boisterous and that was somewhat disturbing. I tried to distance myself from everything, to relax, to adopt the right attitude. And it turned out fine.
True, fencing was not going great at first, but I relaxed and it got better towards the end. I wasn't looking at my opponents, only when the event finished did I see that I was number three and, with those points, I could believe I was in for a medal. It was too early to think about gold, as it was still unclear what kind of horse I'd get. I swam in my best time. The key was to do well in the riding event. And I did.
- Weren't you scared a little when your opponent, who rode the same horse as you in group one, was thrown off the saddle?
- It did scare me somewhat. But the horse was good, in fact, it was her who made a mistake. All I had to do was avoid making that same mistake and remain on the saddle until the end.
- Your husband, Andrejus Zadneprovskis, is also a pentathlete and won silver in Athens and bronze in Beijing. Now, with your gold, you have the entire set in the family. Will that be enough?
- I won't be greedy, this medal is enough for me. I wish others good luck in winning their own medals.
- So you are not thinking about Rio de Janeiro right now?
- I'm not thinking about the future yet. I'm happy today and that is enough for now. I've done much this year.
- Is there another maternity leave in view?
- We'll think about it.
- Has your husband congratulated you yet?
- He's at home, in Vilnius. And I haven't had the chance to get hold of a phone yet. I asked him not to come to London so I could concentrate better, because I pick his anxieties. We decided it would be better if I competed alone. He supported me from home. As did many other people. Thank you all very much!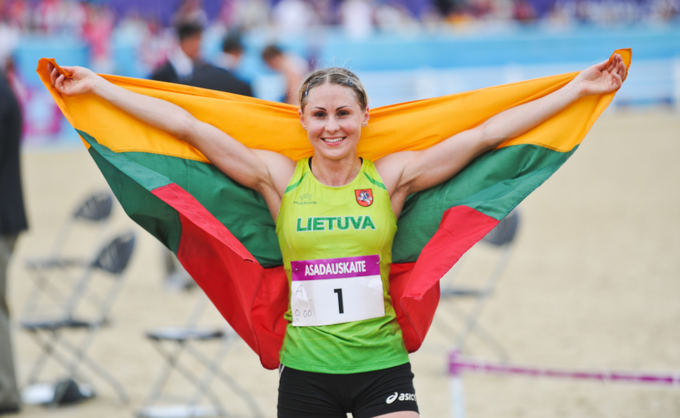 Fotodiena/Alfredo Pliadžio nuotr./Laura Asadauskaitė