The collapse of the USSR:
"It is good that there hasn't been much bloodshed. I think the credit should be given to [Boris] Yeltsin – that the Soviet nations broke up without spilling much blood." (20 August 2011)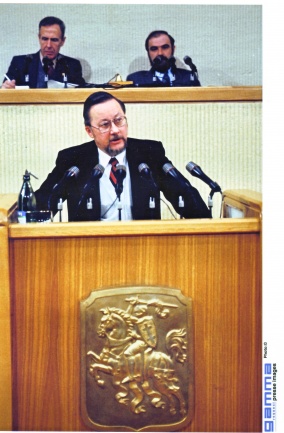 Asmeninio archyvo nuotr./Vytautas Landsbergis
Freedom:
"We did not only regain freedom, we took on responsibility. This is our weakness today, that many people are simply using [freedom]."
Foundations of the state:
"Mothers preserved Lithuania, their weapon was love and knowledge that one must live on."
Economy:
"The great global financial crisis is primarily and essentially a crisis of honesty. That is why financial systems fell. Banks and governments acted dishonestly, they lied, cheated..."
Russia:
"There is no threat to democracy in Russia, since there is no democracy to speak of. One cannot threaten something that does not exist."
European views on Lithuania:
"The minute [notoriously homophobic MP Petras] Gražulis registers some nonsensical bill, the next day entire Lithuania is at fault. How horrible a state where such initiatives are born. There are brains that can give birth to anything."
History:
"I always try to emphasize the history of facts. Even though what we are fed now are interpretations. They call them 'narratives', 'stories'."
Chess:
"The game is a model for thinking (and therefore ideas), rivalry of abilities (or fight), life itself. An exercise. Afterwards, one's mind works better, one can go into life."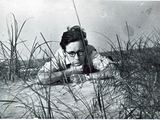 Asmeninio archyvo nuotr./Vytautas Landsbergis
Politics:
"Politics is a game. Not a business. [...] It differs from chess in that when you come to the political 'board', you don't start, you join in – since action ('the game', fight, creation) is already in motion."
Algirdas Brazauskas and himself:
"We stood behind the same, albeit not entirely tight-knit, barricades. And some of us stood in front rows, while others in the back."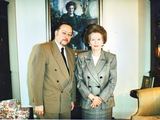 Asmeninio archyvo nuotr./Vytautas Landsbergis
Literature:
"I like literature which can concisely say much, one which does not try to say everything but touches upon almost everything."
Mikalojus Konstantinas Čiurlionis:
"Life must be big. How not to lose life that is big? Just look at Čiurlionis' works."
Basketball:
"I haven't been to a game in a while. I watch it on television. If the game is tight, I get very agitated, I am anxious."
His own situation:
"I am no boss. But when I listen to them, I know what bosses are thinking."
His own sins:
"I often make mistakes, both historically and otherwise, perhaps even now."
God:
"God is very big, He is everything that exists in all spaces. He is good-willed, as otherwise there wouldn't be anything. But it is most important that He be in a person's inner space. There is another incarnation of Him, a Lithuanian one. That is Dievulis, good-hearted and understanding, the one we will join when we pass."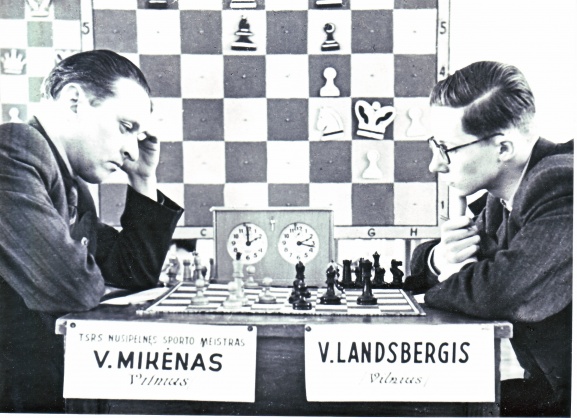 Asmeninio archyvo nuotr./Vytautas Landsbergis
Vytautas Landsbergis
Born on 18 October 1932 in Kaunas, into the family of architect Vytautas Landsbergis-Žemkalnis and eye doctor Ona Jablonskytė-Landsbergienė.
Graduate of Vilnius Conservatoire. Landsbergis is a politician, historian of art, music, and culture. He has authored over 30 books, mostly on the oeuvre of composer and painter Mikalojus Konstantinas Čiurlionis, in later years – on Lithuanian and international politics.
Landsbergis was one of the key leaders of the Lithuanian Sąjūdis – national movement of the 1980s that led to Lithuania regaining independence from the USSR. On 11 March 1990, Landsbergis was elected chairman of the Supreme Council of the Republic of Lithuania. He chaired the parliamentary session that declared the reconstitution of an independent Republic of Lithuania on that same day.
Landsbergis was the first leader of the newly independent state, later a parliamentary speaker, and a member of the European Parliament since 2004. He has been awarded numerous prizes for his achievements.
Together with his wife Gražina, Landsbergis braught up two daughters and a son, he is a grandfather of ten and a great-grandfather of four.