From digital to soft skills
"Due to the especially fast-paced processes of automatisation and robotisation, digital skills have become some of the most in-demand future skills. Of course, we don't all have to be programmers or artificial intelligence professionals, but with digitalisation continuing at a fast pace, a basic understanding of the concepts for key technologies is essential, as is knowing in time about the newest changes, and the most pertinent trends and to successfully adapt within the organisation," the Petikonis-Šabanienė says.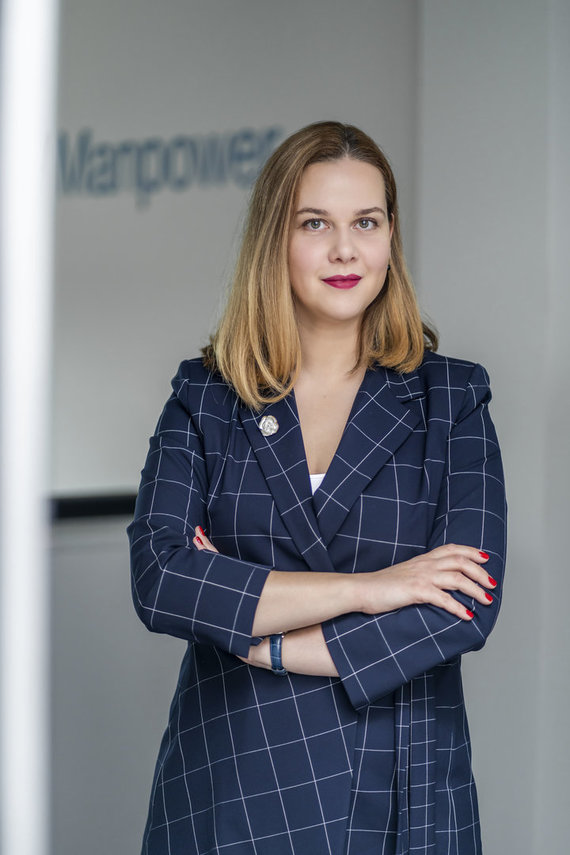 Božena Petikonis-Šabanienė / Asmeninio archyvo nuotrauka
Technologies and automatisation are predicted to take over many kinds of jobs, and it has been calculated that by 2025, people and technologies will split working time half by half. Nevertheless, Petikonis-Šabanienė urges readers to remember that not all skills can be automated.
"Studying skills, curiosity, the ability to think critically and resolve problems… these are the soft skills that are essential for the successful work of any organisation. Based on years of practice, we know that sometimes these skills are far more important than work experience and an accumulation of professional knowledge," the expert says.
The K-shaped economic recovery phenomenon
The rapid processes of digitalisation have led to a so-called K-shaped economic recovery – some skills have suddenly arisen as critical, while others, despite having been in vogue and needed just yesterday, are now beginning to lose meaning.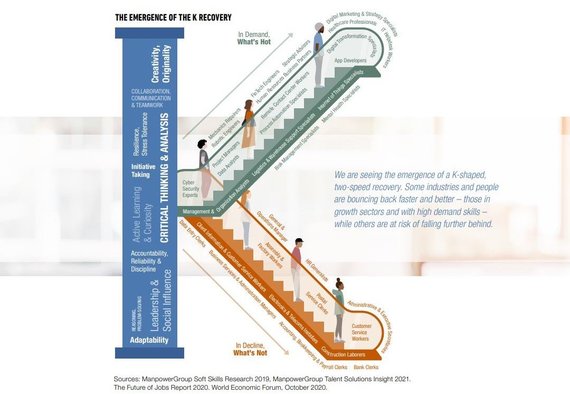 K-shape trends Manpower 2021
"The phenomenon of such economic recovery is, unfortunately, greatly increasing public polarisation between those with the so-called "future skills" and those who do not. At the moment, IT, finances, analytics and the competencies needed for these industries are growing at an unprecedented pace, and so the demand for talent is naturally rising in these areas," the personnel expert stated.
Meanwhile, for routine work or tasks that are easily automated, such as data entry into systems, they are currently struggling to endure.
"The domination of financial technologies and similar spheres on the market is also proven by the growth in the staff counts of Lithuanian start-ups, rising by 27 per cent just over last year," the expert notes.
Traditional leadership vs progressive thinking
With people and technologies taking a 50/50 work split, every organisation will eventually become a tech-based company, and suitable preparations are needed for this transformation.
However, the global personnel head says she has observed that most human resources managers believe that their organisations do not have leader-level talents who could successfully implement this transformation.
"In such a case, only two scenarios are considered in most companies. The first is to employ new change leaders who can "pull" the entire organisation, but this is practically impossible to achieve. The second is to wait for the organisation to "mature" for change, which is also a path likely to lead nowhere.
Studies of successful companies indicate that Pareto's Law should be applied, where 80 per cent of leaders must have time-tested skills and competencies of effective leadership, while 20 per cent must have mastered modern skills that are relevant to contemporary challenges," B. Petikonis-Šabanienė explained.
She observes that Lithuania is already seeing job listings which indicate that specialists will be tasked with transformation and digitalisation and similar job roles are already being created in telecommunications firms and banks.
Išsirink planą ir skaityk be ribų
Mėnesinis
planas
Pirmas mėnuo - 1€,
vėliau po 3,5 €/mėn.
Apsimoka
Metinis
planas
Mokant iš karto
už 12 mėn. – 33,50 €
Apmokėti
Įvesk savo mobilųjį numerį, atsiųsime kodą
Į mobilųjį išsiuntėme kodą. Įvesk jį ir skaityk toliau