However, a number of them have faced difficulty in finding suitable premises: the major business centres are uninterested in renting small spaces, and if they do, contracts are typically signed for five years. Meanwhile, co-working spaces often present the problems of personal privacy and data security, as well as the use of common spaces and working alongside others, which is an extra concern in the context of a pandemic.
Companies that have been operating in the market for a long time already are also faced with challenges – some are expanding operations and workspace due to the impact of the pandemic, while in contrast, an uncertain future has others interested in temporarily reducing their premises, but long-term letting commitments make this difficult to do.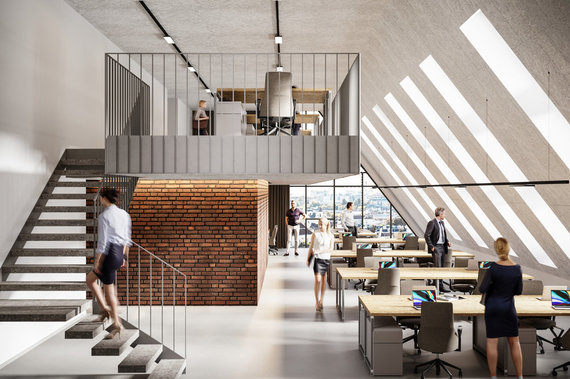 Paupys darboteka
In consideration of the changing market demands, one of the largest real estate developers in Lithuania, Darnu Group, began to develop a new project – the unique 5,000 square metre business centre Paupio Darboteka in the newly revived Paupys area of Vilnius's Old Town. The business centre will surpass all others with its, particularly flexible working and rent contract conditions.
The exceptional Paupio Darboteka building is by no means reminiscent of a traditional glass business centre. On the contrary – its unique architecture blends harmoniously into the Paupys area and Old Town. The entire business centre was created for renting, inviting both start-ups and experienced companies, and businesses large and small to settle in it. The spaces available for rent at Paupio Darboteka start from 15 square metres, but even companies seeking office spaces larger than 1,000 square metres will be able to adapt the premises here for their needs.
"This location strikes the perfect balance between a traditional business centre and co-working spaces. We want to help growing companies and offer them an opportunity to have their own office without committing to five or seven years of tenancy, without investing into furnishing it. It is particularly difficult o plan operations and changes in staff count for these companies and so, if the need arises, we will always be able to offer extra space for the expansion of their business," Darnu Group director of property management Mantas Umbrasas says.
Unique feature – flexible contracts
One of the most important features of this business centre is the option to rent an office for a shorter period. If the market standard contract is for 5-7 years, Paupio Darboteka allows for short-term contracts, and if requirements change, the rented space can be reduced, increased, or the contract can be terminated entirely.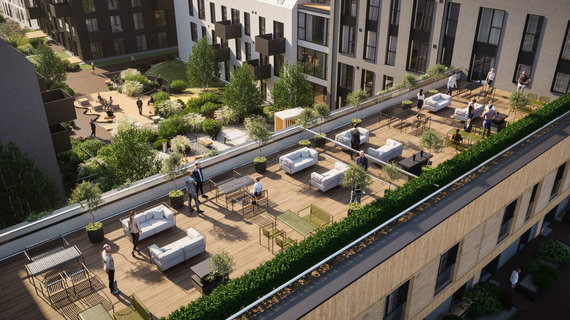 Paupys darboteka
According to M. Umbrasas, especially given the current pandemic when there is a lack of certainty on how we will work in the near future, this option is a wise and smart decision for small and medium-sized enterprises.
Based on a study by CoreNET Global and Cushman & Wakefield, around 80% of companies are inclined to work based on a hybrid working model where part of the time is spent working from home and part from the office.
This model allows businesses to save on some rent costs and increase their competitiveness in seeking talent.
Effective workspaces
According to Darnu Group director of property management M. Umbrasas, flexible solutions not only offer a sense of future security but also contribute to effective use of the space that is relevant today. All the space rented in Paupio Darboteka meets exactly what the companies' working needs require.
This decision helps optimise costs as renting a pre-furnished office helps save money– tenants avoid furnishing costs which helps them plan their budget clearly. Furthermore, spaces such as a kitchen, toilets, outdoor terraces and resting areas are common use, shared with other tenants.
"How much does the tenant save? For example, a 200 square metre office traditionally should have around 30-35 square metres of extra space for restrooms, meeting rooms, and a kitchen. This extra space would cost around 6.5 thousand euro per year for a tenant in Old Town, which adds up to an entire 32.5 thousand euros in five years. Having common spaces and sharing them with others is far more effective than setting them up for yourself and using them separately on your own premises. Furthermore, this helps everyone contribute to more sustainable consumption," M. Umbrasas says.
Offices in the prestigious Old Town district
An important accent to this is also the appealing location – a workplace in the capital's Old Town with excellently developed infrastructure and all the necessary everyday services and entertainment next to the picturesque Vilnia river and nearby parks.
"The harmonious environment inspires creativity but doesn't disconnect you from the everyday rhythm of a modern city. All the most important things are comfortably within reach on foot. You are surrounded by various shops, boutiques, cafes, service centres and galleries. Paupys's market and the Pasaka cinema are both nearby, as well as a bank, a parcel pick-up point and other necessary services. For those frequently departing for business travel, there is convenient access to the airport, which can be reached within just 15 minutes. Furthermore, a convenient underground and city car parking lot has been built – those working in central Vilnius likely know how difficult it can be at times to find a convenient place for their car," M. Umbrasas says.
Paupio Darboteka is due to open its doors in the first quarter of next year. The building is under construction, but office reservations as per the needs of one's business are already available. Meeting halls have already been created at Paupio Darboteka as well. Both tenants and city guests seeking a representational space for meetings with partners and colleagues will be able to reserve them as per their needs.
UAB Darnu Group is investing 12 million euros into developing Paupio Darboteka.
Išsirink planą ir skaityk be ribų
Mėnesinis
planas
Pirmas mėnuo - 1€,
vėliau po 3,5 €/mėn.
Apsimoka
Metinis
planas
Mokant iš karto
už 12 mėn. – 33,50 €
Apmokėti
Įvesk savo mobilųjį numerį, atsiųsime kodą
Į mobilųjį išsiuntėme kodą. Įvesk jį ir skaityk toliau