A similar disproportion has been going on for several years now: the activity of buyers is rapidly reducing the stock of apartments in this segment, and developers are not keeping up with supply.
Stock cleared
The fastest growth in the supply of apartments of this class took place a few years ago. Real estate analyst Arnoldas Antanavičius notes that in 2018–2019, developers in the capital have been quite active in supplementing the offer in the prestigious segment. According to him, at that time, the stock of unsold apartments included around 1400–1600 prestigious apartments. This accounted for about a third of the total new construction of new apartment stock in Vilnius.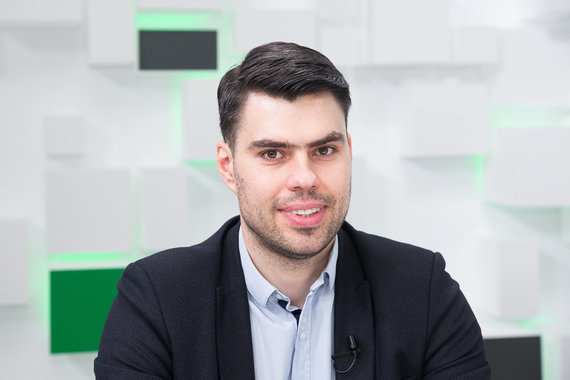 Arnoldas Antanavičius. Photo Irmantas Gelūnas / 15min./
'In 2020, 1,085 apartments were sold in the prestigious segment (on average 90 per month), and only one half of the said amount, 552 apartments, appeared on offer. The number of sites for the development of this segment is decreasing, and real estate developers are no longer able to keep up with demand. That is why we have been observing a consistent decrease in the supply in this prestigious segment for the last two years', explained the analyst.
At the end of February of this year, only a little more than 700 unsold prestigious apartments remained in Vilnius, which accounted for about 19 per cent of the entire stock of newly constructed apartments in the capital. According to Arnoldas Antanavičius, slightly less than one half of this offer is still under construction. 'If this situation persists, buyers of prestigious apartments will have less choice, and the pressure to raise prices is likely to increase', noted the analyst.
The most prestigious areas are Užupis and the Old Town, with Naujamiestis - just slightly behind
According to Arnoldas Antanavičius, when it comes to the prestigious segment, Užupis offers the largest supply in Vilnius (about 240 apartments). In this district, newly constructed apartments are being sold for an average price of 3000-3600 EUR per square metre, including partial finishing.

In second place in terms of supply is the Old Town, where there are about 190 apartments on offer. According to the analyst, the projects in Old Town are very diverse, and the average price ranges from 3,000 to 4,500 EUR per square metre with partial finishing. Naujamiestis is slowly but surely catching up with the most prestigious districts with an offer of approximately 160 apartments in this segment, where average prices range from 2,800 to 3,600 EUR per square metre with partial finishing.
The supply in this district was also increased by the real estate company 'HOMA', which started selling prestigious apartments as part of the project 'Vytenio 4' in March of this year. The price of apartments in the project will be from 130 to 500,000 EUR, 3,500 EUR on average per square metre.
The project will offer for sale 40 A + class, 2–4 room, 39–110 square metre apartments with spacious balconies, private roof terraces and stained glass windows. The site of the 5-storey building will be fenced, closed parking spaces will be installed, and on the first floor, there will be eight commercial premises, ranging from 53 to 191 square metres.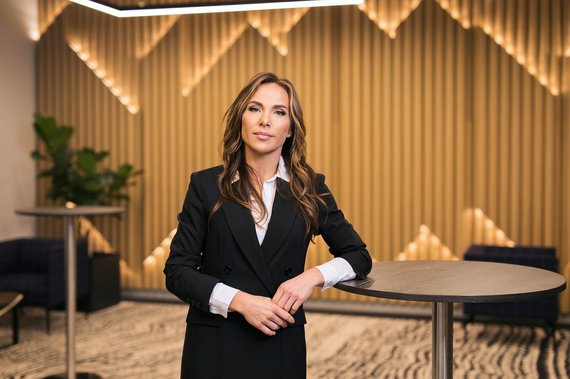 Jurgita Kveselaitė
Jurgita Kveselaitė, Executive Director of 'HOMA', agrees that in the prestigious segment, demand strongly exceeds supply, but developers cannot offer quick solutions to this problem. This, she said, must be the joint work of business and the municipality.
'Housing development in the central part of the city, the so-called most prestigious districts, is a much more complicated process. Only an experienced and responsible developer can undertake such projects. The legal path is also much more complex: the long and complicated process of issuing various permits and project coordination works is unavoidable, and all stages must be performed carefully, honestly, responsibly. This discourages some developers from developing projects in the prestigious category segment', explained Jurgita Kveselaitė.
Leave the interpreting to us! Translated by Pasaulio spalvos
Išsirink planą ir skaityk be ribų
Mėnesinis
planas
Pirmas mėnuo - 1€,
vėliau po 3,5 €/mėn.
Apsimoka
Metinis
planas
Mokant iš karto
už 12 mėn. – 33,50 €
Apmokėti
Įvesk savo mobilųjį numerį, atsiųsime kodą
Į mobilųjį išsiuntėme kodą. Įvesk jį ir skaityk toliau