It recorded as many as 4,829 new apartments (both flats and terraced houses) being reserved. This means that the number of new apartment sales within half a year was quite the same as within an entire year last year (i.e., 4,949) and more than the "yield" of three quarters of 2019 which was deemed one of the best years in RE market.
Šarūnas Tarutis, Head of Investment and Analysis at Citus, RE developer in Vilnius and Kaunas focusing on unique projects, claims that this year was much like a bungee jump. The year began with monthly records, each higher than the previous one, which brought a hardly surprising overall result. The number of apartments sold this half a year (i.e., 4,829) is almost 2.5 times higher than the one during the first quarantine (i.e., 1,990) and 1.5 times higher than the record high number in 2019 (3,278).
The quarter result was also very high, reaching 2,435 bookings, which is 4.5 times more than the same period last year (i.e., 513) and 1.5 times more than the year before the last (i.e., 1,640). The month of June was the most resultative month in the last three years: 484 new apartments and semi-detached houses were booked in June this year, compared to 311 apartments last year and 385 apartments the year before that.
"Naturally, the first month of the summer is a bit slower in the RE market and it is a trend we have been observing for many years. It is the month when most people (at least of those who are interesting in RE purchases) go on a vacation. We can see a similar situation in December when people care more about getting ready for the holidays," said Š. Tarutis.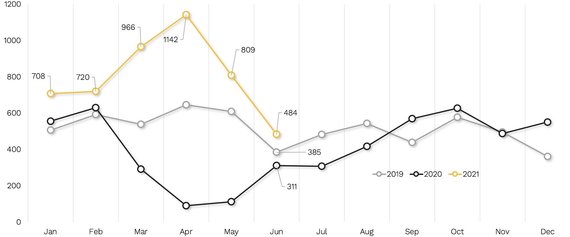 Vilnius RE Market Dynamics from 2019 to 2021
Chart 1: Vilnius RE Market Dynamics from 2019 to 2021.
The first half a year was one of the most successful in the entire history of Citus, even though Š. Tarutis claimed that the increase in prices necessitated the introduction of sales limits for several projects. Despite this, the result of this half-year is 273 apartments sold in Vilnius and Kaunas, only exceeded by 281 apartments (3% more) sold in the record-high year of 2019.
A total of 186 apartments in Vilnius and 90 apartments in Kaunas have been booked. The most successful projects in Vilnius are PaJustis (87 bookings), Link Ten (47 bookings) and Miško Ardai (44 bookings). Klevų Namai with its 56 bookings was deemed the most successful project in Kaunas.
Chaotic past bringing forecasts of a strong second half-year
"A high-pressure situation has occurred in the housing market. The prices are rising fast and the available apartments are dwindling just as fast. People bought anything they could, resulting in the record after record. This acceleration should end. I would say that both factors causing pressure have reached the threshold, where the purchasing has become irrational. Here we have one more point that could bring stability to the RE market," said an expert of Citus.
At the end of June, Vilnius could offer 3,898 new apartments and semi-detached houses. This indicator did not reach such lows even last year or the year before or in 2017. The market specialist claimed the situation to be quite a conundrum: people almost have nothing to choose from. According to his calculations, the majority of the available apartments include projects under development that cannot be visited or seen live.
"However, this is an old practice that pays off. People reserve an apartment and record the current market price. Real estate developers invest in construction projects when they already have the trust of future residents. This acts as a sort of guarantee to both parties. Yet, one must think carefully when choosing the RE developer so that it does not disappear in case of unexpected changes in the market. We have seen this during previous quarantine periods. And now we are witnesses to the terms and conditions of the preliminary agreements being changed due to the increase in prices. The bigger RE developers who value their reputation and image would never allow themselves to fall this low," said Investment and Analysis Manager at Citus.
Vilnius City lacks new projects and new apartments to be offered for sale so that it can balance out the prices and meet the expectations of the buyers. Yet, Citus expert notes that there are certain new projects that are coming to the market in the next few months. The market is ready, the RE developers have prepared and are announcing the start of new projects.
"If we add up the currently available apartments we have completed within the last year and 3–5 new projects of average to large scope, offering at least 1,000 apartments, we would have a firm basis to start the next half-year. It should also be an active one and offer good choices for the people," said Šarūnas Tarutis.
A lull in Kaunas
It would seem that Kaunas is resilient to any type of changes as its results remain surprisingly stable, compared to the previous periods. The half-year results in the second largest city of Lithuania are almost identical to the first half a year of 2019: this year, 606 new apartments and semi-detached houses were booked there, compared to 566 in the year before last. Last year, the result was 357, twice less, due to the announced quarantine.
"This means that the difference is less than 10%. Meanwhile, if we compare the numbers with Vilnius RE market with the RE market in Kaunas, the latter is 8 times smaller, even though it was but 4-5 times smaller a few years back," said the expert.
The second quarter in Kaunas brought 287 apartment reservations (compared to 160 in 2020 and 256 in 2019), 93 out of which were made in June. One should note, however, that the buyers had comparably more choices: 779 apartments were available at the end of May in Kaunas and 1,049 apartments were available at the end of June.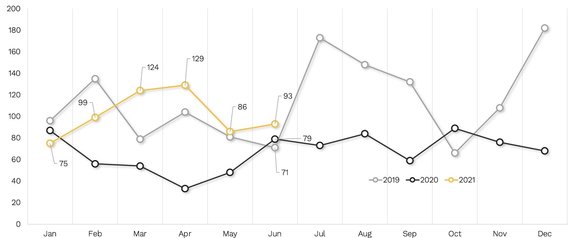 Kaunas RE Market Dynamics from 2019 to 2021
Chart 2: Kaunas RE Market Dynamics from 2019 to 2021
Translated by MP Translations Agency in Kaunas.
Prenumeruoji MAX?
Prisijungti
Išsirink planą ir skaityk be ribų
Mėnesinis
planas
Pirma savaitė - 0,01€,
vėliau po 3,5 €/mėn.
Apsimoka
Metinis
planas
Mokant iš karto
už 12 mėn. – 33,50 €
Apmokėti
Įvesk savo mobilųjį numerį, atsiųsime kodą
Į mobilųjį išsiuntėme kodą. Įvesk jį ir skaityk toliau