According to Glassbel, head of commerce Valdas Virbalas, the company is currently still operating in the context of pandemic challenges, where the market is limited by commodity, energy and transport service prices, and late design works its clients. Nevertheless, Glassbel is looking further into the future and perceives opportunities for growth there.
"While seeing how FEZ is expanding, we have made a decision to ensure that we have land available for future expansion, without moving to a new location, but concentrating and working in one location, which gives certain technological and quality advances. The expansion will be staged. Therefore, in the coming years, in the first stage of expansion, we will have to build an extension of our exiting premises without adding anything special from the technological side simply to have space for glass sorting, which will improve planning and increase efficiency. In the second phase of expansion, we are still discussing what production capabilities will be required for the future architectural market. Currently, markets are trying to find out what the office or living space should look like and feel like. The market realised that people have to get back to offices, especially when vaccines are available. However, working conditions will have to be adjusted, and various aspects should be taken into account: ventilation, spacing, catering, lifting, etc. There are loads of analysis and considerations going on at the moment," states Virbalas.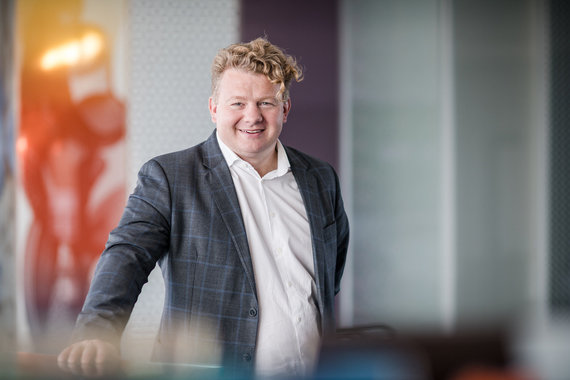 Valdas Virbalas. Photo Klaipėda FEZ
The company does not indicate its planned investment right now. In 2020, Glassbel's turnover reached 15 million euros which is around a 20 per cent decrease compared to 2019, primarily due to the pandemic.
During the first half of this year, the façade glass manufacturer has already recorded a moderate recovery in its results. Still, at the same time, it perceives trends that clients looking to compensate for rising commodity prices are seeking simpler and respectively more affordable products and solutions despite this not always proving justified in the context of a specific project.
Virbalas notes that a trend of sustainability is evident in the real estate market, which is something that Glassbel takes note of.
"Sustainability topic is very much valid, and its importance is growing. For example, some investors are considering building only energy-efficient and sustainable buildings. Efficiency is calculated not only on the aspect of product performance but also on all production cycles starting raw materials production and going to final product and logistics. Therefore, we must follow these trends and produce efficiently with minimum consumed energy. Another trend that is growing in the USA is bird protection-related. Most of us can recall a very sad moment when a bird is hitting the car or the window. The market wants to minimise these cases, so there is loads of research going on to find a solution that glass would be seen for birds and they would not crash into it. We are working on these solutions too and already have some products which can protect birds; however, we still looking for new ways too," comments the head of commerce at Glassbel.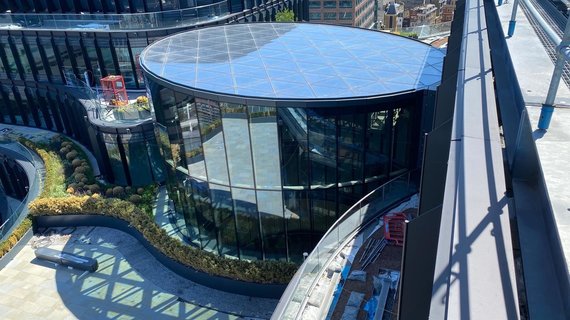 On of Glassbel projects aborad. Photo Glassbel

Glassbel mainly exports to the Irish, UK, Baltic and Scandinavian markets. This year, it plans to strengthen its positions in Western Europe and the USA and currently employs over 150 staff members.
Prenumeruoji MAX?
Prisijungti
Išsirink planą ir skaityk be ribų
Mėnesinis
planas
Pirma savaitė - 0,01€,
vėliau po 3,5 €/mėn.
Apsimoka
Metinis
planas
Mokant iš karto
už 12 mėn. – 33,50 €
Apmokėti
Įvesk savo mobilųjį numerį, atsiųsime kodą
Į mobilųjį išsiuntėme kodą. Įvesk jį ir skaityk toliau