"The Naujamiestis district in Vilnius currently holds vast untapped potential. By establishing the new start-up centre Tech Loft, we wish to contribute to this district's continued evolution. Just as when developing a prior technology park at the former location of the Sapiegos Hospital, we chose to renovate a loft-type building that remained unused on Algirdas Street. We hope that this will help retain a certain part of this location's authenticity and will also contribute to its rebirth, enabling it and creating value for the city and the local community," D. Žakaitis says, having alongside partners four years ago developed one of the largest technology parks in the Baltic and Scandinavian countries – Vilnius Tech Park.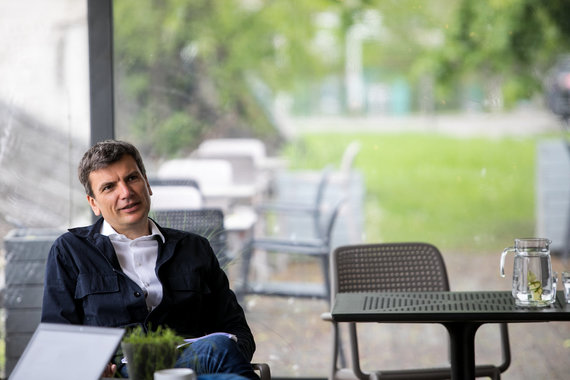 Juliaus Kalinsko / 15min nuotr./Darius Žakaitis
"Naujamiestis is among the capital's districts with the highest prospects for business development. Over the past few years, it has received increasing attention from real estate developers. By financing the Tech Loft project, we believe that it will become an attractive location to develop innovative business ideas, cooperate and establish new businesses. Furthermore, demand for coworking spaces of this type is vast in Vilnius, and there were no such places in Naujamiestis until now. Thus, we are confident in this project's potential," Mindaugas Steikūnas, director of the Enterprise Client Department at Swedbank, says. Swedbank has allocated 1.35 million euro for the financing of the Tech Loft project.
Attention to health safety measures
When renewing the upcoming start-up centre Tech Loft building, one of the project implementers' goals is to retain the location's authenticity, matching the building to its surrounding environs. It is planned to equalise the building's façade, granting it a light grey tint, particularly highlighting its windows and installing extra glass constructions. For the inside, there are plans for functional office and coworking spaces for around 200 specialists, also installing a 70 seat event hall and also an outdoor terrace for the warm season.
In consideration of recently increased hygiene requirements and in order to prevent the spread of viruses and bacteria, Tech Loft's spaces will employ a broad spectrum of protective measures. For example, it will have ultraviolet lamps installed, which will disinfect the premises. They will also be used to disinfect common spaces and offices.
The start-up centre's kitchen zone will feature tabletops made out of stainless steel, barriers between working spaces, extra hand disinfection solutions are planned.
Interior details refurbished for a second life
Tech Loft is notable in that while reconstructing the old building, thought is given not only to how attractive working locations should be created in it, but also the implementation of courageous, non-standard solutions in selecting interior materials and making use of the authentic traits the building holds.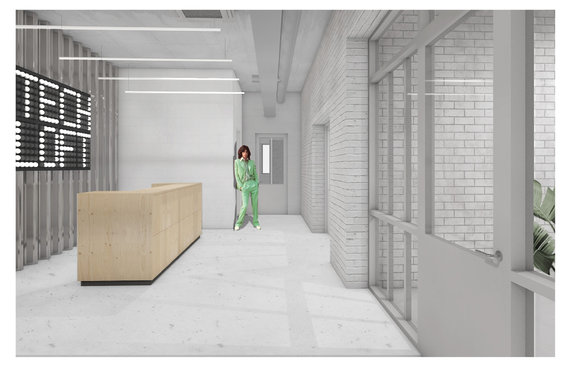 Visualization of /"Tech Loft" Naujamiestis district
"This building has its own history, which will be reflected in its facades, interior spaces and interior details. We hope that resurrected for a new life, the Tech Loft building will become a small, but with a unique identity centre of gravity in Naujamiestis," Aurimas Sasnauskas, the co-founder of the architect bureau A2SM, which is implementing the project, says.
One of the interior design solutions is to use old furniture, restoring and resurrecting it for a second life. The main symbol of the start-up centre Tech Loft should be the legendary Žalgiris Stadium display board, which will be installed at the start-up centre's registration. In contrast, individual display boards will be used to mark the building's floors.
Additional advantages of Vilnius Tech Park
The Tech Loft start-up centre is cooperating with Vilnius Tech Park. The future members of the new start-up centre will be able to make use of exclusive offers from Vilnius Tech Park, including the coworking spaces in it or discount tickets to events held there. The opening of the Tech Loft start-up centre is planned for August this year. Inquiries are already open to the rent of offices or coworking spaces.
Mėnesinis planas
Mokant už 1 mėn.
Pasirinkti
Tik nurodytoms banko kortelėms
Metinis planas
Mokant iš karto už 12 mėn.
Iš viso 47,88 €
Pasirinkti
Tik nurodytoms banko kortelėms
Išsirink tinkamą planą!
Apmokėti