In mid-September, two IONITY stations were opened in Estonia (near Pärnu and Tallinn) and in this month, a station near Riga, each with 350 kW charging stops. In Lithuania, analogous IONITY double charging stations were unveiled near Kaunas and Panevėžys, as well as near Kryžkalnis this September.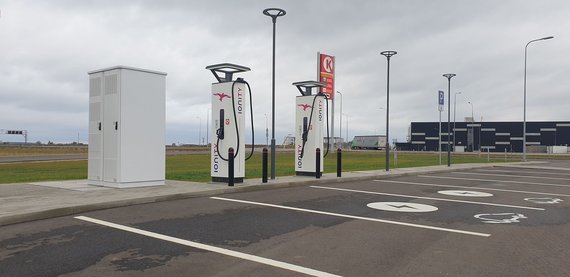 IONITY Panevėžys
Five of the six IONITY stations are placed alongside the international Via Baltica highway. As the project in the Baltic States is completed, the IONITY network connected Western Europe and Finland by road in full, and clients using the company's services will now be able to smoothly travel by electrical car on international routes along transport transit arteries.
"From inception onwards, we have devoted ourselves to making EV-charging not only a particularly fast but holistically seamless and satisfying experience for our customers. A close collaboration with partners, like Circle K, and GATAS has enabled IONITY to provide significant high-power charging to one of the Baltics most important corridors," Jan Haugen Ihle, IONITY'S Head of Northern & Western Europe, said.
Depending on the electrical vehicle model, IONITY stations can charge a battery from 20% to 80% within 18-30 minutes, and a battery can be charged for a hundred kilometres of travel within 5-10 minutes.
The Lithuanian transport infrastructure solutions company UAB GATAS was responsible for the deployment of the IONITY Baltic network. According to Ingrida Aleksonė, the company's CEO, the opportunity to develop this project of the highest international standards was both a recognition of GATAS's experience and responsibility.
"I believe that the IONITY project will contribute to the further development of the electrical vehicle ecosystem in our region. Our company also views the smart and electrical technology sphere as prospective – we believe that, in the coming years, it will comprise an increasing part of GATO's project portfolio," I. Aleksonė says.
Porsche dealerships are among IONITY's business clients, offering this service to buyers of their electrical cars. Rasa Klimavičiūtė, the head of the Porsche Vilnius centre, comments that Lithuanian clients value and make use of this opportunity.
"For example, the owner of a Porsche Taycan can charge their vehicle's battery to 80% within just 20 minutes at one of the IONITY stations. Thanks to the convenient Plug&Charge function, the driver need only plug the vehicle in to charge without worrying about payments because an invoice is created electronically at the end of the month via the Porsche system. Porsche guarantees a special tariff of 0.33 euro cents per kWh at IONITY stations for an entire three years from the start of using their vehicle," the Porsche representative says.
According to her, Lithuanian Porsche owners greatly enjoy the IONITY stop near Kryžkalnis because, while travelling along with one of the country's main roadways, one can now charge enough power to last at least 100 kilometres within just five minutes. This allows drivers to reach destinations at the country's seaside in true comfort and with a sufficient battery reserve.
IONITY builds and operates a high-power charging (HPC) network along Europe's highways, using state-of-the-art technology with a charging capacity of up to 350 kW. By doing so drivers of current and future generations of electric vehicles - using the leading European charging standard CCS (Combined Charging System) - benefit from maximum charging speeds while taking a break on their journey. Every IONITY charging station consists of an average of four charging points. As a commitment to sustainability, all IONITY chargers deliver 100% renewable energy for both emission-free and carbon-neutral driving.
IONITY was founded in 2017 and is a joint venture by BMW Group, Mercedes Benz AG, Ford Motor Company, Hyundai Motor Group and the Volkswagen Group with Audi and Porsche. The company is headquartered in Munich with an additional office in Oslo, Norway.
Jau prenumeruoji?
Prisijungti
Išsirink planą ir skaityk be ribų
Mėnesinis
planas
15min prenumerata

Kasdienis naujienlaiškis
BNS Sprintas

ŽMONĖS Cinema prenumerata
Pirmi trys mėnesiai – po 0,99 Eur,
vėliau – 4.99 Eur/mėn.
-50%
Metinis
planas
15min prenumerata

Kasdienis naujienlaiškis
BNS Sprintas

ŽMONĖS Cinema prenumerata
Apmokėti
Įvesk savo mobilųjį numerį, atsiųsime kodą
Į mobilųjį išsiuntėme kodą. Įvesk jį ir skaityk toliau
Norėdamas tęsti – prisijunk
Norėdamas tęsti – užsiregistruok