"Our goal is to complete the conversion project without halting manufacturing and in time for us to implement the company's ambitious development goals, more than doubling in size over several years. When choosing our general contractor, we took into account their reliability, professionalism, experience and commitment to completing work in time, and I believe that with our chosen contractor, we will complete the project smoothly and in line with the established schedule," says SBA Group company Kauno Baldai CEO Tomas Mauricas.
The CEO of YIT Lietuva Kęstutis Vanagas is pleased that the company's lengthy experience and work in the local market are recognised through trust and the opportunity to develop projects of such scale. According to Vanagas, the 28,000 square-metre factory will be notable not only for the innovative technologies involved but also for being environmentally friendly.
"The construction process itself will be interesting, with plenty of challenges, and we are planning construction to proceed in a way that will not hamper the client's manufacturing and logistics processes. YIT Lietuva makes use of the digital construction tools iTWO and Dalux amongst others, which will be an inseparable part of the project's implementation," he says.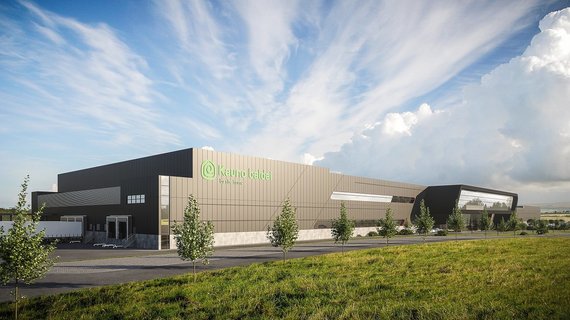 Kauno baldai visualization. Photo Kauno baldai
Several alternatives were reviewed prior to deciding to build a new factory to replace the existing one, and the decision was made due to sufficient space for development, comfortable transportation options for the staff, and facilitated manufacturing transfer from the old premises.
It is planned for the new Kauno Baldai factory construction work to proceed through two stages, with the factory beginning to operate at full capacity in 2023. The soft furniture manufacturer Kauno Baldai exports 100 per cent of its production to Scandinavia, the Benelux countries, and Germany. It employs 400 staff members.
About the contractor YIT Lietuva:
The urban development company YIT Lietuva has been operating in Lithuania since 1966 and belongs to one of Europe's largest construction service groups YIT Corporation which operates across ten countries. YIT Lietuva successfully performs contracting, home, commercial real estate, and building maintenance work, performing infrastructure creation and road building works.
About SBA Group:
SBA Group is one of the largest in Lithuania. It operates across the furniture manufacturing, textile and real estate sectors. SBA Group's furniture manufacturing sector includes the soft furniture manufacturer Kauno Baldai, as well as SBA Home, which manages six manufacturing companies: Klaipėdos Baldai, Šilutės Baldai, Germanika, Visagino Linija, Mebelain, Laminn and the logistics centre Innovo Logistika, which is located in the SBA Industrial Innovation Valley. SBA also owns the real estate innovation company SBA Urban, which is developing the Green Hall business valley in Vilnius and the BLC business centre in Kaunas. It also owns the investment management company Capitalica Asset Management, which manages the Kauno Dokas business centre in Kaunas, Vilnius' 135, and is developing the modern office complex Verde in the Skanste area in central Riga. SBA also manages the company Robotex, which offers robotics solutions and SBA Modular, which plans to manufacture modular multi-storey buildings. The SBA Group employs around 5,000 staff members, and exports its products to 50 countries around the world with sales reaching 362 million euros in 2019.
This article was edited by professional copywriter and proofreader Vicki Leigh. Find out more about her expert writing and editing services at twoflowercactuscreative.com
Prenumeruoji MAX?
Prisijungti
Išsirink planą ir skaityk be ribų
Mėnesinis
planas
Pirma savaitė - 0,01€,
vėliau po 3,5 €/mėn.
Apsimoka
Metinis
planas
Mokant iš karto
už 12 mėn. – 33,50 €
Apmokėti
Įvesk savo mobilųjį numerį, atsiųsime kodą
Į mobilųjį išsiuntėme kodą. Įvesk jį ir skaityk toliau