"We always strive for maximum quality and efficiency when developing real estate projects. Nemunaičiai is our exclusive residential project, so we set the highest standards for its implementation. Joint work with a reliable and long-term partner on the construction of five apartment buildings in Kaunas will allow us to offer our buyers housing of impeccable quality and will ensure a smooth construction process," says Giedrius Cvilikas, head of Notus Developers, an SBA company.
"We appreciate the trust, and we can assure you that we will use all the best practices of our 16 years of experience to achieve the best quality. We aim to meet all the client's requirements and not give the slightest reason to doubt our work. We hope that the first project will be successful and will lay the foundations for further cooperation," says Almantas Čebanauskas, CEO of Eikos Statyba.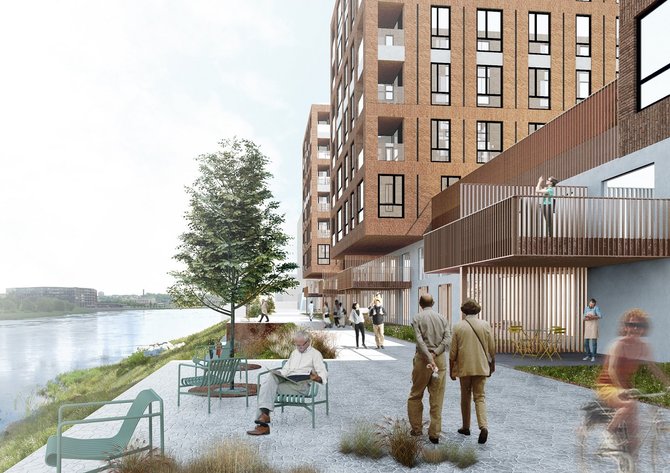 Nemunaičiai


According to him, the company mainly implements residential, commercial and public projects in Vilnius, but in Kaunas, in mid-2020, it implemented a project for the reconstruction of the northern platform of Kaunas Airport, and at the beginning of this year, it built a surface parking lot for the Kaunas Clinics. The Nemunaičiai project will be the first residential construction project for Eikos Statyba in Kaunas.
The construction of the new Nemunaičiai project developed by SBA Urban and named by Kaunas citizens themselves are in full swing.

"Five apartment blocks are currently under construction. We have noticed that the demand for prestigious housing in Kaunas has increased and has not slowed down so far. In the five houses we are building on the banks of the Nemunas River, only one-third of the apartments are vacant, and this number is decreasing rapidly," says Egidijus Ripkauskas, head of real estate development at SBA Urban.
The Nemunaičiai project is located in a unique location on the left bank of the Nemunas River, right next to the river on H. ir O. Minkovskių Street. A number of future projects are planned for this site, which will contribute to the area's urbanisation. The M. K. Čiurlionis Concert Centre is planned for the left bank of the Nemunas, while the Science Island and a Water Sports Centre with an Olympic swimming pool are planned on the Nemunas Island. The two banks of the river are to be connected by pedestrian bridges to facilitate transport links: a pedestrian bridge connecting Karaliaus Mindaugo Avenue with the Nemunas Island will soon be completed, followed by a bridge from the island to the left bank of the Nemunas.