However, it is already clear that offices are by no means doomed to descend into oblivion. Quite the contrary, it appears that once the pandemic concludes, they might enter something of a renaissance. That said, experts note that current offices will inevitably have to adapt to new work organisation models and changing business needs.
The business centre market is recovering
Partner at the real estate service company Colliers International and the head of its Commercial Property Brokerage Department, Sandra Jovaišaitė, says that after a decline at the beginning of the pandemic, demand for office space recovered successfully in the second quarter of this year and the market continues growing more active. According to S. Jovaišaitė, there is particularly high demand for Class A offices. However, only 3.5% of all office space currently on offer in the Vilnius market falls under this category.
"The recovery of the business centre market is based on the accumulation of demand for office space over the past few years, as well as the implementation of business relocation projects, which were postponed due to the pandemic. We also see that new companies are entering the Lithuanian market; they plan their office spaces similarly to before the pandemic. It is clear that in planning their operations, many companies still view the office's role as fundamental. That said, certain demands and expectations pertaining to office spaces are certainly changing," S. Jovaišaitė says.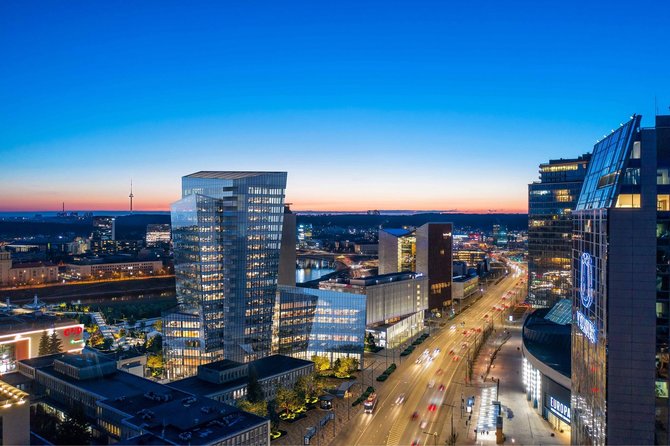 Artery building visual
Upcoming high-end projects draw advanced interest
Marius Žemaitis, fund manager at Lords LB Asset Management, which is implementing one of the most prominent recent business centre projects in the capital, confirms that there is no shortage of interest in premium office space in Vilnius. The Artery business centre on Konstitucijos Avenue, which was designed by the world-famous architect Daniel Libeskind together with the Lithuanian architect studio Archinova, should be completed by summer 2023, but companies are already making inquiries into opportunities to settle there.
"Companies in various sectors and of various sizes have voiced interest in the project. They expect the highest quality standards, modern solutions, and a convenient location and the exceptionality of the business centre, the atmosphere it conveys, and its unique aura. The artery is a project that will stand at the very heart of the Vilnius business centre, this project stands out not only with its unusual location and innovation, but also its unique significance for Vilnius itself. There are rare few projects of this class and such exceptionality in Vilnius, which makes it unsurprising that companies with the highest bar for quality, despite the continuing pandemic, are seeking opportunities to settle in exceptional spaces that match their needs," M. Žemaitis says.
With new work models, a new understanding of the office
Meanwhile, S. Jovaišaitė notes that while the office continues to perform many of its usual functions even now, a new understanding of the office is becoming increasingly evident. The expert notes that the office is increasingly becoming a location of meetings, cooperation, exchanging ideas, and inspiration, rather than a simple physical space where the interests of the company and its employees are concentrated.
"For many staff members, the office certainly remains a more comfortable place to work than the home despite many not refusing the opportunity to occasionally work from home as well. The office, in many respects, ensures not only a more productive working environment but also helps satisfy social needs, and allows more effectively creating and sharing of ideas. The pandemic further highlighted the importance of these aspects to office work, and so, as they adapt to the new circumstances and seek optimal means of organising work, companies often dedicate vast attention to precisely that, S. Jovaišaitė says.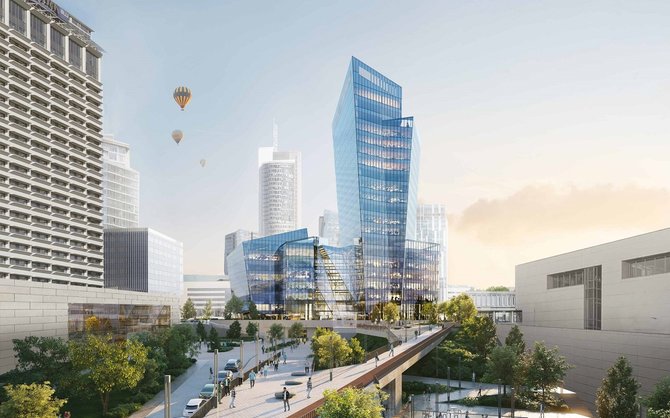 Artery building visual
Divergent company strategies
S. Jovaišaitė points out that it is difficult to indicate a single general trend for office transformation. Instead, each company chooses the direction that suits it the most, which depends on the specifics of its work, its chosen work model, the needs of its staff, the company's image, and its leaders' vision.
"In summary, four main directions could be described. The first is where companies seek to ensure a sufficient number of workplaces for staff looking to spend the larger part of their time working at the office, but also takes into account that the office will never have all staff members present at once. This results in the office being set up in a way that the number of dedicated workplaces would equal some 70% of the company's staff number, and the remaining spaces would be leveraged for convenient meeting rooms, discussion and lounge spaces," S. Jovaišaitė explains.
Seeking flexibility and opportunities to work in a hybrid model
The second direction is related to ensuring the utmost flexibility. According to S. Jovaišaitė, in this case, the priority is not for dedicated workplaces but flexible office solutions, which can be adapted to the company's shifting needs. For example, this includes easily installed and dismantled barriers and engineering systems that allow office planning or lighting changes.
"The third direction is tied to the trend which the pandemic spurred on some companies to turn to offices with individual rooms instead of open-floor workspaces. It is typically easier to ensure a safer, more private, and calmer work environment with individual rooms. Finally, there is one more clear trend – the aim to adapt current office spaces for hybrid work models, prioritising the integration of necessary technologies, setting up teleconference rooms and such," S. Jovaišaitė says.
The expert highlights that, in general, increasing attention is dedicated in offices to automated systems, solutions that ensure suitable premise ventilation and air quality, the creation of alternative work areas and socialisation spaces. Furthermore, offices are increasingly understood as a location for creating experiences, a key component of the company's image. S. Jovaišaitė explains that as the hybrid work model takes root, these factors will become increasingly relevant.
Innovation and sustainability – among the most important aspects
M. Žemaitis agrees about the importance of project innovativeness and automation. Particular attention was dedicated to these elements at the Artery business centre. Modern heating, ventilation, and air-conditioning systems ensure double the air volume, quality humidification and air filtration, while raised access flooring allow flexible office planning.
For his part, Žemaitis also points out that sustainability is becoming an increasingly important aspect for business centre tenants. This is because they want to settle in business centres that are as efficient as possible and have as low an environmental footprint as possible. For this reason, the A+ energy efficiency class Artery Business Centre will be pursuing the global BREEAM 'Excellent New Construction' sustainability certification.
"To achieve this, both the construction of the building and the solutions it integrates must meet extremely high criteria. For example, the business centre complex will also feature the largest electric car lot in Vilnius, with 28 charging stations. The BREEAM certification process assesses not only the building's environmental impact but also its ability to ensure the comfort and well-being of the people working at or visiting the building, which are innovative and progressive solutions will ensure," says Žemaitis.