The Mies van der Rohe competition is the most important contemporary architecture award in Europe, and has been held for the past thirty years. The competition's participants receive international recognition and the authors of the best project also receive a monetary prize of 60,000 euros. Projects are tendered to the competition by various recognised architectural organisations and independent experts from across Europe, including the Architects Association of Lithuania.
"During the competition, attention is directed at the contemporary architecture and its importance in forming people's living environment. In recent years, there has been a particular focus on architectural creations, which resolve environmental conservation and social problems, projects, which really change the lives of cities and people for the better," says Architects Association of Lithuania chairwoman Rūta Leitanaitė.
Contemporary interpretation of identity
According to Leitanaitė, the Darnu Group's Paupys project is the only conversion project in Lithuania where a territory of this size has been successfully turned into a part of a new model city, and with a combined urbanistic strategy, is becoming an integral and appealing part of the area. The project involves a significant contribution from the city and participating businesses, and has the capacity to come to an agreement and develop joint welfare so as to make it a lively part of the urban zone.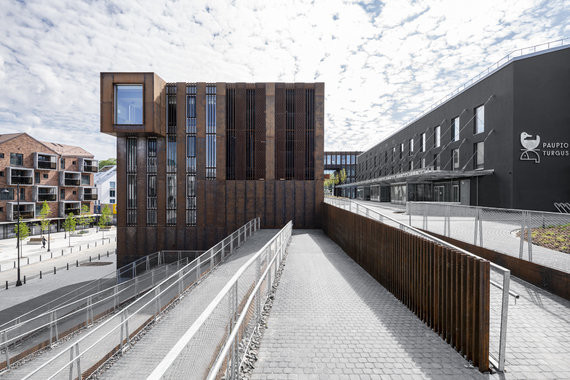 The Paupys business house designed by architect Audrius Ambrasas' bureau
"The project by A. Ambrasas' architecture bureau creates new residential and public space quality while also not denying and offering a modern interpretation of the former industrial identity of the location. At the same time, while forming various small spaces – passages, squares, terraces – as well as creating differing architectural expression among the buildings, an Old Town atmosphere is created. This atmosphere notably involves small scales, variety and surprise," Leitanaitė states.
"Our main goal in creating the entire seven block Paupys area was to adapt the industrial tradition that dominated this part of the city for many years to new, contemporary demands of city residents and so, when converting the former factory's territory, we sought to harmoniously combine the residential, commercial and public purposes. The Paupys business house organically combines offices, retail, culture and community generating public spaces.
"Together with architect A. Ambrasas and his team, we were able to expand the functionality of the business house and open it up not only to staff but also the area and city's residents, and we are very glad that the project will have the opportunity to represent Lithuania in this prestigious competition. It is great to know that with the Paupys area having just entered the second half of its development cycle, we have already been noticed and recognised," Darnu Group CEO Sigita Survilaitė-Mekionienė says.
Inspired by history
According to project author Ambrasas, the Paupys business house was created while maintaining the previous factory's volume composition from the outside, while internally, spaces were opened up for a market, cafes, stores, studios and offices. A terrace has been formed on the long building's roof, while the yard features a passage where commercial spaces are also settling in.
"This way, the spaces formed in Paupys create a sense of the Old Town. After all, this is a conversion of an industrial territory and so, the architecture remains a bit rougher here. Thus, upon creating proportionate and functional spaces, materials and technologies were selected that grant the complex an industrial impression," the architect explains.
Laureate of the National Prize for sensitive city space formation and professional accountability Ambrasas also reveals that he drew inspiration also from the other areas close to Vilnius Old Town, such as Užupys, Paplavos and Markučiai.
Spanning a territory of 7 hectares in Vilnius Old Town, Paupys is one of Lithuania's largest conversion projects for non-functional spaces and has been included in the Vilnius city municipality's 2010-2020 strategic plan Architecture Park.
In total, Darnu Group is to invest over 150 million euros into the Paupys area's conversion project.
Mėnesinis planas
Mokant už 1 mėn.

Pasirinkti
Tik nurodytoms banko kortelėms
Metinis planas
Mokant iš karto už 12 mėn.
Iš viso 47,88 €
Pasirinkti
Tik nurodytoms banko kortelėms
Išsirink tinkamą planą!
Apmokėti