According to data from a study by Luminor, more than half of youths live in a home belonging to themselves, their spouse or parents. Lacking this, they plan to obtain a home over the coming few years.
Most almost agree that real estate is a good investment in the future, and paying a loan is more effective than spending on rent. However, this attitude differs from that in Western Europe, which begs the question: why are Lithuanians so intent on having their own home?
Historically formed traditions adjusted by the young generation
"In terms of the impact on the ratio of homeownership and home renting, every country has its own history - from state-regulated rent prices or social housing programmes (this is popular in Germany, where government managed property comprises almost 51.5 per cent) to home affordability, the size of the city in question, and its structure. When deciding to change workplaces in a large city, it is natural to also change the location of your home, and renting property is often more effective in such a case. This is relevant to the residents of the United Kingdom, where private property ownership reaches 65.3 per cent," says Mantas Mikalauskas, an analyst for Darnu Group, one of Lithuania's largest living, work and leisure space developers.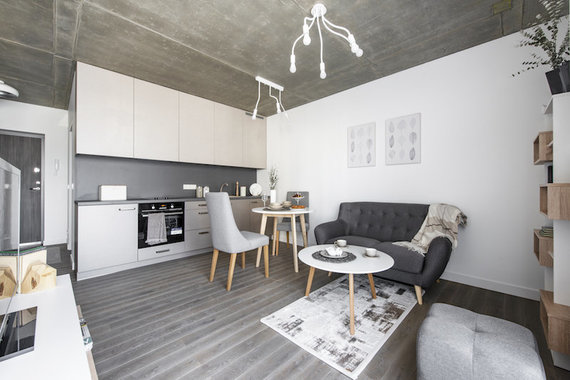 A flat
While nine out of ten in Lithuania have their own home, this statistic is beginning to be adjusted by the young generation. Today, it reflects the typical buyer's profile, is less attached to a permanent place of residence, and is more concerned with the economy of sharing.
"The new generation is inclined to get to know the world and then think about a stable life and creating a family. And so its members often find themselves at a crossroads when thinking about what they should choose – renting a home or buying one's own," M. Mikalauskas said.
Nevertheless, a study performed by the bank Luminor showed that 80 per cent of youths are convinced that real estate is a good investment for the future, and 70 per cent stated they would rather pay a loan than invest into the rent. Only 4 per cent of respondents would choose to live in a rented home if they had the opportunity.
"The Luminor bank survey performed across the Baltic States revealed that our youths are mature, and attached to their homes. Lithuanians are not inclined to calculate when a good time to purchase a home is or when it is a bad moment for it. We neither await a crisis, nor a devaluation of real estate. To our people, the home is important, and so we purchase it when we need it, without waiting for some forecasts or guesses to come true. People see more meaning and benefit in paying a home loan than renting, and when circumstances change or if a larger home becomes necessary, the first one becomes an excellent investment," explains Luminor bank home loan product head Andrius Kvakšys.
Renting – a convenient but ineffective solution
"One of the most important arguments as to why people rent homes is the need for freedom and flexibility, the option of not being attached to the home and, if circumstances change, change its location and size. When renting a home, you need not handle its technical maintenance and during an economic downturn, there are more modest risk consequences," M. Mikalauskas assures.
On the other hand, if prior generations often live the majority of their lives in the same home, young individuals now usually purchase a home for 3-5 years and when the size of their household increases, they move to a larger flat or even private house. According to the survey, this is especially valued by women, and the need for a private house increases when one reaches the age of 26-30. That said, according to M. Mikalauskas, today, the capacity for movement has become equally relevant to everyone.
"Real estate has good liquidity. Upon purchasing a home and paying a loan (which is often even lower than the cost of rent), you not only obtain the property but also potentially earn from capital growth – just over the past 12 months, real estate prices rose by 4.6 per cent in the city of Vilnius" the Darnu Group representative observed.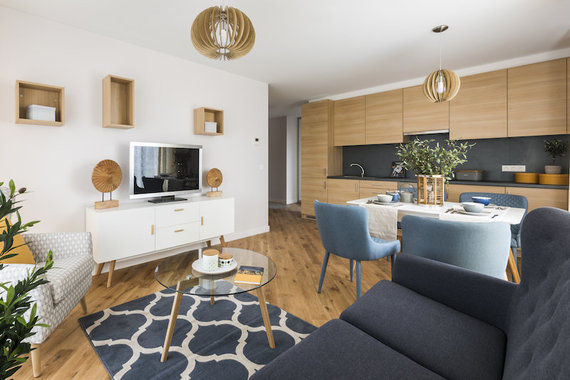 A flat
Loans are cheaper
Often the decision of whether you will buy or rent is based on the price. According to the expert, which option is more economically viable is based on the chosen area of the city, and the home's furnishing level.
For a more precise analysis, M. Mikalauskas compared competitive and comparable homes in the capital, with the criteria of them being placed in the same area of the city and having similar sizes. The comparison included three middle-class projects currently being developed in the capital, which have drawn significant attention from buyers. Upon evaluating the loan offers of three different banks, the average monthly rent price was nonetheless 25-40 per cent higher than the potential monthly rent payment.
"After buying and furnishing a newly built middle-class apartment of 35-42 square metres, you could rent it out for around 450-500 euros. With a home loan, this would cost less, and so such an option looks more appealing. However, it is worth noting that in order to receive a loan, you must accumulate a 15 per cent initial deposit, while a rented apartment, unlike your own, does not demand further investment in terms of wear and tear and technical maintenance," M. Mikalauskas said.
Needs formed by both urbanisation and lockdown
M. Mikalauskas advises not to view the home as a decision for the rest of your life. It is primarily capital for the future, a clearly understandable and tangible investment. Given the need, you can always sell the home in the future, and if you choose not to live in it you can rent it to others. Often, apartments under 40 square metres in size become such 'employed' homes.
"Most of the buyers for such homes are investors. They seek to offer the property for short or long term rent later on," said M. Mikalauskas, representing Darnu Group, which is developing the Paupys project.
According to him, urbanisation and changing attitudes have had the greatest impact on home sizes. Buyers now find relevance not in the size of the apartment, but in its functionality.
"When seeking a two-room apartment, they would rather choose 42 and not 52 square metres – the price of such property is far smaller, but functionally it is near-identical," M. Mikalauskas states.
However, in the past six months, the real estate market has had its cards reshuffled by the lockdown, with buyer needs changing and with workplaces moving from the office to the home, many have begun seeking larger homes, the need has emerged to a separate working room to be established.
"Buyers have begun to also focus more on internal yards. Balconies and terraces have become the norm today and meanwhile, efforts are made to form harmonious and friendly neighbour communities in the yards. On the other hand, just as before, the placement and surrounding service offerings remain key terms in the buyers' needs," M. Mikalauskas said.
Mėnesinis planas
Mokant už 1 mėn.

Pasirinkti
Tik nurodytoms banko kortelėms
Metinis planas
Mokant iš karto už 12 mėn.
Iš viso 33,50 €
Pasirinkti
Tik nurodytoms banko kortelėms
Apmokėti