'Both the attractive areas situated near the city centre's old town and the symbolic Basilica of Our Lord Jesus Christ's Resurrection (Christ's Resurrection Church) in Kaunas, together with the substantial radio factory, required a fresh vision. We are here to promote it and believe that the residents of this stylish and modern city will embrace it, with the project itself breathing new life into Žaliakalnis. Radio City will let you live, work, create, improve and relax – all in one place and at any pace', claims Mindaugas Vanagas, the creator of Radio City vision, the founder and shareholder of CITUS.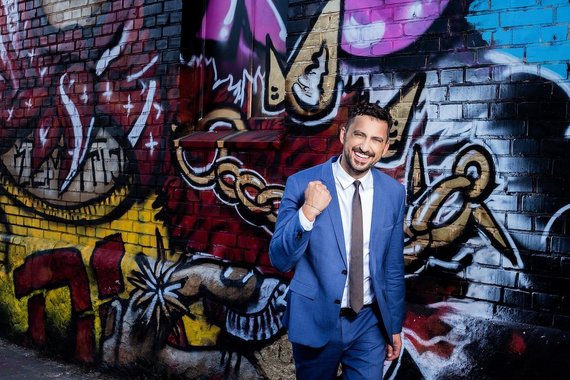 Mindaugas Vanagas CITUS
EUR 14.4 million will be invested in the 15,000m2 project in the next 3.5 years. Two-thirds of Radio City will be dedicated to the loft. We will also offer micro offices and shared workspace, a food court, entertainment and culture areas, different workshops and outstanding roof terraces for varied leisure activities.
The project is divided into four parts and will be developed in two stages. During the first stage to April 2022, we will create areas in the building (Nida) on Astronomija Street and Banga on Savanoriai Avenue.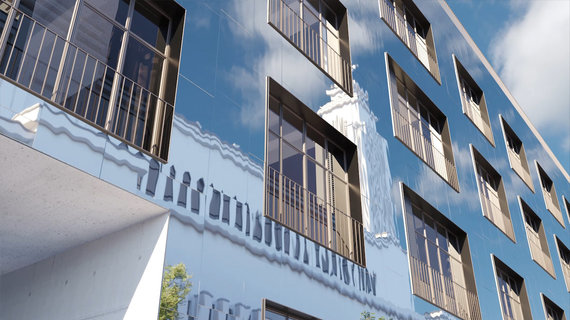 Radio city visualization @ Lilija Lozovic
The second stage will include the Daina building at the side of Christ's Resurrection Church and the Minija building on Žemaičiai Street. This stage should start in approximately one year and should be finished within two years by spring 2024.
'I believe that the history of the former factory, its creative aura and ideas, were far ahead of their time and provide a great impact which we wish to resurrect and highlight further. So all spaces, architectural and design options, cooperation with artists and the creative community - people full of ideas – everything is focused on implementing this idea and bringing the centre of attraction back to the top of Žaliakalnis,' said M. Vanagas.
Architectural solutions
Implementation of the architectural aspect of the Radio city conversion will be undertaken by the well-known team at the Kaunas architecture studio Archas: Gintaras Čepurna, Tomas Kuleša, Savickas, Neringa Sobeščukaitė and Jolita Slendzoka. According to their plans, the original shape of the building, the layout and some other authentic details will be retained, e.g. 60-year-old CCTV cameras will be left as decorations.
Loft 3D-4
Different exterior facades will provide the Radio City complex with industrial modernity: we plan to cover the Daina building with matte mirrors reflecting the architecture of Christ's Resurrection Church, Minija will carry a natural look created by smoked tiles, Nida will be decorated with large fraction decorative plaster and Banga will receive artistic graffiti which has already become a part of Kaunas's image. French-style rough metal balconies will add to the overall style.
We will renovate original staircases and the commercial premises will acquire metal and decorative concrete elements. Bright colour details will enhance the feel of modernity and mask different functions of the building. Common areas will have some authentic elements: some luminaires, filing cabinets, information signs, chairs and other finishing details.
'Radio factory is an important constituent for Kaunas residents. It was painful for us, as city residents, to see it disappear and die. So we sought a balance between history and the future and set a goal of solving this complex building, creating a space where, no matter what they do, people would feel comfortable. Radio City will mark the start of the regeneration of this unique Žaliakalnis area', claims architect and Archas manager Čepurna.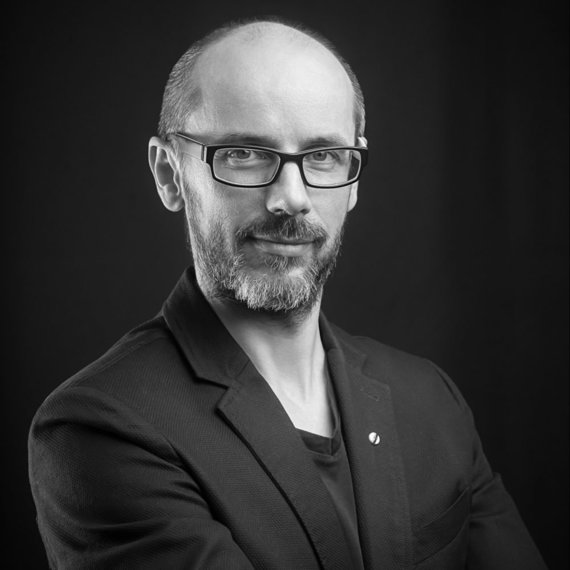 Gintaras Čepurna from Archas
Areas for life, work, rest and culture
The total project area is almost 15,000m2 and the lofts, micro offices and shared working space, relaxation, leisure and creative areas will take up almost 13,000m2. Radio City already has two show lofts.
The whole project includes almost 330 lofts which ranging in size 20–44m2, but there will be an option to add mezzanines. Apartment prices start from 1,695 EUR/m2.; the mezzanine area is included in the cost. For the convenience of residents and employees, we plan to install elevators and video surveillance cameras. There will be an option to combine lofts to requested dimensions and they will have underfloor heating.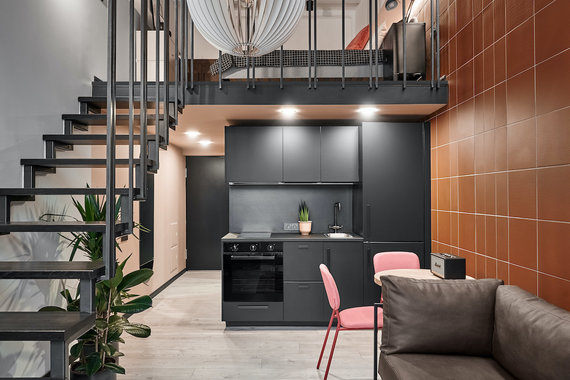 Demo loft @ Lilija Lozovic
The choice of lofts in Kaunas is not yet extensive, but the demand is increasing as people are attracted by the idea of living in a non-standard dwelling. An example of success is the first conversion project in Kaunas by Citus – Telegraph ('Telegrafas'), on K. Donelaitis Street, completed a few years ago where almost all of the premises are transformed into lofts.
Radio City shared working spaces are planned together with partners. You will be able to rent a separate space for work and choose from micro offices which range in size 12–45m2. Almost half of the area for commercial premises will be dedicated to working spaces. For other premises, we will invite catering or beauty services companies that have interesting business concepts, designer shops, leisure activities, entertainment and culture workshops and sports clubs.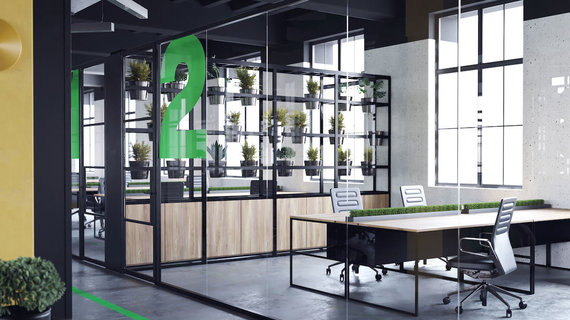 Radio city offices visualization @ Lilija Lozovic
There will be a large space on the roof divided into separate areas for different leisure activities: the green zone for recreation, activities for children, relaxation areas and a city observation deck that shows off the beautiful Kaunas landscape and a wonderful view of Christ's Resurrection Church. One additional leisure area will also be installed on the ground floor of the building.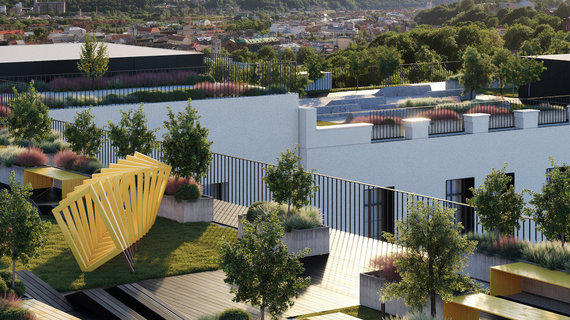 Terrace visualization
Numbers and facts
Address: Žemaičių Street 31, Kaunas
Investments: total – around EUR 14.4 million; I stage – EUR 6.24m; II stage – EUR 8.12m;
Area: total area – 14,952m2 , usable area – 12,723m2;
Apartments: 329 units, 9,855m2 (I stage– 152 units; II stage – 177 units); 20–44m2 ; price: from 1,695 EUR/m2., including VAT;
Commercial spaces: 14 units, 2,868m2 (I stage – 4 units, 816m2; II stage – 10 units, 2,052m2); price – from 1,070 EUR/m2;
Shared working spaces: around 2,400m2 (I stage);
Team of architects: Gintaras Čepurna, Tomas Kuleša, Jolita Slendzoka, company "Archas";
Construction start: I stage – the third quarter of 2020; II stage – the third quarter of 2021 (planned);
Construction end: I stage – the second quarter of 2022; II stage – first quarter of 2024 (planned);
More information: www.radiocity.lt
Leave the interpreting to us! Translated by Pasaulio spalvos
Mėnesinis planas
Mokant už 1 mėn.
Pasirinkti
Tik nurodytoms banko kortelėms
Metinis planas
Mokant iš karto už 12 mėn.
Iš viso 47,88 €
Pasirinkti
Tik nurodytoms banko kortelėms
Išsirink tinkamą planą!
Apmokėti