Embankments and railway road construction work for a European 1435 mm gauge railway on the Rail Baltica stretch between Kaunas and Palemonas are to be completed this year. Also, two-level road vehicle crossings are nearing completion, as is the installation of pedestrian crossing tunnels.
Attention to traffic safety
As a high-speed rail line is being built, high-security requirements have been set for the railway.
In order to increase road transport and pedestrian traffic safety, four underground railway crossings are being constructed in Kaunas. One of them, a four arch tunnel with two separate railway crossing points for road traffic and two for pedestrians, will be the largest construction of this type in the Baltic States.
Rail Baltic railway stretch between Kaunas and Palemonas
Also, in the Kaunas railway tunnel and nearby it, around 2km of parallel 1435/1520 mm gauge railway track will be laid down, 3.6 km of existing 1520 mm gauge railway will be reconstructed, intensive work will be performed in laying down a new 1435 mm gauge railway track and a railway viaduct for a 1435 mm railway track will be completed.
In consideration of how upon the construction of Rail Baltica, rail traffic will intensify, the comfort of those living close to the railway is taken into account ahead of time. During the project's implementation, 1.5 km of noise-cancelling barriers are soon to be fully installed, other noise-cancelling measures are being put in place.
Also, while modernising the Kaunas Railway Node, 3 km of supporting walls were built, the entire contact network was reconstructed, 8 km of drainage pipelines were laid down, other infrastructure works were performed on the route.
New opportunities for travellers and business
The railway stretch between Kaunas Railway Station and Palemonas is one of the most important in the Rail Baltica project – it aims to connect the European standard gauge railway from the Polish-Lithuanian state border to the Palemonas-based intermodal cargo terminal.
Upon connecting the intermodal terminal with the European rail network, Kaunas will become a key cargo stevedoring centre – it will service both wide (1520 mm) and European (1435 mm) gauge railway trains.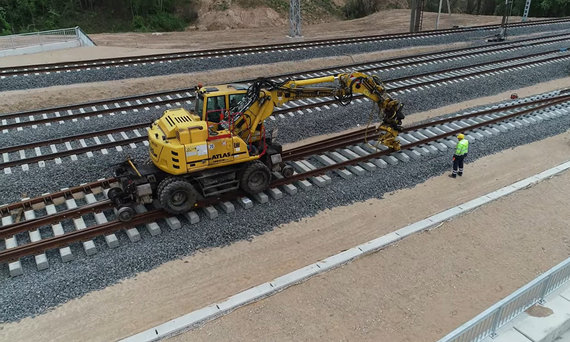 Rail Baltic railway stretch between Kaunas and Palemonas
Thus, for Lithuanian and other European businesses, new opportunities will emerge to transport cargo by new means, combining different types of transport. The new opportunities offered by the European standard gauge infrastructure connected to Kaunas Intermodal Terminal will not only allow businesses to reduce logistics costs but will also reduce environmental pollution, congestion, noise, road traffic accidents and the negative environmental footprint of road transportation.
Environmentally friendly
During preparations for connecting the Kaunas Intermodal Terminal to the European railway network, alongside partners from Germany and Poland, this summer, a semitrailer transportation route was tested from Kaunas to Germany. With its aid, cargo will be transported not only at a lesser cost, but also, polluting the environment less with CO2.
Furthermore, the modernisation of the Rail Baltica stretch Kaunas-Palemonas will create conditions for the successful continuation of the project toward Latvia and Estonia.
Rail Baltica is the largest infrastructure project in the Baltic States over the past century. The modern rapid Rail Baltica connection will link Tallinn, Pärnu, Riga, Panevėžys, Kaunas, Vilnius and Warsaw, as well as offering a comfortable, safe and harmless to the environment alternative of transporting passengers and cargo. Upon laying down Rail Baltica, modern electric trains will begin coursing through it.
Mėnesinis planas
Mokant už 1 mėn.
Pasirinkti
Tik nurodytoms banko kortelėms
Metinis planas
Mokant iš karto už 12 mėn.
Iš viso 47,88 €
Pasirinkti
Tik nurodytoms banko kortelėms
Išsirink tinkamą planą!
Apmokėti