Already in early next year, the staff of Littelfuse's global service centre will move into 1,400 square metres of space. With the new tenants, the BLC business centre, which is developed by SBA Urban, will be at 99% occupancy – only a few hundred square metres will remain vacant.
"The renting out of a massive office centre in the heart of Kaunas in under a couple of years is a confirmation of our strategy's potential. We develop offices of unique architecture and BLC is also located near the restored Unity Square. International companies such as Littelfuse, which have the highest quality standards for their offices, value the advantages offered by our solutions. This deal marks yet another successfully completed project and should silence the sceptics who doubted in the future and potential of the Kaunas office market, as well as the capabilities of its labour market," SBA Urban commerce director Giedrius Muliuolis states.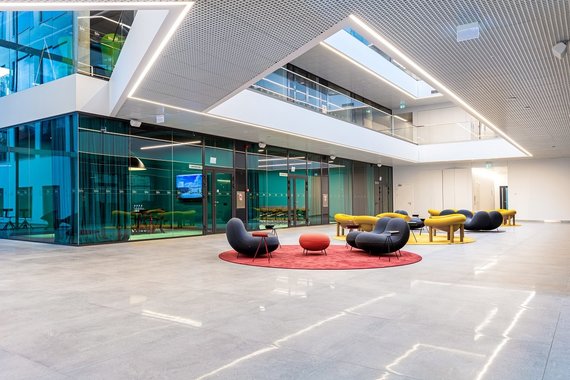 BLC business centre
While selecting an office, Littelfuse particularly focused on environmental conservation and ecological questions and so, the team at BLC had to prove that the office was developed by leveraging sustainable, environmentally friendly materials. What is also important is that the building is not only of exceptional style but also sustainable and with a lower environmental footprint.
Attention to flexibility and cosiness
That said, while seeking a new office, the team at Littelfuse didn't just have sustainability in mind – the highest requirements were also set for acoustic solutions and free planning. Finally, the office's location in the city was also a crucial criterion. In the city centre, the staff will have areas to rest, cafes and other leisure opportunities. The company's leadership hopes that the appealing workplace will further motivate the high qualification specialists currently employed at the company and will help attract new talents.
The new members of the BLC community have particularly responded favourably to the opportunity of renting their required space in a single location and setting it up to meet their needs.
"Both in selecting a building and the team responsible for its development, it was especially important to us that our core values would coincide. We not only manufacture at the Littelfuse company in Kaunas, we also create new products and the spectrum of responsibilities for the specialists working here is especially broad – both in terms of spheres of operation and in terms of geography. Thus, the premises and the team managing them must be unafraid of transforming and adapting to the diverse needs of the people working here. Thus, when seeking a new office, we set particularly high requirements in innovation and flexibility for the developers. It was namely the team at SBA Urban that matched them best – we found a new home for our business, which will be pleasant to return to," Aidas Kučys, the director and factory head of Littelfuse LT, states.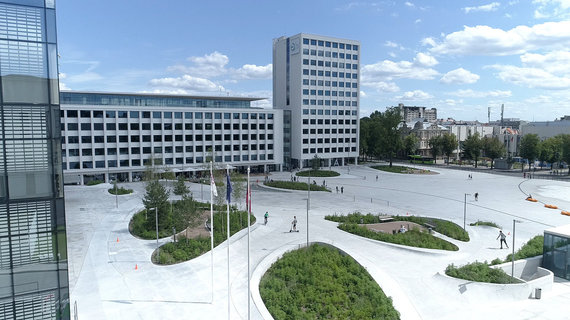 BLC business centre
Almost one hundred members of the Littelfuse corporation's service centre staff currently working in Lithuania will settle in the new premises in January next year.
Kaunas – appealing to international companies
An international company with roots in Lithuania dating back almost three decades, the Kaunas-based company develops and manufactures a variety of sensors and components for major automotive manufacturers around the world. According to A. Kučys, from the very beginning the company saw a lot of undiscovered potential in Kaunas, which has only become more apparent over time.
"Current and future high qualification specialists from around Lithuania gather in Kaunas, it is easily within reach from any other city and, thanks to its international airport – from across Western Europe. These conditions ensured that over the past few decades, a particularly strong automotive electronics component and device manufacturing company cluster formed in Kaunas. We see prospects on the labour market – we contribute to projects which aim to nurture a generation of specialists and new talents," the company head stated.
Jau prenumeruoji?
Prisijungti
Išsirink planą ir skaityk be ribų
Mėnesinis
planas
15min prenumerata

Kasdienis naujienlaiškis
BNS Sprintas

ŽMONĖS Cinema prenumerata
Pirmi trys mėnesiai – po 0,99 Eur,
vėliau – 4.99 Eur/mėn.
-50%
Metinis
planas
15min prenumerata

Kasdienis naujienlaiškis
BNS Sprintas

ŽMONĖS Cinema prenumerata
Apmokėti
Įvesk savo mobilųjį numerį, atsiųsime kodą
Į mobilųjį išsiuntėme kodą. Įvesk jį ir skaityk toliau
Norėdamas tęsti – prisijunk
Norėdamas tęsti – užsiregistruok