While many still describe this experience as a future dream, a multifunctional office on the outskirts of Vilnius is a perfect example of the new reality. It is the team working here that feels its benefits the most, however, anyone can try out the latest technologies. Especially for this experience, JUNG Vilnius has set up the country's first smart home systems demonstration showroom in the vicinity of the office, where one can find probably the largest number of smart solutions in one place, and experience the advantages of each of them.
Precision before you even cross the threshold
You can observe the smartness of the new JUNG Vilnius office of almost 3,000 sq.m. before you even step inside. There is an automated outdoor plant watering system meeting everyone who is approaching the office and an outdoor weather monitoring station on the roof that automatically sends signals to regulate the room temperature or close the blinds when the sun is shining outside. The roof also houses solar modules to help reduce costs and use the area as a green energy station.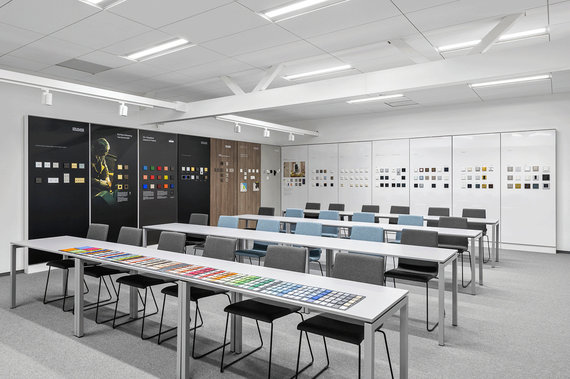 At the JUNG Vilnius Office
Sustainability is also reflected in the office car park, where employees and clients can use an e-charging system to charge their electric cars, bicycles or scooters for free, using the personal electricity provided by the JUNG power plant.
Employees are allowed inside using fingerprint scanning or facial recognition solutions, depending on their individual needs. Raimundas Skurdenis, the head of JUNG Vilnius, has made the process even easier for himself by using a scanning mechanism of a sensor under the skin to unlock the door.
"Our company's activity is very closely related to smart building management systems, so when we were furnishing the office, which is probably the only one in terms of smartness not only in Lithuania, but also in Eastern Europe, we wanted to not only talk about them but also reflect them directly.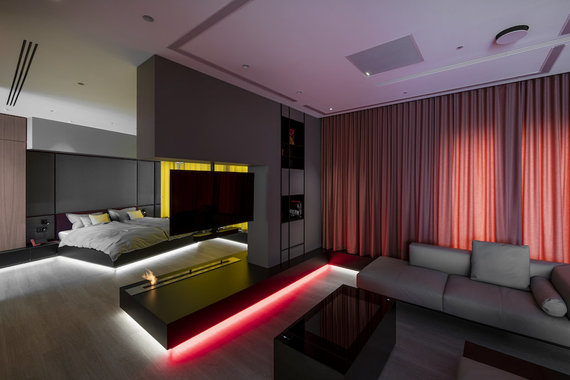 JUNG demo flat


In addition, we want to create comfortable, modern, sustainable and innovation-driven workplaces for our employees, so what we have today is real evidence of our experience and progress," says Raimundas Skurdenis.
Demonstration space – for those who want to "try on" the home of the future
Inside the office, there are not only ultra-modern workplaces and a warehouse, but also a smart home systems showroom, which is already open to visitors. According to the head of JUNG Vilnius, this is a unique space, which consists of a real apartment with a kitchen, living room, bedroom and bathroom areas under one roof. There is also a demonstration hotel room.
The entire demonstration space, according to Raimundas Skurdenis, is probably the only one in the country and in the whole of Eastern Europe that brings together such a large concentration of integrated smart systems controlled from one common system.
"I would also like to remind you that smart systems are not a novelty in the country – they can be found in both private and public spaces, but only a handful of them actually combine into a coherent and collaborative whole," notes Mr. Skurdenis.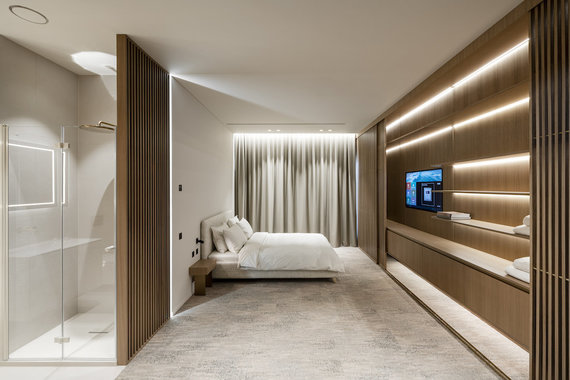 JUNG hotel room
According to him, the main expectation was to create a showroom that reflects the real technological possibilities as realistically as possible and conveys a sense of the home of the future. From voice control and biometric door locks to automatically controlled lighting and music that is only suitable to be played in the kitchen, visitors can try out the equipment themselves and feel what technological advances that make life easier and serve the consumer mean. The quality criteria for this showroom were extremely high and much of the furniture was made according to special orders. However, Raimundas Skurdenis points out that visitors to this office can only see the products but not buy them, and advises them to contact the distributors directly.
"I think this is a great synergy between JUNG and other partners – well-known brands of household appliances, sanitary equipment and others. Everyone is welcome here – interior designers, architects, electricians, as well as students of these fields or newcomers dreaming of such a home," says the head of JUNG Vilnius, who is convinced that for today's consumer, the images offered in catalogues or in the virtual space alone are not enough.
You can visit the JUNG Vilnius showroom at Senasis Ukmergės kl. 12, Užubaliai, Vilnius district.
Translated by Metropolio vertimai – your trusted translation partner
Išsirink planą ir skaityk be ribų
Mėnesinis
planas
Pirmas mėnuo – 1€,
vėliau po 3,5 €/mėn.
Apsimoka
Metinis
planas
Mokant iš karto
už 12 mėn. – 33,50 €
Apmokėti
Įvesk savo mobilųjį numerį, atsiųsime kodą
Į mobilųjį išsiuntėme kodą. Įvesk jį ir skaityk toliau