When planning or talking about organisational change, many managers tend to focus on others: employees, the team or the organisation itself. However, Bjornar Lund, former head of DNB Bank in Lithuania and current head of equipment finance at DNB Finans in Norway, came to Vilnius and asked a question: "Managers, how often do you think we need to change ourselves and how do you do it?"
Turmoil can help business
Some of the speakers demonstrated through personal examples that the most turbulent periods of their lives turned into the fastest career and personal leaps, so that the pandemic and the new reality shook, but did not knock the leaders out of their track. Anne Jorun Aas, CEO of Farmforce AS, who has 20 years of managerial experience in sustainability, technology and innovation, argued that in the face of chaos, business can flourish.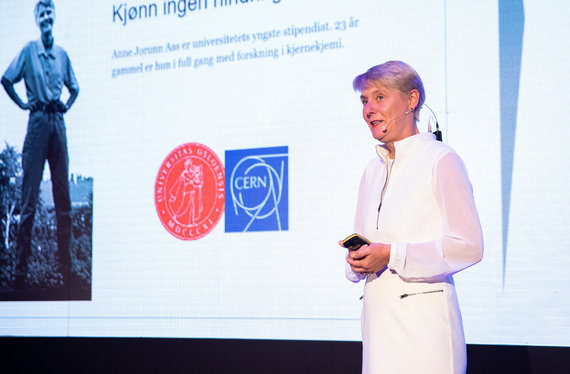 ISM University of Management and Economics/Anne Jorun Aas, CEO of Farmforce AS
"Disrupting routines or stepping out of one's comfort zone can be a key reason for an organisation's or individual's growth. Of course, to avoid change becoming a catastrophe, it is important to adhere to your organization's values, to have clearly defined ambitions, and a diverse team, to address complex global problems" emphasised A. J. Aas.
The need for a united team in the age of change was highlighted by almost every manager who delivered a presentation at the conference. With 30 years of management experience in various companies in the IT sector, Tom Georg Olsen, founder of Miles AS, presented trust-based management, which has helped his company to maintain its team spirit during a pandemic. In fact, his company's leadership model has attracted considerable interest in Norway and other European countries.
Anne Sophie Gjems, Partner and CEO of Fuel lt AS, analysed how the right psychological climate helps employees to get along, while Marete Berdal, owner and CEO of Jotron AS, demonstrated that the culture of her organisation has turned into a competitive advantage in turbulent times, following the example of her company.
Future workers will need to be creative
Leaders moving into a post-pandemic world, together with their teams, face a constant need to learn. Therefore, those who can learn are likely to get the most out of the current time. Daniel Sunde-Hansen, head of Center for the Edge at Deloitte in Norway, encouraged the search for different ways to better understand tomorrow's world, where standardised products and services will increasingly give way to personalised ones.
"We are moving away from the industrial age towards the contextual one, where consumers expect products and services customized to their needs. Employees will need to be able to improvise quickly, building on their interaction with the customer to tailor products and services to fit their needs. How to accelerate employee learning and breakthroughs? Look for ways to connect with others, inside or outside your organisation, to learn faster" said D. Sunde-Hansen.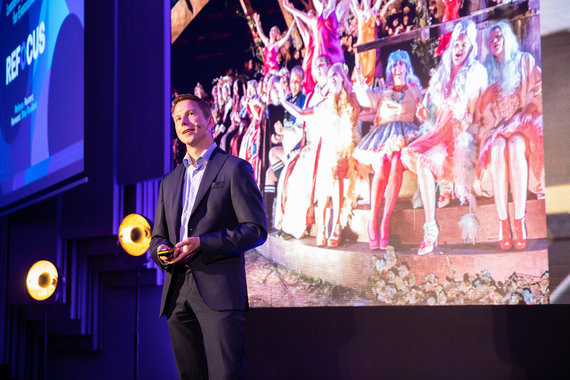 ISM University of Management and Economics/Daniel Sunde-Hansen, head of Center for the Edge at Deloitte in Norway
The challenges of hybrid work at a distance and in the discussions of speakers were analysed by the heads of Lithuanian organisations and representatives of the academy. In response to the question of who is more willing to move into hybrid work – employees or employers, Prof. Dr. Raimonda Alonderienė replied that both stakeholders should be taken into account when moving towards a new working model.
"Hybrid work may be preferred by an organisation that sees a need or certain advantages, such as cost savings from no longer having to maintain so many physical workstations. Of course, the solution can also stem from a need for security, where the employer wants to ensure that, within certain constraints, all or most employees work from home. As far as employees are concerned, the question should be asked: how many of them want to work remotely, and why? But the demand comes from both sides", says R. Alonderienė.
The REFOCUS conference was organised by ISM University of Management and Economics in cooperation with the Norwegian Embassy in Lithuania, Lithuanian-Norwegian Chamber of Commerce and Norwegian-Lithuanian Chamber of Commerce. The conference is funded by the bilateral cooperation funds of the European Economic Area and Norwegian Financial Mechanisms.
Prenumeruoji MAX?
Prisijungti
Išsirink planą ir skaityk be ribų
Mėnesinis
planas
Pirma savaitė - 0,01€,
vėliau po 3,5 €/mėn.
Apsimoka
Metinis
planas
Mokant iš karto
už 12 mėn. – 33,50 €
Apmokėti
Įvesk savo mobilųjį numerį, atsiųsime kodą
Į mobilųjį išsiuntėme kodą. Įvesk jį ir skaityk toliau