Input of the grain industry
The year 2020 witnessed the record grain harvest of 8 million tons in Lithuania. The quantity of the main strategic raw material of food – grain – is sufficient not only for domestic market export but also for reserves guaranteeing food provision in case of emergency situations. The Lithuanian grain industry processes approximately 1.6 million tons of grain for three products, feed, malt and biofuels. Export of processed products, such as malt, starch or wheat gluten, accounts for 70-80 per cent.
According to the President of the Lithuanian Association of Grain Processors and Traders Karolis Šimas, the export of grain and its products has favourable effects on the national economy. Around 70% of the grain is exported. Lithuanian grain export is similar to the export of such developed countries as Canada, Australia, and the US. Lithuanian grain is exported to nearly all EU Member States, some African countries and elsewhere, e.g., to Israel, China and Saudi Arabia. Grain products – malt, instant foods, pasta, starch, glucose syrup, etc. – find their markets all over the world.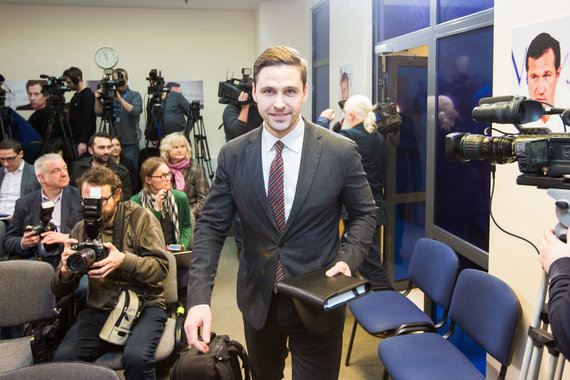 Luko Balandžio / 15min nuotr./Karolis Šimas
The EU funds are stretching out a helping hand
A year ago, the European Commission (EC) introduced a new industrial strategy of Europe aimed at helping Europe's industry transition to climate neutrality, digital leadership and sustaining competitiveness in the world. President of the EC Ursula von der Leyen stated that "Europe's industry is the motor of growth and prosperity in Europe. And it is at its best when it draws on what makes it strong: its people and their ideas, talents, diversity and entrepreneurial spirit." Europe's industry creates 20% of the total EU value-added and employs 35 million people.
During the new financing period for 2021-2027, the detailed EU recovery plan developed by the EC stipulates grants of EUR 2.4 billion for Lithuania. The vitality of the national grain industry could be improved also by different supports distributed through Recovery and Resilience Facility (RRF), rural development program of the common agricultural policy (RDP) and other facilities.
To be in time for the distribution of finances of the EU funds, promising fields need to be determined and analysed. Changing consumer priorities call for the reconsideration of strategies and activities. Production of innovative products supported in the EU strategies will help the grain industry. The future is guaranteed for the directions of balanced sustainability, reduction of adverse environmental impact, sustainable agricultural innovations, food technologies, bioeconomy, more sustainable consumers' diet and improvement of quality of life for people in pursuit of better health. According to experts, received support could sustain and increase export, help in modernizing and developing zero-waste production, and applying circular economy principles. Grain industry companies could apply for support from various EU funds, which requires approval by the Ministries of Agriculture, Economy and Investments, Energy, and Environment.
New breakthrough opportunities
Danas Tvarijonavičius, Chair of Board of Roquette Amilina – one of the largest manufacturers in Northern Europe in the field of wheat biorefining, employing innovative technologies to recycle renewable biomass into native and modified starch, vital wheat gluten and glucose syrups – believes the availability of funds and installation of innovative technologies would create a possibility for Lithuania to increase trade volumes and generate a bigger breakthrough in food biotechnologies. At present, the food processing industry is not included in the national progress plan; therefore, to secure financing for business promotion measures, businesses have to apply for national innovations and other programs. He believes Lithuanian grain processors and traders' expectations comply with various EU strategies.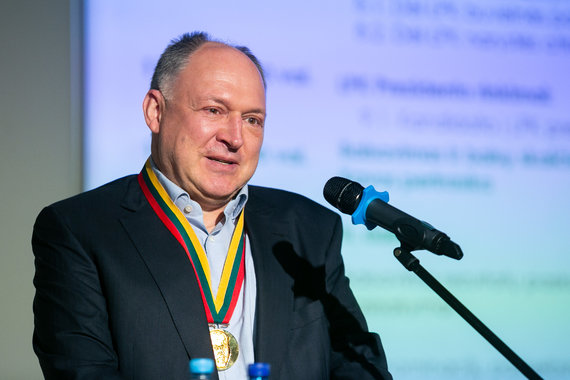 Žygimanto Gedvilos / 15min nuotr./Danas Tvarijonavičius
In the opinion of Karolis Šimas, to achieve a greater breakthrough in the processing field, it needs to be increased by at least by one third, and efforts must be focused on the production of sustainable, innovative products in demand on global markets. Big companies operating in the grain sector can attract external innovations or making their own contributions. But he believes implementing large-scale investment projects needs more than just business input. The main prerequisite for achieving the goal is the state's prudent approach to necessitate these projects.
Promises of the Ministry of Agriculture
Representatives of the grain industry regret that national support measures and facilities of the EU financing programs for the industry of state importance, which does not lag behind the global agricultural leaders, still remain on paper.
When asked about the reasons for the food processing industry being excluded from the National Progress Plan, the Head of the sustainable agricultural production policy group of the Ministry of Agriculture Vaidotas Ašmonas and Chief Advisor of EU Affairs Coordination Group Artiomas Volkovas answered: "The National Plan of the Economy Recovery and Resilience Facility is being drafted, which will become one of the financial sources for implementation of the Government's action plan and national progress plan 2021-2030. During the preparation of the National Plan of the Economy Recovery and Resilience Facility, seven main components are distinguished: green transformation, digitalization, health, social security, science and innovation, education, public sector reorganization. The Ministry of Agriculture together with the Ministries of Energy, Economy and Innovation, Environment, and Transport and Communications are included in the Green transformation component.
The Ministry of Economy and Innovation submits the reform 'Industry transformation reform towards sustainable and climate-neutral economy' to the plan of the Economy Recovery and Resilience Facility. The food sector is covered by this reform, and its goal is a circular economy promoting solutions and technology acquisition, design and installation, creation of jobs generating significant value-added. This investment will apply to all industry sectors, without distinguishing strategic ones. It will be oriented towards a symbiosis of Lithuanian industrial companies – big and small and/or medium businesses or between them, through the implementation of circular economy solutions, promoting development through the creation of jobs generating high or higher value-added."
According to the grain industry's representatives, merely symbolic support reached them in 2013-2020.
When asked what the food and grain industry can expect from the Ministry of Agriculture during the new EU financing period in 2021-2027, Mr Ašmonas and Mr Volkovas answered: "Right now it is being discussed what funds should be assigned to individual agricultural branches during the transitional period of 2021-2022 and the new financing period of 2023-2027. Assigned funds must comply with the provisions of the Government's program in the field of agricultural products production and processing. More detailed comments can be made after the approval of the Government's program and its action plan."
Future fields
According to former EC member in charge of health and food safety Vytenis Povilas Andriukaitis, food chain improvement, soil sustainability and green transport are more widely discussed in Europe. Therefore, sustainable crop production, plant-based diet and new trends of healthy eating are gaining increasing relevance and perspective. Financing of the EU funds and programs, e.g., Green Course, Sustainable Food, is planned in these directions. Programs within the Green Course framework will be open for businesses willing to develop a technological system of agriculture with reduced use of pesticides, fertilisers, stabilizers and other chemicals. The money of the From Farm to Fork Program can be expected by companies planning to provide society with quality food, to ensure a sustainable, safe food chain obtained from an environmentally friendly food system. Participants of the Healthy Soil Program must commit themselves to look after soil health, quality of water discharged from fields, plant protection and biodiversity.
Science has been trumpeting for a long time about excess consumption of meat, fat, sugar and salt causing overweight, cardiovascular diseases and premature death. For this reason, according to Mr Andriukaitis, it is important for Lithuania to focus on annually renewable plant resources and sustainable consumer needs. Better health and wellbeing require transitioning to more sustainable eating. Consuming more vegetable proteins can contribute to implementing climate change, including the Green Course. Scientific research proved the importance of vegetable proteins and fibre in the diets of animals and people. They are the key food ingredients in terms of health and environmental protection. The biggest opportunities are claimed here for grain industry players.
Director of the Institute of Economics and Rural Development of the Lithuanian Centre of Social Sciences Doctor of Social Sciences Rasa Melnikienė believes in the possibility of hitting two targets with one shot by growing more protein plants, i.e., improving the soil condition and responding to the EU Protein Plan Strategy of the provision of plant proteins. With vegetarian diets growing in popularity, an increasing number of people turn to plant-based protein food: peas, beans, chickpeas, lentils. Therefore, the demand for these types of products will keep growing. With eating habits changing, support for innovations would contribute to developing other plant-based products. Oat products could serve as an example. The number of people intolerant to cow's milk is steadily growing, while oat is an excellent substitute for it. The use of oats in food production is widely spreading because of their high content of amino acids. With innovative technologies and growing more oats, a bigger variety of oat products in demand all over the world could be developed.
Translated by Metropolio vertimai – your trusted translation partner