Supporting without preconditions
It can be said that Lithuania supports the State of Israel without any preconditions. But according to Liekis, such a decision was never actually made and is rather rhetorical. Throughout the different presidential terms, there have been a variety of scenarios that have shown either more or less support, and today the main support seems to come from right-wing politicians who believe that if they support Israel, they also support the US. "This belief is false, of course, because the interests of the passing states are often different. What is publicly declared, how Lithuania's relations with Israel are discussed, or how Israel is perceived in the international context – all of this suggests that faith may be at play here. Not a conscious decision, not a rational calculation but a matter of faith. Some Lithuanian politicians and diplomats working in foreign policy sincerely believe this. Whether faith and its tenets are right or false is a completely different question here," Liekis says.
Formally equal
Israel is much richer as a state. Besides, it has exclusive US support and exclusive financial support, especially in terms of defence policy. Lithuania has never had the level of US support not to speak investment into the defence sector. It is unlikely that it ever will. According to the professor, Israel's military security is unparalleled, and Lithuania has long failed to take these things into account, leading to this result. "Formally, Lithuania and Israel are both the same. Internationally recognized states. But it is just that – a formality. In reality, Israel has a significant systemic influence that is much greater than Lithuania's. On the other hand, Israel has many more problems than Lithuania. Compared to Israel, Lithuania has very few problems, and our development goes differently."
Benefits for Lithuania
Supporting someone or something immediately may raise the question of whether this is a two-way street? In this case, does Lithuania somehow benefit from supporting the State of Israel? "I haven't heard much about whether Lithuania would stand alone, either by refusing to support or by being very neutral in this situation. However, Lithuania receives less criticism when its support is visible. For example, the visit to Lithuania by the then Prime Minister of Israel Benjamin Netanyahu in 2018 was a great gesture. But I think it's obvious that Lithuania gets nothing in return for its support of Israel. Look how Israel acts and votes on the issues important regional, let it be Crimea, Belarus or anything else. In short, Lithuania acts like many other countries vis-à-vis Israel. Like many other states - they don't get benefits, but it's a matter of convictions about the nature of international relations. Also, as I said, Lithuanian support for Israel is often interpreted as support for the United States."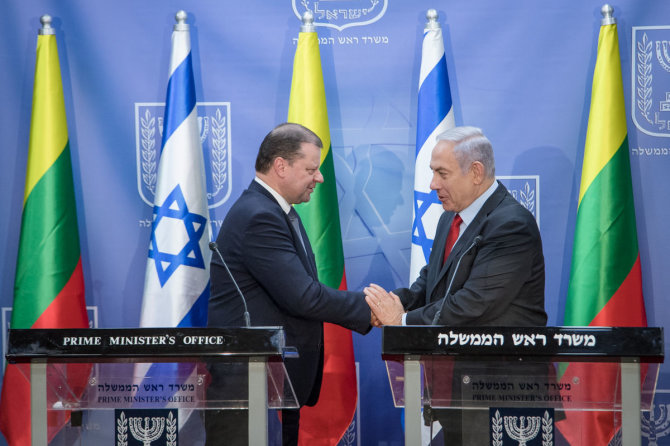 Israel PM Netanyahu meetd PM Skvernelis. Photo LRVK / Darius Janutis
However, it is important to point out that Lithuania has held its opinion on several occasions in various international forums, which basically meant a silent no. Nonetheless, it must be taken into consideration that Israel always seeks to protect itself, and not everything can be agreed upon all the time. "Israel will always protect its interests. And that is exactly what they should do. Many Lithuanians, for example, don't think about their interests in international politics and see everything as rhetorical and having no consequences. In reality, it is a matter of laying the groundwork for the existing international system encompassing security, illegal immigration etc. Political affairs are handled differently by Israelis - they act more, they talk less. Everything matters to them."