In the realm of flexible work schedules, the IT sector holds a leading position, and it appears that it will never return to the pre-pandemic work model, with personnel management specialists noting that these changes could have both positive and negative consequences for the Lithuanian IT jobs market.
Will the Hybrid model last for ever?
According to a recent corporate survey by Wakefield Research, some 47 per cent of employees would be prepared to seek a new job if their employer would not offer them hybrid working conditions. Such expectations were revealed by a survey of staff at the international risk management company TransUnion Lithuania, which has over 250 employees.
"While the lockdown has been lifted, there's no talk of a return to fully working at the office, and even after the lockdown, the majority of our staff continue to work remotely. After evaluating our employees' expectations, in the future we will continue using the hybrid work model; we have also abandoned plans to expand our office premises though we plan to significantly increase our staff numbers over the coming six months," says Jekaterina Rymonienė, the personnel chief at TransUnion Lithuania.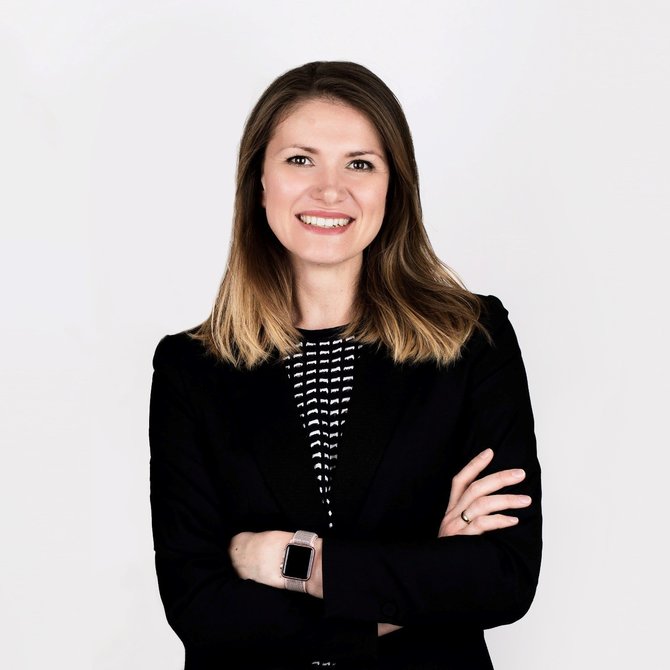 Jekaterina Rymonienė. Photo TransUnion Lithuania
According to her, a survey of the company's more than 250 employees found that 80 per cent of staff indicated they had suitable conditions and capacities to work from home which allowed them to remain productive, while only a quarter of the staff were satisfied with intercommunication while working from home, and only one-third felt that working from home improved their relations with their family and relatives.
While the employees had the option and support from their superiors to flexibly plan their workloads and coordinate them with their family commitments, according to Rymonienė the changed conditions and regimen eventually lead to exhaustion and psychological tension, which can often turn into "burnout".
"Like many companies around the world, we are constantly on the lookout for ways to improve our employees' emotional and psychological wellbeing. This year, we allocated extra rest days to our staff and organised activities to reinforce their physical and emotional health, such as meditation, yoga sessions, and various trainings. This summer, we decided to implement flexible Fridays and reduce the emotional burden experienced by the staff due to the pandemic. By September, no meetings will be organised on Fridays, with the staff being able to dedicate this day to unfinished work, training, and time with the family," says the head of personnel.
A bubble forming in the IT labour market
The specialist has observed signs of burnout not only among the company's own staff, but also across the whole IT sector.
"Wages have been growing by an average of five to seven per cent every year in Lithuania, but the growth demonstrated by the IT sector is even faster. Companies competing for specialists are prepared to pay wages well above the market average. We have already observed cases where computer network specialists are offered 3,000 euros in net wages, which is in line with the wage of a company head. The situation on the IT market is heated and it appears that a bubble is forming, which could eventually explode," notes Rymonienė.
Lockdown related changes to the organisation of work and process digitalisation have increased the demand for IT specialists in not only the technology, finance, and data analytics sectors, but also in the rapidly growing start-up sector.
According to the head of personnel at TransUnion Lithuania, the lockdown and remote work have expanded the employment market and erased the boundaries between cities in terms of wages. If IT specialist wages in Vilnius were previously larger than in other cities, over the past year of lockdown these differences have been vanishing.
"We have observed that increasing numbers of candidates apply to job vacancies not only from Kaunas where our office is located, but also from Vilnius, Panevėžys, Klaipėda, and other cities. While working remotely, it matters not what city you live in since it is no longer an obstacle to visit the office from a different city once or twice a week. During the lockdown, the company employed a significant number of staff for remote work that we have not even met with yet in person," says Rymonienė.
Employee loyalty becomes a major challenge
Companies experiencing rapid growth during the lockdown are faced with a new challenge – a waning team spirit, which becomes difficult to inspire while working remotely. Personnel management specialists observe that young workers just beginning their career, particularly if they are working from home, are more inclined to change their workplace even if they receive a marginally better job offer.
A larger wage or other monetary incentives still work, but lately, other approaches have emerged that motivate staff members more. The most important among them are flexibility and the ability to contribute to creating innovations. Senior-level specialists particularly value independence and decision-making autonomy, and IT specialists find particular importance in the technologies they work with.
"Often, the option to work from home or while living abroad for a month or even half a year is what becomes one of the criteria for accepting a job offer. During the lockdown, employees are also concerned with the workplace's subsidised health programmes and life and health insurances, which afford a greater sense of security during these uneasy times," J. Rymonienė said about the measures which motivate employees the most.