The factory's historic magnetism can be felt even today. The spirit of those who worked and created here inspire new tales, and sometimes even ghost stories, says Citus representative Viktorija Mačionytė, who lately spends a great deal of time in the reviving premises of Banga.
Viktorija Mačionytė
Viktorija is the Radio City conversion project marketing head responsible for reviving the former radio factory for a new life. Whether it be arranging plants on the building's roof, preparing for busy public events (yes, we once had those), or a grim clattering of the keyboard while doing more serious work enchanted by the location's spirit, she practically came to live at the factory. Once, she even spent one – spoiler alert – frightening night there.
Ablaze with activity
Banga. Factory. Second-home… these weren't just sentimental-sounding words from a newspaper because the cadre department had to motivate the staff.
It was more than a radio factory, it was where the lives of creative, proactive and courageous people developed. The saying "born in the wrong times" is appropriate here, describing those who worked there in the previous century, always one step ahead with their ideas.
The factory's workers constructed gliders, created movies, enjoyed sports, danced and sang, and those who liked to go boating were also not left out – the factory had its own sea yacht! If Instagram had existed back then, the employees at Banga would have been constantly in our view. Fact.Cinema director Šarūnas Bartas started his career here. Stasys Brundza constructed, reassembled and broke down Zaporozhets cars. Eurika Masytė sang. The first Lithuanian animated film The Wolf and the Seamster was created here and was recognised as best animation film in the Baltic States' festival in 1967. Football was also thriving: in 1960, the factory's staff club Banga won the Lithuanian championship.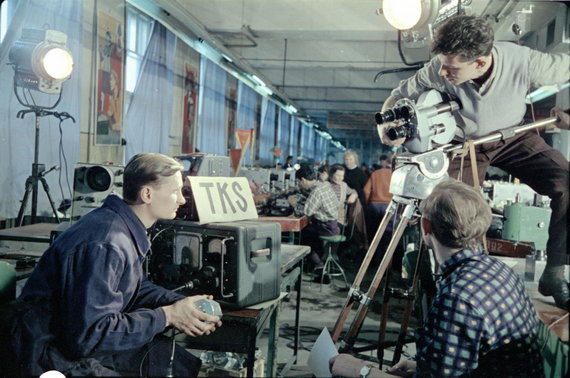 Shooting a film
And as for the aggression against Lithuania in 1991, the "short wave group" in the factory were prepared to take over radio communications and broadcast events to the entire country.
In other words, things were definitely happening back then.
The legendary factory returns
The former radio factory continues to be very important to Kaunas. While it was abandoned, it was not fully forgotten, and even now, individual events and exhibitions are held here and young musicians make use of rehearsal space. The premises of Radio City hosted artist Gia Ram's exhibition I'll have a cheeseburger, French fries & Art, and Radio City Sky is a part of the landscape design festival Magenta, as well as other audio-visual projects.
Radio city
Seeing the potential for cultural life to flourish, Citus decided to resurrect the legendary factory, returning it to Kaunas' residents and forming the premises into multi-functional spaces through conversion into Radio City, and the conversion works have already gained fast forward momentum.
"While it might have been easier to demolish the old walls, we wish to revive the factory and the history of people who worked and created in it," Viktorija says. "The building's history laid down a foundation for the project's concept – creating a city within a city, where courageous, proactive and creative Kaunas residents and beyond, united by the aim of creating and implementing ideas, can come together to live, work and realise these ideas."
Ghosts in the abandoned factory
Viktorija is simply in love with the Radio City project. When she isn't organising events, she is ensuring that this unique creative historical-cultural creativity hub concept industrial stylistics encoded in the radio factory's "genes" are be encoded in the building's walls, facades and interior details. Hence, she can often be found in-person at Radio City.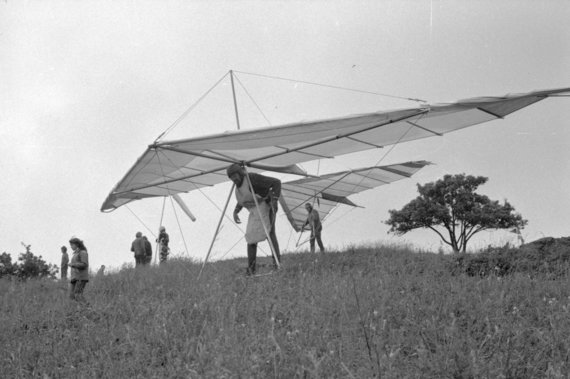 Before the takeoff
Once, she decided to spend a night in a showcase loft. "The loft is furnished, stylish, and still slightly smelling of paint, so I thought 'why not?'" Viktorija shared. "But then came night-time."
"I woke up in the middle of the night to the sound of doors opening. I was well aware that I am alone in a massive, abandoned building, and shivers ran all across my body... it felt like some sort of ghost was going to knock on the door at any moment, Šilelis in hand," Viktorija revealed.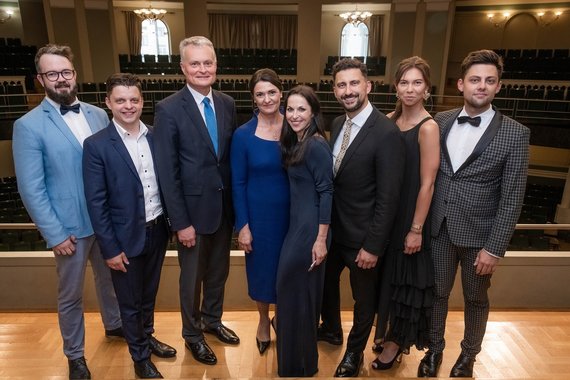 RadioCity event. Photo Jonas Danielevičius
"My mouth became dry, so I went down for a drink of water. I sat down on the sofa with a glass in my hand, then, I saw a breath-taking view through the window in front of me – a massive full moon, more impressive than even those shown in movies, and the loft's entire window was lit by the tower of the Resurrection Church shining alone in the dark night sky.
"When I woke up next morning and went for a walk around the building, which had been so frightening at night, but then suddenly I was delighted with the view. I looked through the windows of the Banga section (where I spent the night, just that the windows there are towards the yard and church), alongside Savanoriai Avenue. All the lofts here will be on the third or fourth floors and so, many beautiful panoramas open up to them. Žaliakalnis, with its beautiful, sleepy panorama of wooden houses, opened up before my eyes there. ' "Why not Žmuidzinavičius?" I wondered to myself when I recalled last night's symbolism," Viktorija added.
Kaunas' little 'New York'
The project's creators retained numerous authentic interior details, which will be returned after restoration. Viktorija herself gathered them while wandering through abandoned offices, halls, corridors and various manufacturing facilities. Oozing sentimentality, the advertising posters for once-manufactured items, lamps, 60-year old cameras, even a communications station that weighs a ton will all be left as decorations. The factory's old cargo lift was also restored and adapted to carrying people over the four floors of Radio City.
Just like in New York, where reviving old buildings has really taken root. Why not bring it to Lithuania? While loft-culture is still a fairly new phenomenon in Kaunas, young Kaunas residents are particularly aware of Western culture and have a broad outlook who once again choose to gather in the former factory's premises to rehearse, paint and dance. Ladies and gentlemen, the radio factory's creative spirit is reborn.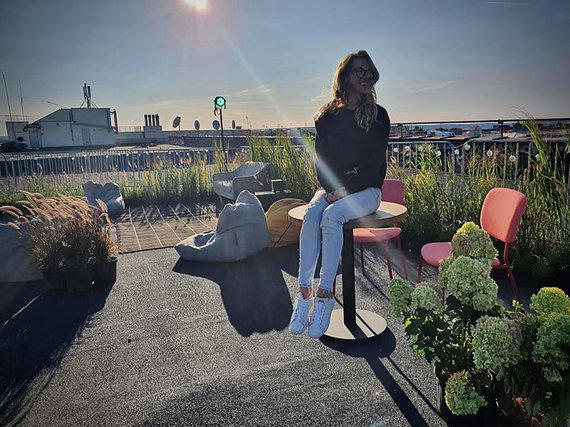 Viktorija Mačionytė
The first stage of the project – the Nida section – hardly has any vacant lofts left, Viktorija says. The non-standard industrial spaces are very attractive because they simply scream creativity and originality. There will be a whole city here, with a food market and cinema, as well as large green roof terraces, which open up to amazing vistas of Kaunas.
"This is why we broadcast that 'Radio City is a space for everyone's rhythm. Here, the past mixes with the future, and today's Kaunas creatives can weave their own stories which will inspire future generations, the way that the former staff of Banga inspire us now," the Radio City marketing head says.
This article was edited by expert copywriter and proofreader Vicki Leigh. Find out more about her professional writing and editing services at twoflowercactuscreative.com
Išsirink planą ir skaityk be ribų
Mėnesinis
planas
Pirmas mėnuo - 1€,
vėliau po 3,5 €/mėn.
Apsimoka
Metinis
planas
Mokant iš karto
už 12 mėn. – 33,50 €
Apmokėti
Įvesk savo mobilųjį numerį, atsiųsime kodą
Į mobilųjį išsiuntėme kodą. Įvesk jį ir skaityk toliau