Inspiring guests and motivational conversations on the first day back to school
The American International School of Vilnius celebrates the beginning of the academic year a little differently – during the first day of school, students assemble for conversations with inspiring guest speakers, teachers hold lessons to strengthen creativity and community feeling so that newly arrived students and those returning after the summer holidays can get better acquainted with one another and with their teachers.
According to AISV deputy director for extracurricular activities Jolita Norkūnaitė, this year, 6-12th grade students returning to school had the discussion with the member of band The Roop about motivation, overcoming challenges, determination and achievements. Primary school students met with children's literature author, international humanitarian law specialist, professor and publicist Justinas Žilinskas for a discussion on motivation and creativity.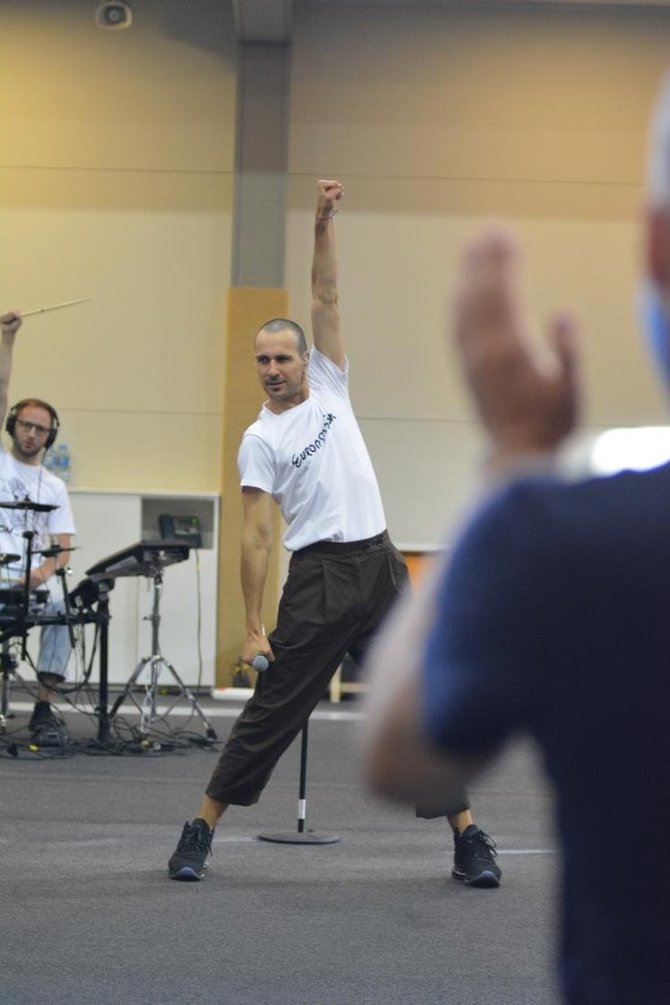 Beginning of the academic year with the ROOP
Most important – prepare detailed scenarios
According to the school's director Stephane Ruz, the school's management team dedicated this summer to planning various scenarios for the academic year and preparing for them.
"Preparations for this year were more intensive, we had to take into account many unique aspects so as to ensure that the studying process would proceed smoothly under any circumstances. We initiated and participated in a variety of video conferences with a number of international schools working around the world and consulted with medics so that we could prepare and create a specific plan as to what must be done in any given situation," the school's head said.
"With the beginning of the academic year, we will review all our students' level of knowledge. We will evaluate what they learned during the spring course and how well they took in the knowledge during the distance learning," S. Ruz said.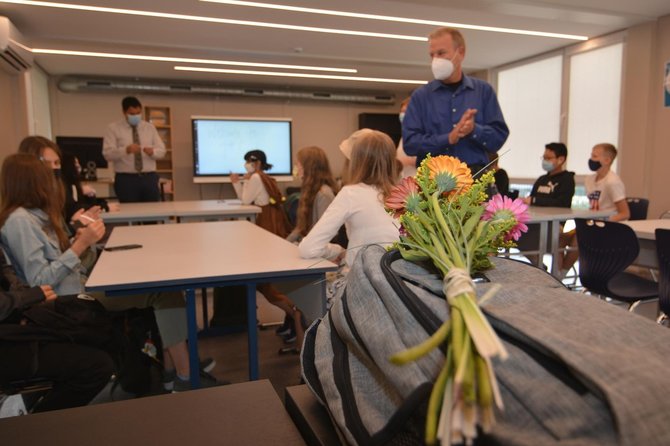 Beginning of the academic year at the AISV
According to the director of AISV, a detailed action plan has been prepared for various scenarios of the spread of COVID-19 and so the educational process will definitely not be interrupted.
"Based on our experience, consultations with specialists, state and international organisations recommendations, we have prepared for five different scenarios: lessons being held at school, in case a teacher or student displays symptoms of COVID-19, with a teacher or student being infected with COVID-19, with the state deciding to partially close schools or moving to remote learning," the international school's head explained.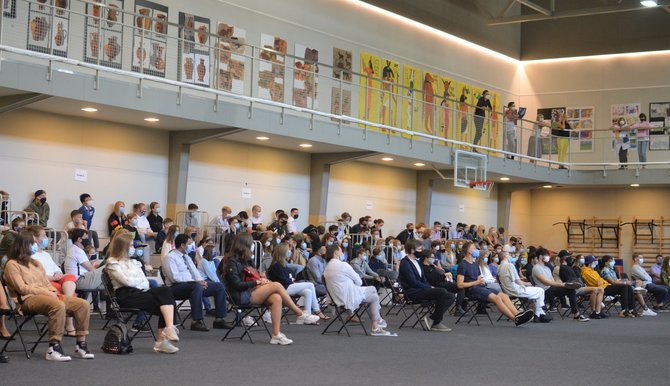 Beginning of the academic year at the AISV (4)
According to S. Ruz, this year, the AISV's usual routine will change. The entire school's community will begin its academic year while upholding the following rules:
Students and teachers are on campus together and all campus territory will be used;
Temperatures are taken each day before all enter campus;
No parents are allowed on campus;
To limit contact, student cohorts (grade level) are isolated as much as possible;
All teachers and students in grades 5-12 are required to wear masks and/or face shields;
Hand-sanitizing stations are set up and individuals are required to disinfect hands upon entering a room;
Directions regulate the flow of traffic around campus, including the use of specific entrances and corridors to avoid crowding;
Classrooms and other premises are disinfected after use;
The schedule is adjusted as needed;
Students and staff will be tested for COVID, as needed.
Experience from long-term distance learning has shown that face-to-face communication is crucial for the learning process and for students themselves.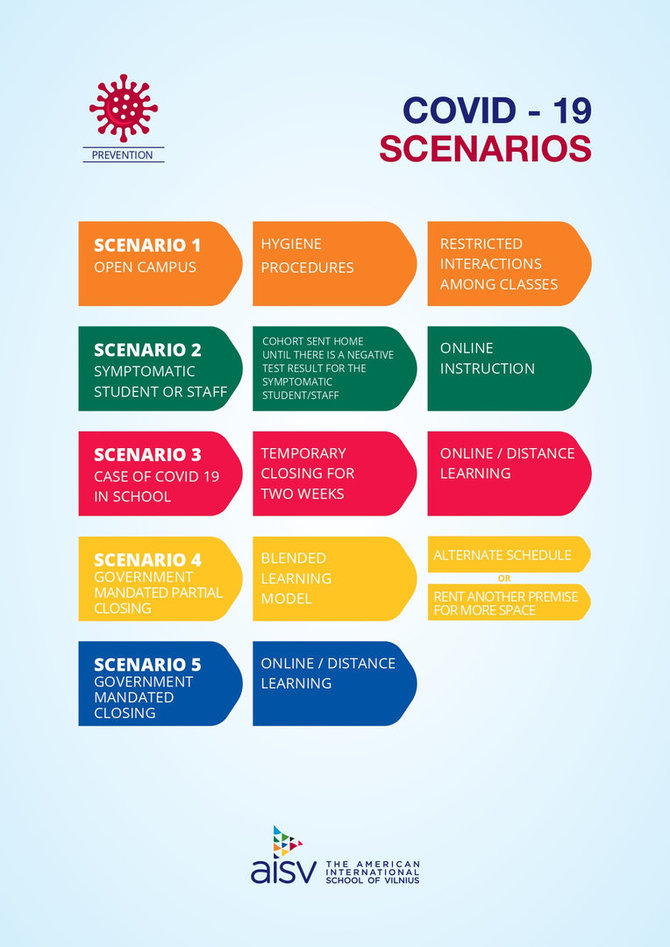 AISV Playbook 2020
"We clearly understood that during the distance learning period, face-to-face interactions are helpful for families. Thus, we have improved our internet connection so that it would be easier to access our servers, also we have installed new and more convenient software, purchased more tablet PCs and microphones that it would be as convenient as possible for teachers to talk to students online face-to-face," S. Ruz listed.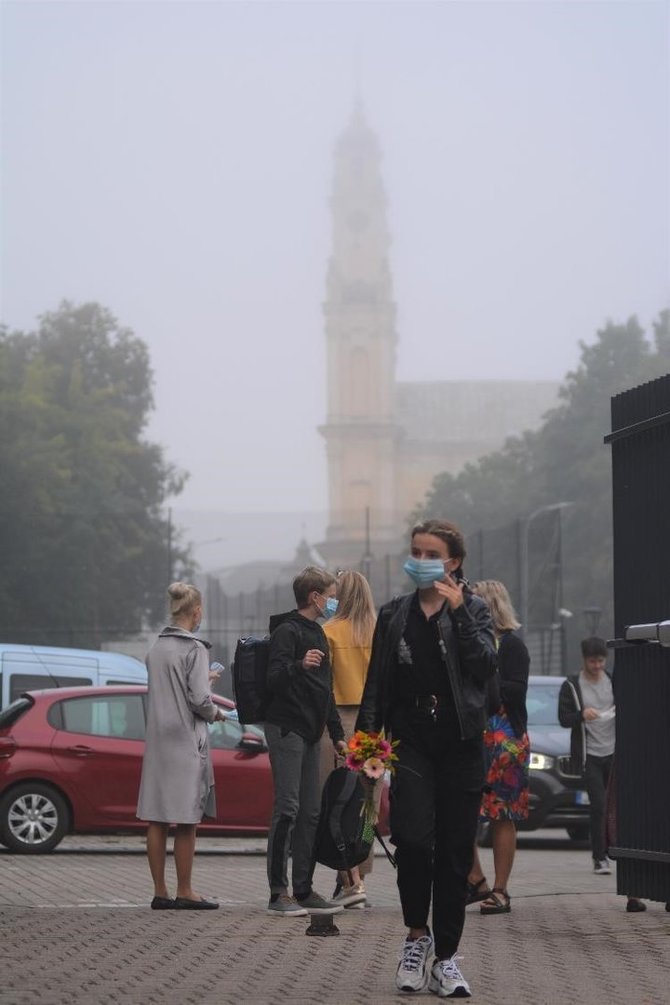 Beginning of the academic year at the AISV (2)