The romantic fa?ade of Trakai hides sinister inner workings. The country's biggest corruption case of recent years has revealed an intricate network of dependencies between local authorities and the criminal world. The criminal investigation of the actors who have turned Trakai into Lithuania's capital of corruption was handed over to court several years ago, yet it will take much more to dismantle criminal structures built on money and black dealings.
"I myself was born and grew up around Trakai, so the impression is scary indeed. It is my first experience of a corruption case of this extent. Considering how long these dealings lasted and how many people were involved," Linas Kuprevičius, Vilnius County prosecutor with the Organized Crime and Corruption Department, tells 15min. "I could compare it to traffic police taking bribes from drivers, except the money involved was far bigger. Charges have been brought against the former authorities – the mayor, deputy mayor, and chief of the administration."
Assembly belt of corruption
For many years, the entire town of Trakai was run as if it were a private enterprise. "Public contracts were handed out without any competition, simply by having a talk. Only particular firms would be invited to the talks. Municipal leaders would run the district as if it were their private business. Businesspeople would often know the winning tender even before the competition was announced – and they wouldn't even bother to submit their own offers," Kuprusevičius elaborates.
The prosecutor says that data collected in the case paints a very grim picture. Fictitious public procurement competitions have become normal practice. Businesspeople, whose tenders would be rejected, would only reproach the municipality for not giving them a heads up on who's turn it was to win the contract – and making them waste time on preparing proposals that did not stand any chance.
Prosecutors suspect that the whole enterprise was coordinated by the former administration of Trakai: Mayor Vytautas Petkevičius himself, his deputy Saulius Raščiauskas, and chief of the administration Leonardas Karnila.
"Former administration" is perhaps not an entirely accurate designation. Petkevičius and Karnila are still on the town council. Karnila, moreover, is deputy chief of the municipal heating company. Until very recently, Raščiauskas was advisor to the new Trakai mayor.
"Political orientation looses all significance in Trakai. No one cares what party you're with. Judging by this case alone, I can conclude that they act not like politicians but like businessmen. Town administration chiefs would simply come together and talk business. The mayor would tell the chief of the administration: 'Please calculate for me, how much that company still owes us for last year.' We found tables showing how many contracts were won by particular companies, and what share of the money they had to give back, indicating the sums still owed. We have a record of the defendants saying that one company was to win fewer contracts the following year, because the man could not psychologically bear to pay growing sums," prosecutor Kuprusevičius recounts.
Businesspeople scared
The prosecutor says he understands that local businesspeople were bullied into accepting the rules of the game set by local politicians, but hopes that, before the final ruling, some of them will give up fears and come forward with testimony on the racketeering they were subjected to.
"In private conversations, many of these businessmen have told me that the investigation has revealed a mere fraction of all they've seen. The businessmen had their operations in only one district, so if they refused to go along, they were forced either to close down their businesses, or move them elsewhere. The links between politicians and members of the criminal underworld are also disconcerting. Some businessmen confided in me that they had families and small children and feared for their safety, if they had come forward with information. But I do hope that there are people who will realize that by covering up politicians' crimes they are doing harm to themselves," says Kuprusevičius.
When asked if it was at all possible to do honest business in Trakai, the prosecutor relies: "I have no idea." Case materials show that businesspeople were pressured not only by politicians, but by criminal organizations, too.
A revealing episode was a case of repair works in the Trakai headquarters of the New Union, a now defunct political party. When the contractor finished the work and did not receive the payment, he wrote a letter to Artūras Palauskas, leader of the New Union at the time and now an MP and vice-chairman of the Labour Party.
Instead of his due pay, the businessman was subjected to pressure from Stanislovas Narkevičius (nicknamed Narkuša), a notorious criminal boss. Narkevičius, who was present at the contractor's meeting with Trakai authorities, said that the businessman should better reduce the bill from 180 to 80 thousand litas. Otherwise, he hinted, he should be concerned about his own and his wife's health.
"During the investigation, no one has revealed who was it that invited Narkevičius. The businessman said he found the man already in the room when he turned up for the meeting. By the time the case was handed over to court, the version had changed – everyone agreed that the businessman himself invited Narkevičius. Even though there is a record of the mayor commending the chief of the administration for inviting Narkuša – otherwise, he said, it wouldn't have worked," according to the prosecutor.
15min approached local businesspeople, but no one would talk on record. The only one to speak up about the reign of crime in Trakai was a businessman from the Philippines who opened a restaurant in Lithuania. Andis Hernandez turned to the police and the media, after he and his wife were beaten up by Narkevičius – for refusing to extend working hours at his request.
Jail sentence?
Prosecutor Kuprevičius says that even after the case of large-scale corruption at Trakai Municipality became public, local people have not noted much change. "I handed the case over to court in 2009. In 2010, I'd still receive calls from people complaining that nothing had changed. That business in Trakai was going just like before."
The prosecutor is asking the court for maximum punishment. "Since 2006, punishments for corruption crimes have become stricter. I remember how I was asked by a parliamentary panel why everyone's taking bribes of 30 thousand litas. Because 32,625 litas is considered a big-value bribe. This sum is the limit of qualifying an offence either as a serious crime or a half-serious crime. In this particular case, the accused demanded bribes of hundreds of thousands. These are serious felonies that are punishable with two to eight years in prison. There aren't any alternatives. The prison sentence cannot be suspended. The court can be more lenient only if defendants confess and regret the crime. It is not so in this case," Kuprusevičius notes.
He adds, though, that making predictions about outcomes in corruption cases is a slippery exercise. The defendants, he says, are represented by the best attorneys money can buy and are themselves eloquent in self-defence. "I was once asked, how it was possible that people like that can work in city councils. I replied that if people with pending criminal charges could work in parliament, then why not in municipalities?"
Message from new mayor: No more rackets
The new mayor of Trakai, elected only several weeks ago, is social democrat Vytautas Zalieckas. He promises changes in the corruption-ridden town. "We've got what we've got," he tells 15min. "I believe that law enforcement has dealt with the problem. The fact that the accused work in the town council attests to gaps in our legislation. The law should unequivocally ban people like that from occupying posts of authority. We are planning to hold a meeting with all businesspeople of the district to discuss the matters. I think that businesspeople and our municipal officials alike have already realized that things cannot go on the way they did before," the mayor promises.
However, Zalieckas' predecessor Vincas Kapočius is less optimistic. He has publicly complained that the reason why he was recently deposed from the mayor's post might have been his intention to revamp the rules of public lavatories rent. The move might have irritated still influential former mayor Petkevičius, whose mother is in the public lavatory business.
Secure backing
In the context of near-universal silence and fear, Nijolė Dočkuvienė is somewhat of an exception. The woman, who is the leader of Trakai community, vocally defends the community's interests in Trakai Municipality and readily talks to the media. "I've been living in Trakai for decades and I know everyone in the town council very well. On numerous occasions have I tried to appeal to their consciousness, asking to remove corrupt politicians and officials, who were working for their own groups instead of for everyone's benefit."
Dočkuvienė says that elderly citizens of Trakai have easier time expressing their discontent than younger people who have to do business with the authorities. "People are scared. Businessmen are scared even to approach me, even though I know many of them personally. People fear for their jobs. A system has been put in place – if you support those in power, then your own business will go smoothly. If not, you're in big trouble. We, too, are scared, it's no laughing matter. The authorities cooperate with the criminal world. I've seen many times Narkuša dining with Karnila. There are times when I'm scared to walk down the street," the community leader shares.
Dočkuvienė believes that local officials would not be so impudent, if they did not enjoy protection from Vilnius. "Trakai is very close to Vilnius. Influential people have their country houses here. Local officials have a solid backing. Just look how daring they were all these years. Even now, as the case hearing is nearing the end, they are still scheming to appropriate a boarding school, to privatize municipal housing. Perhaps they're running out of money to pay their lawyers," Dočkuvienė reflects.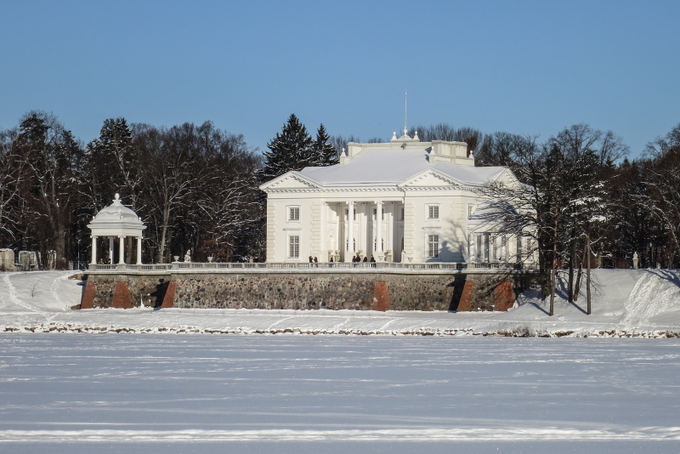 Juliaus Kalinsko/"15 minučių" nuotr./Užutrakis Manor - one of the local tourist attractions in Trakai
Attraction for the rich
Historical data suggest that Trakai was made the seat of the Grand Duke of Lithuania in 1321, but Grand Duke Gediminas moved the capital to Vilnius a year later.
The population of Trakai is 5,725, but the town is visited by almost one million tourists each year.
As many as 2 thousand farmers have registered their farms in Trakai District, but there are actually only about 300 households working in agriculture. The rest just need farmer's licence in order to be allowed to build villas in the picturesque environs of Trakai. Great many affluent and well known society people of Lithuania are among the "farmers" of Trakai.
As the town is less than thirty kilometres west of Vilnius, unemployment is relatively low.
Trakai heating infrastructure has been leased to Prienų Energija. Local politicians as well as the community admit that the heating business is run inefficiently.
Situated within the district limits are Trakai Historical National Park, Aukštadvaris Regional Park, and part of Neris Regional Park.
In the 2012 ratings, compiled by the Lithuanian Free Market Institute, Trakai was ranked number six municipality in the country. The worst-rated area was investment and development, the best, administration and staff management.