The example of the small village in western Lithuania shows why major energy projects often come to nothing in the country. Frightened people, stirred emotions, rallies outside parliament. All this turned Žygaičiai into the political centre of Lithuania.
Meanwhile representatives of LL Investicijos, the company that holds licence for hydrocarbon extraction and executes exploration in Žygaičiai, claim that no one is looking for shale gas underneath Žygaičiai nor is going to. Meanwhile US energy giant Chevron, which is already being told to go home in protesters' banners, is planning to scout for shale gas in other places, not Žygaičiai, if it wins the respective tender.
Nothing to protest against
In 2007, the then government led by social democrat Gediminas Kirkilas issued a permission for LL Investicijos to exploit hydrocarbon resources in the region. The community of Žygaičiai had not been aware of this decision until late 2012, when company representatives themselves knocked on their doors and asked people to sign contracts, allowing to carry out seismological analysis in their properties. Some of the landowners gladly signed the contracts.
The stir began later, when reports appeared in the media about plans to scout for shale gas. Local inhabitants assumed that LL Investicijos, which is 50-percent owned by Chevron Global Energy, would be looking for shale gas precisely underneath their houses.
"We are only looking for oil and traditional forms of natural gas. When we were licensed in 2007, there was no talk of shale gas. At the moment, the government has announced a call for tenders to scout for shale gas and has delineated the area where to allow the exploration. Chevron is one of the competing companies, through its Lithuanian subsidiary. No shale gas exploration is planned in Žygaičiai. Our company alone has a licence for extraction in this area, so other companies will not be given permission to look for shale gas here," LL Investicijos project manager Bronius Radeckas tells 15min.
Natalija Haselton, director of the company, confirms this. According to her, the company will be employing usual methods of oil well exploration. That means, no horizontal drilling nor pumping water with chemical substances. "We will be looking for oil in traditional ways. It might well be that there isn't anything to be found there," Haselton says.
Company representatives also assure that it will compensate for all damage that might be done to the nature or melioration systems during the exploration.
Who is benefiting?
Juozas Mockevičius, director of the Lithuanian Geological Service, confirms that scouting for shale gas will not happen anywhere near Žygaičiai. "Žygaičiai are not located within the area marked off for shale gas exploration tender. I am very surprised by how new tenders and those that happened six years ago get mixed into one and then everything is presented like an invasion of Chevron. I do not know who is benefiting from this."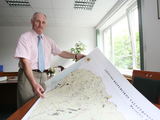 Juliaus Kalinsko/"15 minučių" nuotr./Juozas Mockevičiaus, director of the Lithuanian Geological Service
According to Mockevičius, the seismic scouting done by LL Investicijos does not involve any novel techniques that should be feared. "Similar exploration works have been going on in Lithuania since 1961; we have scouted over 20 thousand square kilometres and blown up 700 tons of TNT. Not a single house has come down. The company is carrying out a usual, standardized and even safer than before procedure. There will be no effects for either crops, health, or water supplies," Mockevičius explains.
He confirms that it is impossible for another company to be granted exploration or extraction licence in the same area. Both EU and Lithuanian legislation expressly prohibits that.
Mockevičius says he is surprised why geological exploration should incite so much reaction. "They hold protests outside the Seimas (parliament) over many things. We must be the only nation in the world who cannot dig for anhydrite, because it scares some landowners. We cannot dig for peat. We should ban geology altogether, declare it outside the law – then all would be fine."
Salamakinas bewildered
After protesters from Žygaičiai came to Vilnius, the Parliamentary Committee on Environment Protection recommended that the Government halt shale gas exploration for fear that it might bring damage to the nature and people. Committee chairman Algimantas Salamakinas, of the Social Democratic Party, was particularly vocal in his opposition to shale gas.
Salamakinas seemed bewildered when 15min informed him that there never were any plans to look for shale gas in Žygaičiai.
"I have spoken to LL Investicijos representatives on a radio show and they unequivocally stated that they were scouting for shale gas. I do not know what to believe any more. We have got their official statements that they will start shale gas exploration in Žygaičiai and then move westwards. We'll ask what happened. Perhaps they saw the moods among the people and altered their plans," Salamakinas says.
The committee chairman insists that the community of Žygaičiai has been informed about shale gas exploration in their lands: "They didn't come up with that themselves. People were informed about boring to extract shale gas."
Meanwhile LL Investicijos representatives claim that they have never made any statements regarding plans to look for shale gas.
Reproaches
Jonas Nairanauskas, leader of the Žygaičiai community, would not comment on the question why the community is protesting against shale gas, even though no one is planning to look for it anywhere near Žygaičiai.
He puts all blame on LL Investicijos and the Government. "An ordinary man has hard time believing that they will drill but not look for shale gas. If our government failed to produce a report about possible impact on the environment, if they chose a company that has no capital and hasn't had any operations for years, what confidence can we speak of?" the community leader says.
"We can see that people are irritated, that they need information. Our underground fields are of great value to the country. If they're putting their hands on them, we must know the effects this will bring. All this will become clear eventually, so I do not believe we are blocking anything," Nauranauskas says.