The fan is one of the Maciai twins, Normundas and Nauris, who have recently given up their Latvian citizenship. They have become known among Lithuanian basketball fans for tattooing their bodies with player portraits and autographs.
The incident happened in Kaunas arena, after Žalgiris' slim defeat by Real 104:105 in Euroleague Top 16 match. Fernandez scored 8 points.
BFL/Tomo Lukšio nuotr./Normunds ir Nauris Maciai
Both Maciai brothers are reported to have been drunk and were immediately taken to a police station. They have been detained for 48 hours and might face prison sentence.
The incident might incur serious sanctions upon Žalgiris Kaunas by the Euroleague. The team's spokesman Almantas Kiveris has commented that the club was very unpleasantly surprised by the attack.
Real Madrid players were taken to airport right after the game. A security guard, hired by the Spanish club to protect Fernandez, gave evidence to the police about the incident.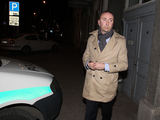 Spanish security guard
The club had expected hostility from Žalgiris fans towards Fernandez after the previous match of the two teams in Madrid. Back then, the Spanish player hit Žalgiris's Kšištof Lavrinovič in the head with the ball and unacceptably provoked another Lithuanian player Paulius Jankūnas.
Fernandez later apologized to Jankūnas, but was nevertheless punished by the Euroleague with a 3,500-euro fine.
Lithuanian fans met Fernandez in Kaunas with notable hostility - they booed and held banners saying "Those born to crawl will never rise" in English. Whenever the player had the ball, fans chanted "F*** you Rudy."
Before Thursday's game, Lithuanian Martynas Pocius, who plays for Madrid, joked he had warned Fernandez, adding that "hopefully they won't kill him here."
Update: The two basketball fans, Normundas Macis and Nauris Macis, 43, were released from detention Friday afternoon.
They say they were provoked by Fernandez's insulting remarks but are sorry for their deed.
"As he was passing by, Rudy [Fernandez] pushed me with his shoulder and said bad things about Lithuania, that it was a communist country. My emotions surged and I hit him in the face," Nauris Macis said.
His twin brother Normundas later elaborated: "Like always, we were waiting inside for the team. We always wait there for our friends [Žalgiris players]: the Lavrinovič brothers, Kaukėnas, Štombergas. We wanted to talk to them. And Fernandez was passing by, he somehow pushed me and said something in Spanish. Everything happened so fast. He fell down and started play-acting. Nothing big happened. But, of course, we are very sorry about our behavior. Emotions got hold of us. It was too much."
Kaunas Police released a statement on Friday. According to it, "on 7 March, 10:30 PM, after a basketball game, Nauris Macis hit Rudy Fernandez in the head with his hand on the premises of Žalgiris Arena, near a service exit to a parking lot. As Spanish national M.A. tried to stop Nauris, his brother Normundas hit M.A. in the face with his hand. The brothers resisted arrest, but were restrained by the police and taken to a police station. 2.62 permille of alcohol was found in Nauris's blood and 2.22 permille in Normundas's."