Peaceful demonstrations by Belarussian women with flowers and the emergence of nationwide strikes have forced Lukashenko to change tack in recent days: arrested and beaten people during peaceful demonstrations have been released. Even the possibility cannot be ruled out that Lukashenko will agree to mimic some sort of "dialogue" with the opposition.
Despite the protests in Belarus proceeding seemingly without any clear leadership, they are very effective, constantly changing their tactics in an organised fashion and achieving crucial results. The demands of all protesters are the same: halt OMON pogroms on the streets, release political prisoners and those arrested during peaceful demonstrations, carry out an impartial count of all votes and hold new presidential elections. This way, a historic civic victory would be achieved in the elections and over the past few days, it would also be possible to halt (at least temporarily) OMON pogroms and rampaging on the streets.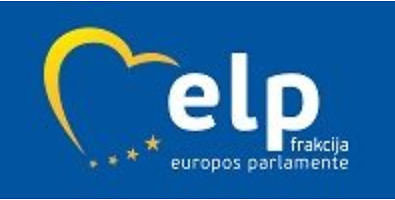 EPP logo
It is likely that other goals will also be achieved. The new Belarussian civic nation, despite the extremely difficult conditions of Lukashenko's dictatorship, has thus far acted almost flawlessly. Despite the grumbling of Lithuanian "couch experts" that things aren't proceeding correctly or that democracy in Belarus only benefits Putin, it is likely that the Belarussian "flower revolution" will not only return true democracy and true sovereignty to Belarus, but will also have a far wider geopolitical impact across the entire post-Soviet authoritarian space, including Russia.
While observing with surprise the wisdom, energy and strength of the Belarussian civic movement, it becomes clear that even without our advice, they themselves are pursuing a final victory to great effect. However, it is essential for us to understand what Lithuanian, European or in general Western actions we can employ to help them pursue this victory. These events must involve not only solidarity events (which are truly important) or declarations denouncing Lukashenko's brutality and calls for him to "leave", but also specific political and legal initiatives of our own, which we must implement across all international institutions in which we have a presence so that we may help the Belarussians achieve real change sooner.
There are actions which we are already putting into effect (both President Nausėda and Minister Linkevičius, as well as the Seimas committees), but there are tasks which we must still initiate without delay. Let me list a few of them here:
1. Illegitimate Lukashenko. This is already recognised by most Western leaders and the EU leadership. But we must follow up on this – on September 10, his current mandate expires. After this, he will only be "citizen Lukashenko." This means that it will no longer be possible for there to be any discussions or dialogues with him regarding any sort of "transition period." If, even after this expiration, he clings to the post through the help of the OMON and the military, the international community must view him as an individual who has usurped power by military force. Based even just on the current Belarussian Constitution, this is a serious crime. Lithuania must begin formulating this position within international institutions immediately. Up to September 10, it will be possible to "negotiate" with Lukashenko only on how he will step down after September 10 and how Belarus will be administered in the transition period.
2. New elections without Yermoshina and the compromised commissions. New and immediate presidential elections are inevitable and this is the only way out of the current political and constitutional crisis in Belarus. Sviatlana Tsikhanouskaya also pledged new and free elections. While it is clear that Sviatlana Tsikhanouskaya won the August 9 elections, it might be impossible to perform a full legal count of voters' wishes due to the mass manipulations perpetrated by the Lukashenko administration both before and during the elections. The new elections must be transparent, in line with all international standards and cannot be influenced by the commissions of Lukashenko and Yermoshina. Even the presence of numerous international observers might not suffice if fair elections are to be held assuming the same electoral commissions remain operational.
So it is essential to initiate without delay an international investigation of the current electoral commissions' illegal actions and during that process perform an impartial count of the real votes (which S. Tsikhanouskaya has been justly demanding). However, such an investigation should first and foremost help uncover the scale of machinations and expose those responsible for "election theft" (all the way down to the common commission chairmen and secretaries falsifying the elections). These individuals must be included in the list of individuals with sanctions potentially imposed on them (at least by stripping them of the right to receive an EU visa) and the commissions must be reformed from the ground up, including in them representatives of political parties and candidates and allowing observers to operate freely. These actions must be initiated without delay so as to actively help protect the fairness of the upcoming elections.
3. Political prisoner Siarhei Tsikhanouski must be immediately released. No "round tables" or "dialogues" can be held regarding emerging from the crisis until the husband of election winner Sviatlana Tsikhanouskaya remains a hostage in prison. Terrorists seize hostages to reach their goals. Lukashenko is doing the same. No one negotiates with terrorists over the release of hostages. The same must be the case with Lukashenko. The release of other political prisoners is also a necessary condition, but S. Tsikhanouski's case is special.
4. An international inquiry into the pogroms and torture perpetrated by the OMON. Even after the Belarussian people achieved victory against violence on the streets, which has finally come to a halt, it is essential to perform a thorough international inquiry into these crimes, which could even lead all the way to the Hague Tribunal. This could also include a broader investigation of Lukashenko's crimes.
An initiative which we proposed at the European Parliament to establish a special investigative committee, which would gather evidence and testimony of such crimes and would initiate international legal processes, received the support of almost 100 members of the European Parliament within two days with no intrusive urging. This initiative is important not only so that the guilty would be punished or would face sanctions both as per the legal acts of democratic Belarus and international law, but also so that it would be a preventative lesson to other authoritarian individuals in the post-Soviet space whose "expiration date" is soon approaching, including the one in Russia.
5. EU sanctions. Ursula von der Leyen has already spoken of sanctions. Thus, they will be imposed. It is not worth arguing over this. The core question is how widely and deeply such sanctions should range. Currently, it is important to ensure that the corresponding EU services would begin drafting lists of individuals upon whom sanctions could be applied. There need to be at least two lists – one to include individuals participating in the "stealing" of election results and another – persons who are responsible for and who participated in the pogroms and torture. The lists must include not only leaders, but also regular perpetrators of these crimes. The United States has developed a practice whereby the US Congress tasks individual departments with drafting such sanctions lists. The European Parliament should take the initiative for such a practice to be also conducted in the European Union without delay.
6. EU support for Belarus. When we talk about personal or sectoral sanctions, concerns are voiced that this will only push the current Lukashenko administration into the Kremlin's embrace. In response to such concerns, it must be emphasised that any actions the illegitimate Lukashenko might take will also be illegitimate. Secondly, for the Kremlin, "friendship" with the "toxic" Lukashenko is, in the long term, dangerous (I wrote about this recently: https://martenscentre.eu/blog/belarus-trap-kremlin).
However, the European Union must talk already today not only about sanctions against the Belarussian regime, but also about what aid democratic Belarus should receive. First of all, it must be fully clear that even the minor EU support (around EUR 100 million) that the EU has allocated to Lukashenko's Belarus up to now will continue to be provided to Belarus' civic organisations, communities or businesses while circumventing the Lukashenko regime. Nevertheless, the EU must clearly indicate right now what the EU support will look like when Belarus fully bids farewell to Lukashenko's regime.
The new civic Belarussian nation must know that the EU will offer them the same opportunities that were enjoyed by other Eastern Partnership countries following their democratic changes. These include the visa-free regime agreement, the free trade agreement and finally, the Association Agreement and vastly increased and tangible financial support. It is worth remembering that after the 2014 Maidan revolution, the EU issued Ukraine EUR 14 billion in financial support, which was accompanied by support from other financial institutions in the West. Considering Belarus' different size, we can conclude that, based on the Ukrainian analogy, democratic Belarus could expect an EU financial aid package of up to EUR 4 billion. The EU should already begin drafting such specific support plans now.
7. The Andrei Sakharov Prize for Sviatlana Tsikhanouskaya for her heroic struggle in the name of democracy and human rights. The international democratic community must suitably recognise what the new civic Belarussian nation achieved in its struggle for democratic change. As this struggle continues, this feat of the civic society as a whole deserves the utmost respect. Sviatlana Tsikhanouskaya is a symbol of this feat, perhaps also her comrades – Maryia Kalesnikava and Veronika Tsepkalo should be awarded the honourable annual Andrei Sakharov Prize, which the European Parliament bequeaths every year to those with the greatest merit in the fight for democratic and human rights values. Nominations are accepted up to September 20 this year.
We are witnesses to historic events. We are even participants to some extent. "For your and our freedom" – this means that Belarus' freedom is also our freedom. I hope that soon it will also be Russia's freedom. This is worth fighting for. Not only on the streets of Belarus, but also in the corridors of the West. A clear action plan is needed for this and I have sought to present a few initial guidelines.