- What areas will receive most attention during Lithuania's presidency over the EU?
- The main priority is is an all-inclusive one and it provides context for four national goals. And that is maintaining continuity in EU agenda. During our term as the presiding nation, we will continue making and implementing prior legislative and other political initiatives.
A solid part of our work will have to do with legislation to implement the long-term financial programme for 2014-2020. Efforts are made to reach agreement on the programme itself by the end of this year. Several dozen regulations will be needed to put this political decision in action.
Another thing to bear in mind is continuing economic and financial difficulties in certain EU member states. We might have to deal with this great challenge, working against deteriorating economic conditions.
And we will add some flavour to it in the form of issues closer to our own interests but by no means alien to other states either: protection of external borders, energy and energy security, Eastern Partnership, EU Strategy for the Baltic Sea Region. The four issues are often quoted as priorities during Lithuania's presidency. They will, of course, receive attention and effort, but the main thing is maintaining the European agenda orderly and efficient.
- What share of that agenda will consist of issues that are crucial to us?
A good chairmanship is, first of all, smooth chairmanship. It goes by almost unnoticed.
- When it comes to northern countries – and we are one of them – a good chairmanship is fair chairmanship without neglecting one's own issues. The four national priorities are not taken off the cuff and are not entirely new in the European agenda. What we're talking about is merely putting extra emphasis on them.
For instance, Eastern Partnership is an old pan-European priority. Because of the political situation along EU's southern perimeter, Southern Partnership has been receiving more attention. Who, if not us, should rekindle Eastern Partnership that we ourselves helped to author? We won't be springing up with new initiatives – we will try to strengthen those that already are on Europe's common agenda.
The EU Strategy for the Baltic Sea Region is the first EU macroregional strategy, a new path to a more profound integration, bringing eight EU member states in the region closer together to pursue common goals: cleaning the Baltic Sea, interconnecting the region with missing infrastructural links in transport and energy, promoting prosperity in the region by removing internal market obstacles and raising competitiveness. We will be more than eager to implement the strategy as it wonderfully matches Lithuania's own foreign policy priorities – the Nordic direction and creating a more united and stronger Europe. The Baltic States are best-equipped to take up Baltic issues.
That is only natural. For example, in terms of energy, we are an energy island. Fixing the situation is a priority in our foreign and security policy, but it also receives considerable attention in the European agenda. Domestic energy market must be created within two years, there should be no more energy islands left by 2015. This constitutes a natural overlapping of our own and European priorities.
We sometimes suggest bold initiatives. And boldness is not childish bravadoes but rather making use of what's already on the European agenda for the wellbeing of our region and our country. It might sound somewhat pathetic, but we must use this unique opportunity to beef up several EU policies that our successors might not see as essential priorities.
- The EU is a giant bureaucratic machine, so much of our job will be simply to discuss piles of routine documents. How could we make our presidency stick in memory?
- There are two sides to the presidency: the visible side (red carpets, presentations, gifts, elated events, visits of high officials, lush venues, promotion of our achievements) and content requiring patience, negotiation skills, flexibility in reaching compromises but firmness in defending things we see as essential.
Our main challenge, the crisis, is not strategic or military in nature, it's economic and financial.
A good chairmanship is, first of all, smooth chairmanship. It goes by almost unnoticed. After the Lisbon Treaty, EU structure is much more complex. Smooth chairmanship has to do with solving problems, finding the best, but not the lowest, common denominator. Something that people involved in the process can notice and professionals can appreciate.
We are working so that we are remembered. As a country that can show – without splurge, pomp, but with silent dignity – it is a modern, creative, innovative, yet cosy European state. It is no easy task, but we have ideas and, importantly, a strong, highly-motivated, and creative team.
We must use the opportunity to be noticed, in a positive light, by the society, media, political leaders of EU member states and institutions, to show that Lithuania is not a limping rookie but rather a mature enough member capable of smoothly dealing with tasks entrusted to it.
Visibility is important – introduction events in other countries, Brussels, Strasbourg. We must go for a decent northern moderation, be noticed, yet not as squanderers but as people able to offer a good product within the financial means available to us.
- There is a saying that the six months of presidency will be a star hour for Lithuanian diplomacy. Does that not needlessly inflate our expectations?
- Star hour does not equal pomp, red carpets, and trumpets – but rather a calm, accurate, patient, well-coordinated continuation of the European agenda.
Our major task will be reconciling the pomp with a steady, professional, sometimes boring work. I do not wish neither to needlessly inflate nor to downgrade the expectation. It must be there. We're getting a unique chance to establish ourselves – with so much gravity and to such a degree – in a very important political milieu.
The EU is one of the global political actors, therefore we are establishing ourselves in world's political arena.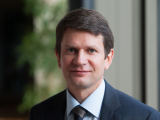 Juliaus Kalinsko/"15 minučių" nuotr./Vice-Minister of Foreign Affairs Vytautas Leškevičius
Our presidency over the EU will not go unnoticed. We will need much effort, patience, ingenuity, help from everyone. First of all, the media, to help spread the message about our presidency in Lithuania.
This is our chance to bring Europe closer to us and ourselves closer to Europe. The process has been on for eight years, but we will instantly jump several steps up – so that when we go to a more remote place in Lithuania, the EU does not seem a distant thing happening somewhere there, in Brussels.
Therefore, we do our best to travel and talk to people further from Vilnius that has already had its fair share of international attention, global events, and sometimes frowns upon certain inconveniences and traffic jams. But these are part of being the presiding state and we will have to swallow a few bitter pills. What matters is that the EU becomes closer in all parts of Lithuania.
- Denmark, that recently finished its term, has compared EU presidency to rye bread: it is uninspiring but healthy. Perhaps people will not notice it, but it will nonetheless bring much benefit to the country?
- Lithuania will not preside over the area that has traditionally been most visible on the global arena – EU foreign and security policy. It is the province of the European External Action Service.
Sure, the presiding nation still plays a special role, even in "post-Lisbon" Europe.
Our main challenge, the crisis, is not strategic or military in nature, it's economic and financial. I agree with Lithuanian politicians who say that there is not enough pubic debate on the issue. And not only in Lithuania – Germans complain that there is not enough discussion on where Europe is going, what financial, economic, fiscal union means, what kind of Europe we would like to see. This is not our immediate goal during the term, but such is the background against which we will have to work. These things will not be put into routine rye bred-shaped legislative initiatives just yet.
As for the benefits of the presidency – it mobilizes, hardens, allows to make the country more visible and reliable. Reliability is not an empty phrase – it can be translated, albeit indirectly, into ratings, interest rates for borrowing.
Moreover, it's a chance to make the society more European, since we still do not entirely accept that Europe is our home. To improve the inner health of our society, to mobilize it domestically, to mobilize our political class. And to allow several hundred people to gain incomparable experience in leading tough negotiations.
The interview originally appeared in a 15min supplement "My World" which is a joint project of 15min and the Lithuanian Ministry of Foreign Affairs.