Some bring in defendants' wives, others ask hospital janitors to help them communicate, yet others use the notoriously inaccurate Google Translate service.
In most cases, however, British judges adjourn hearings that require interpreters' assistance. For example, on 20 February, three Lithuanian citizens – Šimkus, Nurbikas, and Vilkaitis – were charged with shop robbery and dangerous driving. They were held in custody for seven days because bail hearings kept being adjourned – five times. Four of them had to do with failure to bring in an English-Lithuanian interpreter.
There are 68 qualified Lithuanian language translators currently working in the UK.
On 27 February, the three Lithuanians were summoned to the court for the sixth time. This time, their friend was asked to translate the proceedings, even though her English was rather limited.
Violation of rights?
In the beginning of March, Ipswich Magistrates' Court spent an entire day waiting for an interpreter and was finally forced to resort to Google Translate in order to communicate with a Lithuanian defendant who did not speak a word of English. "We hope he understood, but as none of us spoke Lithuanian, we can't be sure," defending attorney Andrew Cleal told the Law Society Gazette.
There have been many similar cases in the UK lately. Professional translators and lawyers claim that the situation violates foreigners' rights. Some go as far as calling it discrimination. "We are concerned about extended detention periods for Lithuanian citizens and high probability of court mis-rulings," UK-based Lithuanian translators wrote in an open letter to the Lithuanian ambassador, Oskaras Jusys. "The government's ill-advised strategy poses a serious threat to justice and risks violating the rights of foreign citizens, which amounts to discrimination."
Work without intermediaries
There are 68 qualified Lithuanian language translators currently working in the UK. Irina Jefremova, who has been living and working in Birmingham for the last six years, is one of them. The Lithuanian national has graduated from Vilnius University with a degree in English philology and later took a special translators' course in England. She passed exams and now has two certificates allowing her to interpret for public institutions – in areas related to health and the English law.
"The diploma is the main translator's qualification in the UK," Jefremova told 15min. "You cannot work in courts without it."
Jefremova, 27, has been working as English-Lithuanian-Russian translator for five years, assisting various public healthcare services and law enforcement institutions. She thinks that the rules that were in effect until recently were rather reasonable.
"Before, everyone who wanted to work as an interpreter in the UK and took the necessary exams, had to sign up with the National Register of Public Service Interpreters," she says. "Courts and other clients would then use the database to find interpreters. They had to enter their postcode and the system returned a list and contact details of nearest-based interpreters of language of their choice. Clients would contact interpreters directly, without intermediaries, and agreed on the terms."
Economizing
This is how it was until February. A new private interpreting agency based near Manchester, Applied Language Solutions (ALS), has convinced the authorities that it can save 18 million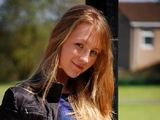 Nuotr. iš asmeninio archyvo/Irina Jefremova
pounds of public funds a year (of the 60 million spent on interpreting services) and signed a five-year contract with the Ministry of Justice. The agency now supplies interpreters to all UK public institutions.
"ALS convinced the Ministry of Justice that it had enough qualified interpreters by saying that everyone in the Register agreed to work with them. But in fact, we were not even contacted and asked if we wanted to work through this agency," the Lithuanian claims.
The way that ALS was planning to save public money was by cutting interpreters' fees by two thirds. "Who would want to work for them?" Jefremova wonders. "The terms are completely unacceptable. The agency does not cover either traveling time or expenses. It takes ten hours to get from Newcastle to London. And for what? 20 pounds a day? That's ridiculous."
Boycott
Qualified interpreters, unsatisfied with the new rules, refuse to work with ALS. Not even do they not respond to calls from the agency, but even when contacted directly.
"Qualified and registered interpreters are now boycotting the new system, i.e., refuse to work through the agency or accept direct orders from courts," Jefremova says. "Everyone wants to go back to the old system, yet the Ministry of Justice and the government, of course, are reluctant to admit their mistake."
She admits that the situation in courts is very complicated at the moment. "Many professional interpreters refuse to work directly with state institutions, others do not want to have anything to do with ALS. So the latter has no other choice but to employ anyone it can find. There are many cases of the agency recruiting people almost from the street. Not only are they not certified interpreters, but often they do not even have proper training. In one hearing, for instance, they hired a Lithuanian who worked as a hospital cleaner."
The new system has been in effect for two months and the situation in courts is getting increasingly chaotic. Most of the hearings that require interpreting simply get adjourned. "Either there are no interpreters at all, or ALS finds linguists who have no clue how to properly translate basic legal terms," Jefremova regrets. "They are unable to translate the rulings accurately. As a result, people do not even understand what they are sentenced for and what the terms for their release are. The rights of defendants, witnesses are thus violated."
Lithuanian unity
There are 2,300 qualified specialists of various languages signed up with the National Register. All of them, including Lithuanians, unanimously refuse to submit to the new rules. "All Lithuanian interpreters are united in this and very supportive of each other," Jefremova claims. "We boycott all assignment in courts."
According to her, UK-based Lithuanian interpreters have set up a Facebook group where they exchange views daily, discuss further steps, share information on direct offers from institutions.
"The worst thing is that many experienced and qualified Lithuanian interpreters are considering to give up the profession altogether, as they see no prospect," Jefremova regrets. "If things continue as they are, direct orders will dwindle, there will be no point in working for courts, while no one will want to cooperate with ALS for its bad reputation."
At the moment, Jefremova works for the National Health Service and does translations in writing. "But I will certainly not work for courts or any other law enforcement institutions," she underscores.
Professional interpreters displeased with the new system have set up a website www.linguistlounge.org where they post news on the new system, the chaos it causes, and resulting anecdotes in courts.
Preparations for a picket
The UK government and the Ministry of Justice get lashed by the media for the new order, but have been ignoring the criticism so far. "The Ministry of Justice is reluctant to call off the decree, because the new deal is worth 300 million pounds," Jefremova explains. "If it admits the mistake, how will it look? The authorities are largely ignoring all criticism, pretending that nothing has happened."
ALS resorts to similar tactics, she says. "They prepared a three-sentence announcement that they use for all occasions. The gist of it is that everything is all right, except for a few minor hiccups," Jefremova says.
She adds that the 18 million pounds that the Ministry was planning to save have been squandered in the first two months of the new order. "This is the result of several hundred hearings being adjourned and called off. And all because of the ALS agency!"
She adds that the Ministry of Justice is scheduled to review its contract with ALS in three months. She has little idea of what to do next. "It's difficult to continue the boycott, as one has to live on something," Jefremova says. "However, we are not planning on giving in either. We will carry on boycotting and holding pickets. There is one scheduled for 16 April in London."