Ieva Vaitkūnaitė, Legal Researcher focusing on International Humanitarian Law and Human Rights Law:
Growing up, I knew myself to be an empathic person, but I didn't know yet that there was another, deeper dimension to it. Luckily, I realised early on that knowledge and education could change the world. This idea has motivated me to be courageous, never stop exploring novel international humanitarian law topics, and, above all, write about them.
I am a researcher focusing on international humanitarian law. Being a lawyer by trade has always inspired me to tackle the most challenging societal issues and aim for providing various possible solutions. My professional path was never linear. However, some of the topics I am passionate about follow me everywhere. One of them is the protection of cultural heritage. For the last two years, I have worked on extensive research, analysing cultural heritage destruction during the Yugoslav wars. Subsequently, due to evolving climate change issues, I embarked on a new project to examine World Heritage protection from the perspective of environmental law. In the future, I would like to pursue a career in the human rights field.
The main challenge in the humanitarian field for me was to actually enter it. I think everyone working in this sector has faced it. The best solution for me was to gather as much international experience as I could. Gradually, I built my expertise and skill-set from one country to another. Ultimately, it resulted in me learning to adjust swiftly to changing working environments. Also, looking back, it was those many gutsy decisions that helped me to break into the sector. I remember knocking on international organisations' doors and volunteering my services. The most valuable lesson I learned is that it is much easier for someone to say yes when you are there in person, and many organisations are desperate for some extra hands.
The humanitarian field was not an exception for an urgent digitalization catalysed by the spread of COVID-19. Technology, innovations, and the use of big data are massively shaping the demand for humanitarian capacity-building. This means that humanitarian action training will need to include new topics so that humanitarian workers could use technology to its full potential. Given that capacity-building involves sharing knowledge, expertise, and good practices, NOHA is an exemplary association capable of gathering humanitarian experts from different backgrounds and raising awareness about the newest trends in the sector.
During the NOHA training, I had the distinct pleasure to meet many hard-working people and gain valuable insights into the non-profit sector. The knowledge I acquired from the topics such as psychological preparedness, current challenges of humanitarian action, and predictions on how COVID-19 will shape the humanitarian sector will help me considerably in my future endeavours. However, the most rewarding part was discussions with other participants who shared practical experiences and valuable critical views from their field missions. The NOHA training was an enriching addition for a meaningful start I am about to take in the international human rights law programme at Lund University.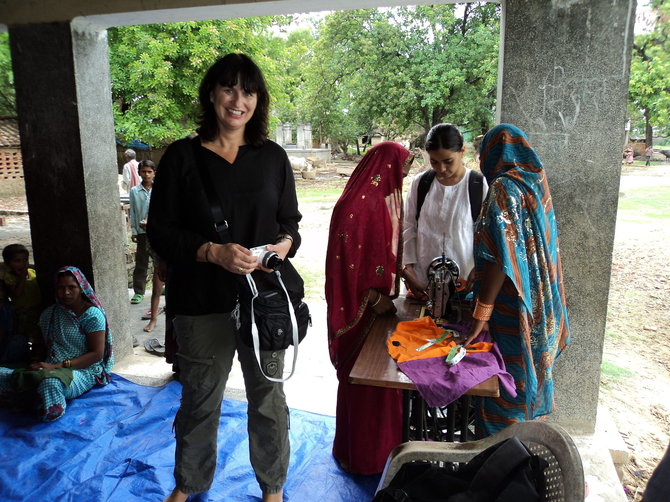 Personal archive/Linda van der Wijk
Linda van der Wijk, director of a small Dutch NGO Charity Fund Rijsholt:
I've been interested in humanitarian action and development since I was young, and started focusing on NGOs when I was working on my thesis for my Master's degree in Management and Organisation. For my thesis I did participatory research at two women's NGOs in Zimbabwe. I realised in recent years that the development sector can learn from the humanitarian sphere, especially when it comes to humanitarian principles. Also, my experiences during the COVID -19 pandemic have taught me that in times of crisis the division between development and humanitarian action sometimes needs to be set aside. I really think I have moved closer to the field of humanitarian action and would like to continue that journey and use my knowledge of the development sector as a base. Current geo-political and socio-political trends result in a greater need and with that my motivation has only become stronger.
At the moment I am more positioned in development than in the humanitarian field. Being the director of a small NGO I wear many hats, ranging from hands-on involvement in projects to evaluation and reporting and day-to-day organisation management. We entered into long-term relationships with local project partners and currently fund around 10 projects. Education, the right to life in dignity and the right to self-determination are central aspects in all our work. Most of our projects are in India, the Netherlands, and Thailand.
For me the main challenges throughout my engagement in the humanitarian sphere have been psychological and social. Psychologically in the sense of "how do you deal with balancing what you experience in the field and the privileged life you have at home", and how to cope without the constant sense of necessity (or adrenalin) that keeps you going in the field. For me, dealing with that tension became easier and easier with experience, and with realising that it is OK to take time for yourself to decompress. Socially it is sometimes hard to keep connections when you are travelling a lot and not present for things that are important events for friends and family. But in this way I learned what is important and what is not, and when I really need to be there. You realise that sometimes you need to make some extra effort.
The recent training in humanitarian action offered by NOHA was interesting and useful. It was good to spend time with like-minded people, learn more about the specifics of humanitarian action as opposed to development. It re-affirmed my belief that development should follow the humanitarian principles too, to make it universal as it is meant to be under the UN 2030 Agenda. I keep going back to all the sessions from those three days, but especially have incorporated or try to incorporate the knowledge from the sessions by Robert Ghosn about the current challenges of humanitarian action (which are actually not so different from the challenges faced in development), Dr Sulagna Maitra who talked about the principles of humanitarian action, the session on psychological preparedness by Cristal Palacios Yumar, the session on the impact of COVID-19 on INGOs by Dr Wojtek Wilk, and the sessions by Justinas Stankus.
Undoubtedly, there is always a need for capacity building and strengthening, both on a personal level for me, as well as in the field – and that includes development and humanitarian action. NOHA has an important role to play as it can draw on a wide base of both academic and practical knowledge, gives students exposure and through the diversity of its network also provides access to knowledge coming out of different schools of thought.
Abdulla Chahine, Communication Consultant at Red Cross Kaunas Center, Lithuania:
Working within the Lithuanian Red Cross programme dedicated to the integration of migrants, refugees, and asylum seekers, my mission is to bridge the gap in the local community – and by "gap" I mean this imaginary gap between people who don't feel local, and locals. From interviews and research I found that when it comes to integration, there is a fear involved on both sides, as well as lack of acceptance and conservatism: from a homogeneous community that is not very ready to open up, to an expat community afraid of joining in. So I work on creating more social inclusion, aiming to involve communities in activities that would get people closer to each other no matter where they come from, what they do, or what social class they belong to. In this programme we help people find information and jobs, provide them with legal and psychological support, and Lithuanian language lessons. My task is to communicate that both internally and externally, making sure that our message aligns well with values that we work all day to achieve.
Before coming to Lithuania for my Master's degree, I volunteered at the World Wildlife Fund in the Emirates. In Kaunas I joined the local hospice – Kauno Hospiso Namai – as a volunteer, providing warm visits for people with fatal diseases and disabilities. Being a musician, I play music for them and help them process their emotions. That's part of my background, and as for the future, to be honest I don't like being defined within a label. I've always been that guy who cannot turn a blind eye to a person who asks for help. If you want to call that humanitarian field – great. I will always help when help is needed. But I don't want to be defined by one thing only. I am me and I love what I do and it is why I do it.
In the humanitarian field I'm not looking for power. All I want is to make my surroundings better for me and for everyone else, because there has to be some kind of balance in this world. There must be people helping others without any financial gain or asking anything in return. Some people are hungry and some people provide them with food. If someone needs legal or emotional support – someone should be able to provide it. Someone has to offer these things to people for free.
We are on this journey every day. It can be overwhelming for those who work in this field to understand what responsibilities they are handling, as they deal with other people's problems. It is also very important to know how to process those emotions and traumas.
Are we in the humanitarian field "doing the right thing"? That is just one way of looking at it. Personally, I don't see it as "doing the right thing", and that keeps me at peace with everything. My philosophy is this: I know we are wrong, and we can only be less wrong tomorrow. To know that tomorrow you can be less wrong is very satisfying and it's one of the best motivations to move forward. Similarly, when analysing the impact of your humanitarian efforts, there are many variables involved. As a communicator, I'm thinking first about communication channels, about who is communicating, what the message is, how much we are investing in it, what actions we take. How do we measure impact? What metrics are we using? Is it the number of people involved, did we change a law, can we collaborate or merge with entities that would help us achieve our goals?
During the NOHA course, there was a lot that resonated with the work that I'm doing. Of course, there were times when I felt that the presenters could have done a better job, but there is always space for improvement. I asked one of the speakers, Bob Ghosn: "What should we do when, working in a conflict zone, we doubt that we are on the right side?" He said, "Remember: if you are there to take sides, it's not the place for you. The Red Cross only focuses on helping people." This idea stuck to me: we are there to help people, not to judge who is right or wrong. He also mentioned that the best way to be apolitical is to be extremely political and put yourself in people's shoes no matter their side. This is what we stand for. Another very important point was the psychologist talking about how to process emotions in the field. She talked about how the human body goes through processing things: shaking, crying, dancing, laughing, talking, sleeping, walking, reading… I realised that I naturally do all these things already. When I forget or postpone processing emotions, my body will force me to do it. She was absolutely right. Now I am more aware and I consciously know what my body is going through.
This article has been prepared by the National Non-Governmental Development Cooperation Organisations' Platform of Lithuania (Lithuanian NGDO Platform).