Kitesurfing professionals – Gabrielė Pioraitė, Maarten Haeger and Mike McDonald – unanimously claim to have found the key to their happiness. Their life passion is kitesurfing.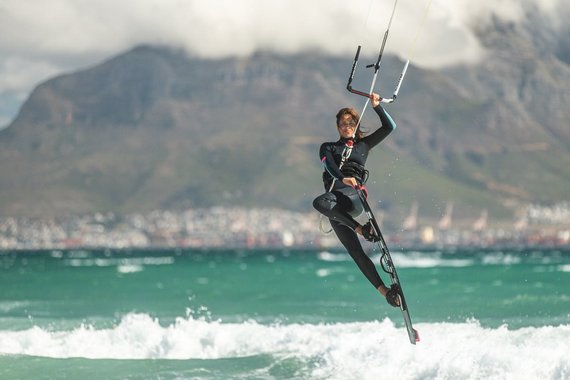 Gabrielė Pioraite at a beach in the Sourh Africa
Maarten Haeger: 'It is the best sport in the world!'
Maarten Haeger from the Netherlands is the record-holder of the highest kitesurfing jump in the world – he jumped 34.8 m. Maarten tells that he started kitesurfing six years ago at the age of 14. 'My whole childhood, I would play around with a small kite on the beach until my dad started kitesurfing. Of course, I had to join in immediately! It is the best sport in the world, especially in the stormy season. That feeling when you jump 30 metres up in the air or when you complete a megaloop and for a few seconds you're just free-falling – it's an addiction. I also love those warm days and a light breeze when I can swim around in my shorts. Kitesurfing is my biggest passion!'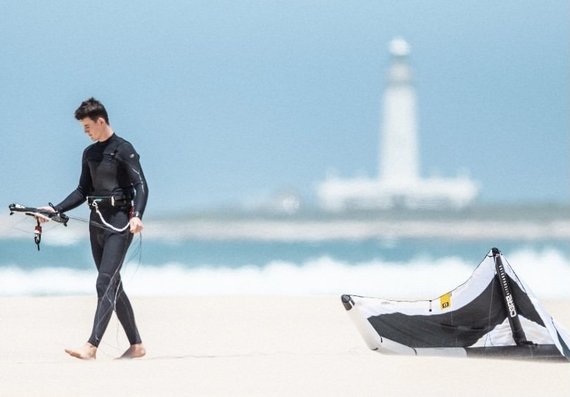 Maarten Haeger
Mike McDonald does not recommend learning to kitesurf independently
Mike McDonald (South Africa) is second on the leader board with a 34.1 m jump. He is also a former world record holder. He first fell for kitesurfing when he saw his friend Kyle's photographs in the wonderful blue water. 'I was a hardcore surfer, but in the end, it was those pictures that made me wonder what this buzz was all about. So, I bought old kites from my friend and started learning on my own (don't do it!!!) as I couldn't afford lessons. At present, I live for kitesurfing and for big jumps. I managed to build a career out of kitesurfing and now I am able to do what I love every day. Life is wonderful!'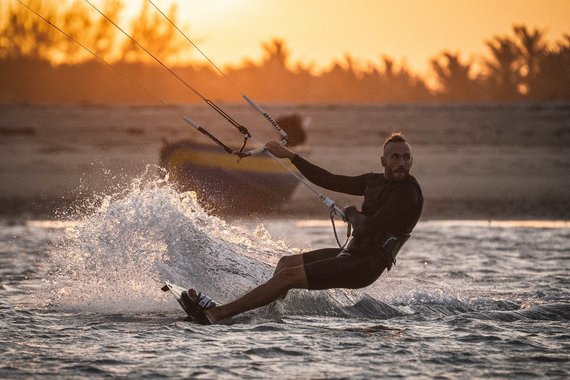 Mike McDonald
A Lithuanian world record-holder
The woman whose efforts led to the Lithuanian flag flying in the kitesurfing championships is Gabrielė Pioraitė. She is the record-holder for the highest jump in the world in the women's category. Last year, Gabrielė, who now manages her own kitesurfing school, jumped 23.6 m in Cape Town!
Gabrielė learned kitesurfing in Lithuania. She says that Svencelė offers excellent learning conditions: 'We have an even water surface, freshwater, and our feet always touch the ground, which helps learners to quickly improve their skills. I also learned kitesurfing in Svencelė. Therefore, I can guarantee that this is the best place to start.'
Not all kitesurfing places are equally good
There are many places in the world that offer kitesurfing activities, but some are better than others. Gabrielė Pioraitė says that kitesurfing spots are assessed in terms of how often the wind blows, how strong it is, whether it is stable or choppy, and its direction. It is also important to know whether there are any rocks or other obstacles that can make the area dangerous. Gabrielė believes that the best kitesurfing spot in the world is Cape Town in South Africa. 'The winds are extremely strong there and they create massive waves. I would also recommend kitesurfing in Vietnam – Phan Rag, or Tarifa, Brazil and Egypt,' recommends this kitesurfing professional.
About kitesurfing
Kitesurfing is an increasingly popular extreme water sport where the athlete uses the kite as a driving force that pulls them on their surfboard. This sport combines aspects of windsurfing, surfing, waterboarding, snowboarding and paragliding together with gymnastics.
This sport came to Lithuania in 2000. There are approximately 7000 kitesurfing hobbyists who usually chase the wind in Svencelė near the Curonian Bay.
Video: Kitesurfing in Lithuania
Išsirink planą ir skaityk be ribų
Mėnesinis
planas
Pirmas mėnuo - 1€,
vėliau po 3,5 €/mėn.
Apsimoka
Metinis
planas
Mokant iš karto
už 12 mėn. – 33,50 €
Apmokėti
Įvesk savo mobilųjį numerį, atsiųsime kodą
Į mobilųjį išsiuntėme kodą. Įvesk jį ir skaityk toliau