The American International School of Vilnius (AISV) is home to students and staff from more than 30 nationalities. We asked the representatives of the School about introducing the global issues to children in a language which is easy for them to understand.
"By talking to their peers from different cultures and nationalities, children begin to understand what unites people from across the world and how our differences make us more interesting. Even with our youngest students, we celebrate everyone's heritage so that students can understand that we are all part of something greater than ourselves – our class, AISV, Lithuania, and, ultimately, the global community. In this environment, conversations about global topics emerge naturally. In Grade 1, for example, our students learn about our rights and responsibilities - that as community members we have a responsibility to contribute in both small and more significant ways. With regards to the environment, it can be something as simple as using a water bottle or recycling our paper and plastic at school. If we want our children to take bold initiatives which will determine all of our future it is important for them to understand that we share this world with each other," says Sheryl Salem, Deputy Director of AISV.
AISV pupils
The discussion mustn't end at school
Robin MacArthur, AISV Primary School Coordinator, also agrees that to prepare children to be the creators of the future, we must first explain to them in an understandable way what is happening in the world. Of course, this must be done in the language and expression appropriate to their age. One of the easiest ways to present complex topics is through books. "We noticed that children are particularly affected by the books they'd read which they can then discuss not only at school but also with their family. Then the ideas of the book live on in future projects," says R. MacArthur.
This year, William Kamkwamba's book "The Boy Who Harnessed the Wind" was chosen to be read by the entire school community. Despite the book's multi-layered nature (the book discusses community, collaboration, problem-solving, creativity, innovation, perseverance), everyone read it, starting with pre-school students. The only difference was the version of the book that was adapted to the three different age groups and the tasks that the students performed after reading the book. This year, one of our school-wide goals is to develop and extend one of the themes from The Boy Who Harnessed the Wind to result in an action that positively impacts the world around us," says MacArthur.
Self-confidence will only come from taking the initiative
When talking to children about global topics and presenting facts which are not the most pleasant, it is essential not to leave them alone with all the information we have given them. It is worth discussing what we can do to make the world a better place to live.
After reading The Boy Who Harnessed the Wind, AISV students had many questions about Malawi and the life challenges facing its people. Taonga Ngoleka, a communications specialist who comes from Malawi and is currently studying in Lithuania, answered these questions. Last week she was invited to have several virtual meetings with the students at AISV where she talked about her country's education system, lifestyle, economy, nature and tourism.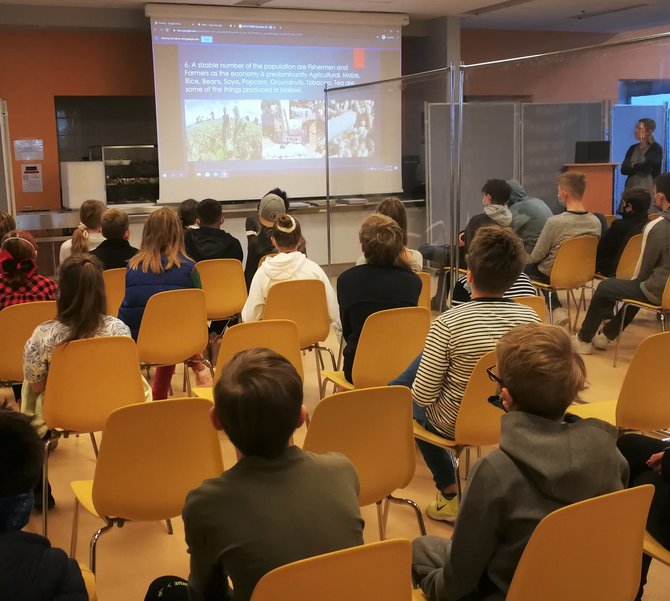 AISV pupils
"Children are very curious, their questions are infinitely sincere, and if you answer them with the same sincerity, it sticks in their memory for a long time. The students were mostly interested in everyday life in Malawi; they expressed concern about the deprivation there, which they had read about in the book. Together, we have decided that we are all responsible for the change in the world and that if we make an effort, even poor countries like Malawi, even in small steps, can move forward and improve the lives of the adults and children who live there," said Ngoleka.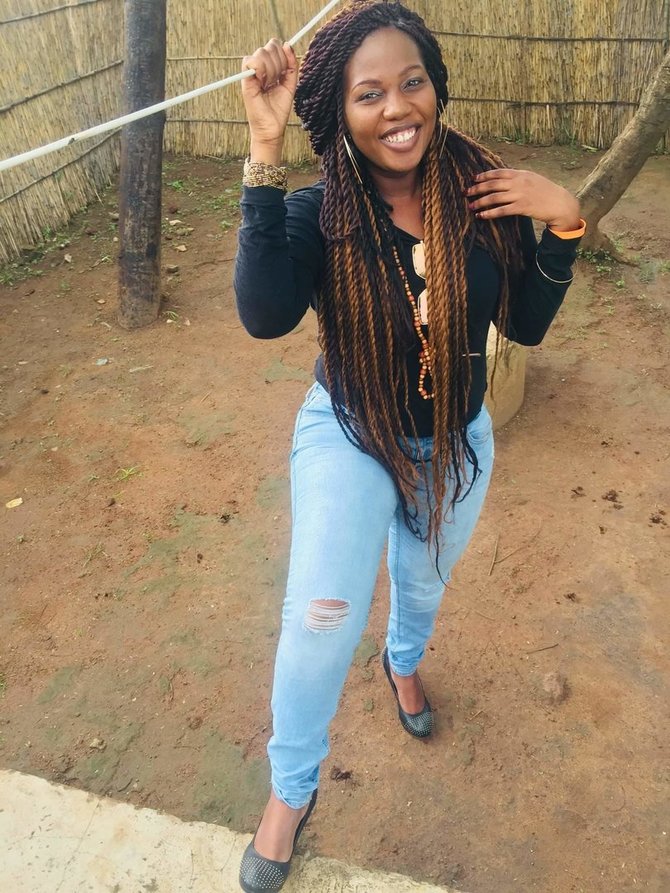 Taonga
"It is important for the child to understand that even very long distances are covered step by step", adds Lauren Heil, coordinator of grades 6-8 of AISV. As a result, student activities in our school take a long time, this way our children are learning to implement large and long-term projects. At the beginning of the school year, students set their own academic and personal goals, which are then pursued throughout the year, and reflect on their progress at the end of the year. "
According to the teacher, this is how children learn from an early age to think broadly, far into the future, set big goals for themselves, use time, and their potential meaningfully. It is not enough to know that you can do something - it is important to prove to yourself that it is more than just words. Only then can the self-confidence, the ambitions and the scope of the projects to be implemented grow.