The new market will not only be a place for meetings and long talks with friends — educational activities are also planned here, as well as various events to spread food culture, including various music and dance evenings, presentations of works of art and tasting dinners.
'Markets are changing, and food pavilions have been popular in the world for many years now: London has "Harrods", Lisbon has "Time Out Market", and Madrid has "San Miguel Market". We want to follow the best examples, which is exactly why we are opening the "Paupys Market" in Vilnius – it is going to be a place where the tastes of different countries will be readily available and the best chefs and traders will meet under one roof to offer people a taste of products grown by the country's farmers, says Sigita Survilaitė-Mekionienė, CEO at 'Darnu Group'.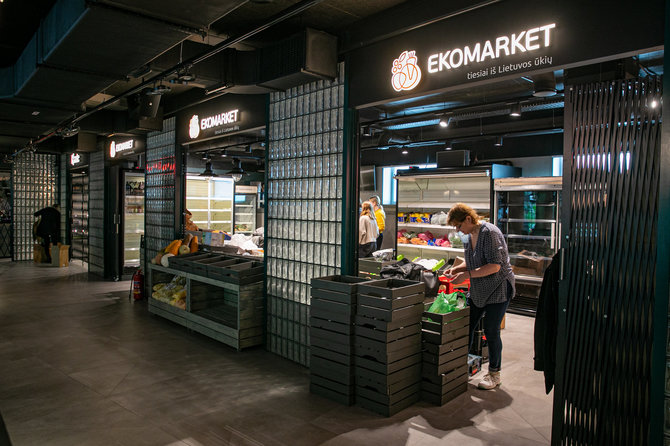 Juliaus Kalinsko / 15min nuotr./Paupio turgus
According to her, this food hall type market is unique in Lithuania. The fashion of non-formal dining spaces, which came to Europe from the USA, is gradually conquering Vilnius, and the American model is being moved by the 'Darnu Group' to the newly reborn Paupys. The new market stands out for its concept, modern communication and event space, and tenant structure.
'Innovative solutions have always been a priority of 'Darnu Group'. We strive to be pioneers, the first to present modern ideas. With each project we contribute to the creation of high-quality infrastructure, and we want the city to be alive and its residents to feel special and appreciated', assures Sigita Survilaitė-Mekionienė.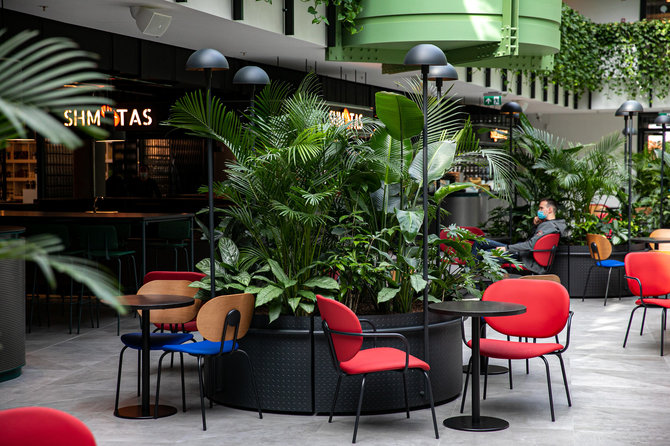 Juliaus Kalinsko / 15min nuotr./Paupio turgus
When opening the 'Paupys Market', the developer of the project relied on the best models of Western culture – this is how a modern, stylish gastronomic space was born.
'While we have focused on high food quality and a culture of communication between traders, we see the market not just as a place to eat. It allows the people to enjoy the experience of being together, and provides them with a place where even friends with different tastes will be able to meet and find a compromise – a wide range will surprise many people', says Sigita Survilaitė-Mekionienė.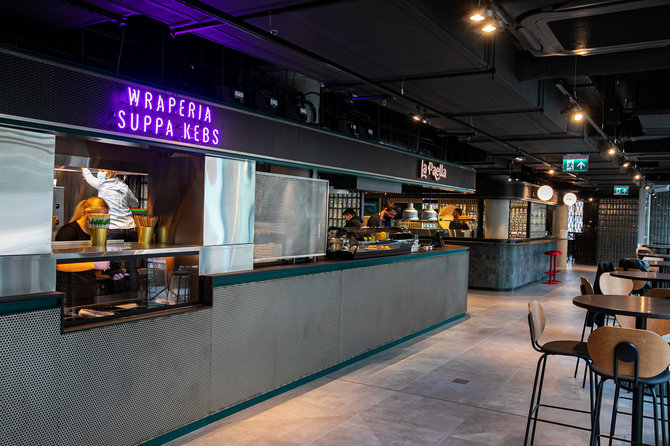 Juliaus Kalinsko / 15min nuotr./Paupio turgus
The market on Aukštaičių Street opens its doors to visitors on May 6th. There are already sixteen restaurants, three bars and five cosy shops selling food.
The market is equipped with 300 seats indoors, 150 seats outdoors, and an underground space for 200 cars.
Much attention has also been paid to the space of the market itself – the exclusive interior and lighting were designed by the architectural studio 'Plazma', and the main wall of the market is adorned with a huge drawing by the artist Jurgis Tarabilda. The market is also equipped with a green oasis – a winter garden with 1,300 plants. In search of exclusive solutions, 'Darnu Group' has invested EUR 2 million in the installation of the market.
For the time being, residents and city's guests are invited to enjoy food at outdoor tables in accordance with security requirements, and food can also be ordered to take away.
Juliaus Kalinsko / 15min nuotr./Paupio turgus


The restaurants operating in the premises of the market will be open Monday–Wednesday from 11 a.m. to 9 p.m., Thursday–Saturday - until 10 p.m., and Sunday - until 8 p.m. The market's cosy shops will be open Monday–Saturday from 10 a.m. to 8 p.m., Sunday - until 6 p.m.

Leave the interpreting to us! Translated by Pasaulio spalvos