In the year 1970, Simas Kudirka jumped from a Soviet ship to a US coast guard vessel and requested political asylum. He was returned and imprisoned, but Simas received massive international support, thousands of people protested for his release.
As a result, the Lithuanian from Griškabūdis became an international symbol of human rights violations, and his fate was resolved by an entire two US presidents – Richard Nixon and Gerald Ford. In the midst of the Cold War, these events led to massive political upheaval in both the USA and the USSR.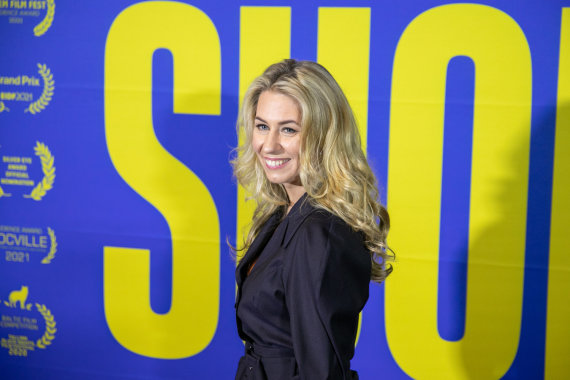 Juliaus Kalinsko / 15min nuotr./Giedrė Žičkytė
After fifty years, Simas Kudirka, accompanied by acclaimed Lithuanian film director Giedrė Žickytė, returned to the American ship yet again. This time – to once more relive the Jump that changed his life. Thus was born the film The Leap by the Lithuanian director Giedrė Žickytė, which is not inferior to the best Hollywood thrillers in terms of its plot and gathered the most awards in the world of documentary filmmaking in the past few years. The protagonist's inspiring charisma, impressive archival material, a story filled with surprises, told by Simas himself – the movie has been screening in Lithuanian cinemas already since 17th September.

We are excited to inform all our English speaking friends that "The Jump" will be screened with ENGLISH subtitles in VILNIUS!

Date: 10th October (Sunday) at 17:45
Place: Senamiesčio "Pasaka", Šv. Ignoto g. 4/3, Vilnius Kino teatras "Pasaka". Click here to buy tickets
AWARDS
Best Documentary Feature Award - Warsaw International Film Festival (Poland)
Main Jury Award - Salem Film Festival (Massachusetts, USA)
Audience Award - Salem Film Festival (Massachusetts, USA)
Audience Award - Port Jefferson Documentary Series (USA)
Herz Frank Best Director Award - ArtdocFest (Latvia)
Audience Award - Docville International Documentary Film Festival (Belgium)
Grand Prix - EBS International Documentary Festival (South Korea)
NOMINATIONS
Silver Eye Award Nomination - Institute of Documentary Film (Czech)
Nominations for Best International Feature and Best International Director - Documentary Edge Festival (New Zealand)
Audience Top Vote getter - DOC NYC (New York, USA)
Jau prenumeruoji?
Prisijungti
Išsirink planą ir skaityk be ribų
Mėnesinis
planas
15min prenumerata

Kasdienis naujienlaiškis
BNS Sprintas

ŽMONĖS Cinema prenumerata
Pirmi trys mėnesiai – po 0,99 Eur,
vėliau – 4.99 Eur/mėn.
-50%
Metinis
planas
15min prenumerata

Kasdienis naujienlaiškis
BNS Sprintas

ŽMONĖS Cinema prenumerata
Apmokėti
Įvesk savo mobilųjį numerį, atsiųsime kodą
Į mobilųjį išsiuntėme kodą. Įvesk jį ir skaityk toliau
Norėdamas tęsti – prisijunk
Norėdamas tęsti – užsiregistruok