On challenges in humanitarian action
"There are many," says Bob Ghosn, humanitarian aid worker who has served in different capacities with the International Committee of the Red Cross (ICRC) and UNICEF, among others, implementing projects in the Democratic Republic of the Congo (DRC), Iraq, Guantanamo, Liberia, Jordan, and other territories.
To begin with, the numbers are not looking good. Ghosn says that in 2018, more than 200 million people worldwide were considered as being in need of humanitarian assistance. Overall in that same year humanitarian assistance reached almost US $30 billion; yet UN agencies that provide it are facing a budget shortfall by some 40%, meaning that they receive only around 60% of the amounts that they request. The world's three largest donors for humanitarian assistance are the US, the EU, and the UK, which together account for 75% of all government contributions.
At the same time, financial poverty in the world is increasing in mind-boggling numbers, and behind these numbers there are very real people with very real daily struggles. After decades of numerous efforts to reduce financial poverty, a lot of progress that has been achieved is now being reversed due to the devastating lockdowns that have been imposed on the world for the last year and a half. Millions of people have been thrown (back) into extreme poverty, with the total number projected to reach up to 150 million by the end of 2021. Poverty not only means lack of access to nutritious food, clean water, or other basics, but also takes a huge toll on health. For example, according to OCHA and other agencies, non-communicable disease diagnosis and treatment has been affected dramatically, with antenatal care and cancer diagnosis and treatment dropping on average by 55%, and mental health treatment experiencing a huge disruption of around 60%. Healthcare, education, and other areas are being hugely impacted and for humanitarian workers, that is posing a challenge on an unprecedented scale.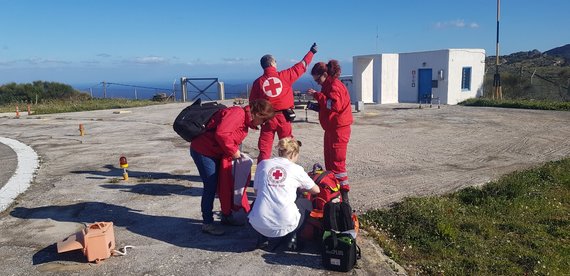 Lithuanian NGDO Platform/Hellenic Red Cross
Another huge challenge for the humanitarian field is the erection of borders and fences. "We have more and more borders that are harder and harder, [we have] fences, there is this whole criminalization of migration and then the issue of access [to the people in need]," says Ghosn. "This brings questions of security of humanitarian personnel, which is at the core of humanitarian work – not to put people or operations at risk." He explains that in conflict times and zones, access to aid delivery should not be taken for granted: it is negotiated on a daily basis based on acceptance. In reality this means that humanitarian workers have to explain to those controlling an area why they are there, what they want to do and how, and also show to those "in charge" what added value they could bring. The fact that local populations need food, for example, is not sufficient enough to open the roads for humanitarian workers to come in with trucks to deliver it. In such cases people's basic needs are used as a trading card by those involved in a conflict and aid delivery becomes a carrot to the people when it is allowed in and a stick when it is not. And yet, Ghosn says, "Humanitarian organisations are not meant to stop wars or armed conflicts. They are there to reduce the suffering of the people. As a humanitarian, I stand with the victims. But I am not the one to judge the perpetrators' actions." This provides a good opportunity to remember the four fundamental principles that guide humanitarian action, as set by the Red Cross and Red Crescent Movement: humanity, impartiality, neutrality, and independence. However, based on his experience in the field, Bob says that these principles are "different in reality when you have difficult choices to make, even though they look good on posters in Brussels".
For people who are or are planning to be involved in humanitarian action, Ghosn advises to seriously consider what they are realistically able to achieve. World peace? He points to peace-building organisation, not humanitarian ones. "[Humanitarian organisations] are not promoting peace," he says. "Peace is a political statement." For example, removing certain politicians by force is not on the humanitarian agenda, which is there to help people in need. "Peace is only one way to change the world, there are others. But it is not your role as a humanitarian to promote either." However, a challenge emerges here for the humanitarian worker: how should one deal with a situation where, for instance, their humanitarian efforts in the Sahel are being funded by the government of France, which is politically and militarily involved in the conflict in that same Sahel? The answer, Ghosn says, is to act grounded in the humanitarian principle of impartiality: that is to say, secure funding and help people and at the same time not get dragged into political agendas.
Lithuanian NGDO Platform/Bulgarian Red Cross photo
Which is extremely hard to do. Ghosn admits that by definition, taking funding is not a neutral thing: it always comes with strings attached. For instance, funding from US government institutions always requires from those receiving their funding to adhere to strict requirements how and for whom that funding is to be used. Unsurprisingly, many organisations are hesitant to take it but lacking other sources of funding are more and more often forced to do so.
With funding comes the issue of how that money is used. The 2016 Grand Bargain was an agreement between donors and international humanitarian organisations on humanitarian action effectiveness and efficiency. It includes such tools as "Greater Transparency", increase in cash-based programming, inclusion of people receiving aid in making decisions that affect their lives, and others. "But it's a big bubble," Ghosn says. Five years on, the implementation of the principles and actions envisaged in the Grand Bargain is still very slow. One major reason for that is bureaucracy: as Ghosn says, "the humanitarian sector is really good at bureaucratising things because it's a big machinery, and it's heavy". It is also complex, because the humanitarian field is vast and includes such differing issues as the status of stateless people in Lithuania and migrants in the Mediterranean being pushed back to Northern Africa or left to die in the sea by European coastal agencies. And it is very politicised because governments and other donors have their own agendas. Navigating these is often a very time- and energy-consuming process.
One of the things among those proposed as part of the Grand Bargain was the "Nexus", which is Latin for "connection" or "link": an intersection of humanitarian action and development activities. This one was renamed "Double Nexus", since later peace-building was also added to the mix by UN Secretary General Antonio Guterres and titled "Triple Nexus". "But these three – humanitarian, development, peace-building – are not linear processes, because they are all needed at the same time and not one after the other," says Ghosn. Accordingly, there has been significant criticism of the Triple Nexus concept and its implementation. "Humanitarian actors are concerned that integration with "peace" is a guise for securitised approaches and that they will be asked to collaborate not with peacebuilding actors but rather with militaries engaged in stabilisation and counter-terrorism," write Sultan Barakat and Sansom Milton in their 2020 research article. "There is also fear that powerful Western donors are pushing reforms to demonstrate cost-effectiveness in an era of public scepticism towards aid and to meet security rather than humanitarian or developmental objectives, principally stemming the flow of migration." The agreement," write Louise Redvers and Ben Parker in The New Humanitarian, "means donors must take a broader look at how they fund humanitarian, development, and peacebuilding initiatives, and be more flexible. They shouldn't for example, just pour money into emergency response when longer-term projects, such as education programmes, new infrastructure, or social cohesion work may have the potential to reduce tensions and ultimately need."
A new way of doing things has been getting a grip on the humanitarian sector as it has on other areas of life, namely technology. "The assumption that technology is neutral is not true," says Ghosn. "The world, including the humanitarian sector, is being shifted more and more towards technology and the digital way of doing things." This includes not only "Zoom" calls between an organisation's HQ in Europe and people in partner countries, but also such initiatives as mobile money. Another example of what can be done remotely is Forensic Architecture, a research agency investigating human rights violations. One of their investigations was into European arms used in the bombing of Yemen and it was done remotely, without the need for team members to fly to Yemen to conduct their research. Yemen's people are living through one of the worst humanitarian disasters of this century, being bombed by Saudi Arabia-led coalition for the sixth consecutive year.
Other critical areas for the humanitarian sector, according to Ghosn, are cyber warfare, environmental migrants, and fights over water. He warns: "These things are not coming in the future. They are already here."
On direct response to natural disasters
Dr Wojtek Wilk, CEO of PCPM, has first-hand experience of humanitarian action in action. PCPM is the Polish acronym for Polish Center for International Aid, one of the three largest Polish international NGOs. It focuses on both humanitarian and development aid and also has its own Rapid Response Medical Team, or Emergency Medical Team (EMT). PCPM has long-term offices in Palestine, Iraq, Ukraine, Kenya, and a few others, with projects being implemented in Georgia, Burkina Faso, and other places.
Dr Wilk explains that international humanitarian action is always related to context. For example, a 7.5 magnitude earthquake in Japan wouldn't bring such disastrous consequences as it would in Nepal, due to Japan's higher capacities to deal with such events and a high level of preparedness. Therefore in such a scenario Japan calling for international humanitarian assistance would probably be unlikely, while Nepal would most certainly require it.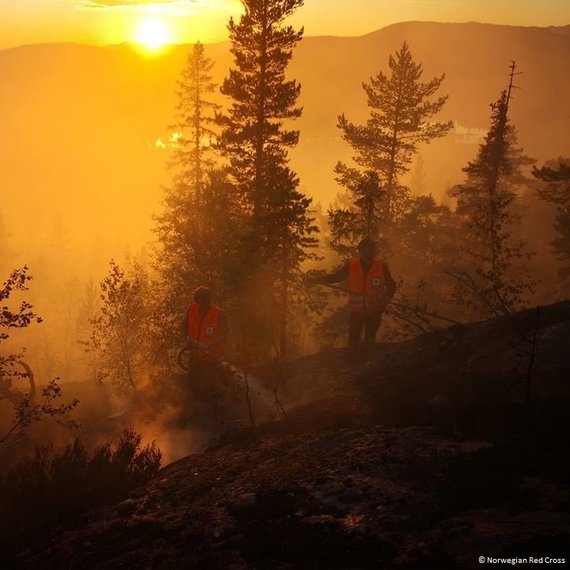 Lithuanian NGDO Platform/Norwegian Red Cross photo
In general, disaster management cycle starts with an emergency event and goes through four stages: immediate (emergency) response, which takes two weeks up to a month or two; recovery – post-disaster reconstruction; mitigation – prevention of that same disaster from happening again; and preparation for a similar disaster or event. This cycle applies to sudden emergencies such as earthquakes, floods, and droughts. However, what we are used to seeing is a linear humanitarian response, wherein emergency response is followed by humanitarian aid, then recovery and transition from humanitarian needs to development tasks, and finally the phase of development aid. In this linear approach, at the beginning there is a delay in funding, which then suddenly shoots up. Although there is never enough money, at this stage there is more money allocated to that particular event than there was before. Usually after a few weeks or months from the start of the emergency the funding reaches its peak and then plateaus before starting a gradual decline. Early on during the recovery/transition stage, there is something called "the CNN effect", which is related to the media: as long as the emergency is on the media, the funding continues. But the moment something else happens or the media gets bored, the money starts flowing somewhere else. This, Dr Wilk says, is what happened with the war in Syria, when a lot of the funding for humanitarian/development aid dried up as soon as the war on Yemen started, when governments transferred their humanitarian funding there. After that, the funding decreases until international funding institutions such as the World Bank or the International Monetary Fund start moving in, usually two-three or more years after the initial emergency. "The problem is that the funding decreases while people's humanitarian needs are still there," says Dr Wilk.
Disasters themselves have different types. First, there are the natural ones (earthquakes, floods, volcano eruptions, tsunamis, etc.). Then there are the so-called environmental emergencies which are technological or industrial accidents, such as collapsed dams or oil spills. This category, says Dr Wilk, also includes large forest fires because they are often caused by humans. Another disaster category is complex emergencies which include conflict situations and civil wars. And then there are pandemic emergencies, like the Ebola one in Western Africa in 2013-2016. They all pose the need for humanitarian action but require different approaches.
Undoubtedly, such disasters have a huge toll on human health. Immediately after a natural disaster there is a huge spike in trauma and broken or fractured body parts and wounds as well as, often, infectious diseases. The problem here is that in such situations people don't usually go to hospitals because they are often already full; while later on, non-disaster related diseases or other medical needs (cancer treatment, maternity issues, surgeries) accumulate immensely because during an emergency people were forced to wait to be admitted and taken care of. This creates a rolling ball of non-health both during emergencies and for a long time after them.
Lithuanian NGDO Platform/PCPM Polish Center for International Aid training of fire brigades pesronnel in Kenyna
Polish EMTs operate only in response to calls for international humanitarian assistance: they don't go if they are not invited. Dr Wilk says that their presence in a foreign setting has to be confirmed by local authorities which give PCPM permission to practise medicine in the area they claim authority in. One such situation occurred in 2015, after an earthquake struck Nepal. Polish EMTs arrived in the most affected area and set up a field hospital unit where they took care of the wounded. They also brought humanitarian aid – blankets, water purification tablets and other such things, in order to prevent the outbreak of diseases, and set up temporary shelters for people whose homes had been destroyed in the earthquake. That was their immediate response.
One example of longer-term engagement in humanitarian efforts is the assistance to refugees and other displaced persons in Syria and Lebanon. In Syria, around 60% of its total population of 22 million – some 13 million people – are displaced, half of them being refugees and the other half internally displaced persons (IDPs). Three quarters of the displaced – around 11 million people – are in need of humanitarian aid. "Syria was the biggest humanitarian crisis of the last decade," Dr Wilk says, "before Yemen." In neighbouring Lebanon, there are around 1 million Syrian refugees, in addition to around half a million refugees from Palestine that have been forced out from their land by the newly-created Israel in 1948. In Lebanon, PCPM provides Syrian refugees with temporary employment under the "Cash for Work" scheme – paying salaries for labour-intensive, low-maintenance jobs such as laying pavements, digging or cleaning drainage channels, etc. Another similar scheme is "Cash for Rent", whereby the agency covers accommodation costs for refugees who do not want to live in horrendous conditions in tents. Dr Wilk says that Polish PCPM prefers focusing on solutions that maintain the dignity of the person who is receiving aid, therefore cash assistance is preferred to other means that may be more patronising. PCPM also helps out with exporting agricultural products, as many Syrians in Lebanon are employed in agriculture.
Used to working in emergencies and in areas affected by natural events, Polish EMTs were first deployed in a different setting in response to Covid-19 – first to Italy, then to Tajikistan, Kyrgyzstan, Madagascar, Lebanon, and Ethiopia. In Lebanon, they also assisted people after the 2020 August explosion in Beirut port.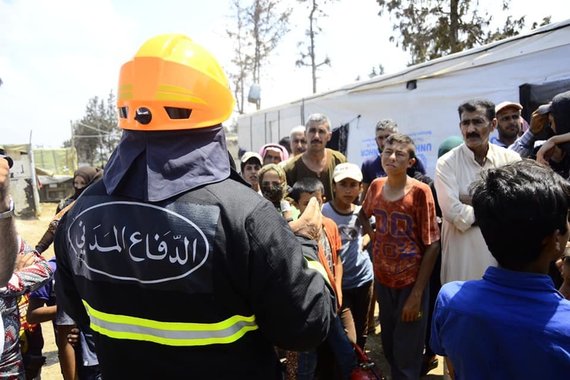 Lithuanian NGDO Platform/PCPM Polish Center for International Aid, Lebanon
But challenges remain many, and then some. Dr Wilk admits that collapsing economies lead to instability and migration, increase in unemployment, poverty, aid dependency, delayed access to medical treatment, and lack of funding. Yet the means are changing slightly: for example, humanitarian agencies that have been focusing on IDPs or refugees are now needed to support local host populations. "So when Polish doctors are needed at home, they stay in Poland instead of being deployed elsewhere," says Dr Wilk.
Prenumeruoji MAX?
Prisijungti
Išsirink planą ir skaityk be ribų
Mėnesinis
planas
Pirma savaitė - 0,01€,
vėliau po 3,5 €/mėn.
Apsimoka
Metinis
planas
Mokant iš karto
už 12 mėn. – 33,50 €
Apmokėti
Įvesk savo mobilųjį numerį, atsiųsime kodą
Į mobilųjį išsiuntėme kodą. Įvesk jį ir skaityk toliau