The buildings purchased by EREF hold long-term lease contracts. The first building, located in Ukmergės g. 252 and spread across more than two thousand square metres, is an Audi dealership, the long-term tenant of which is UAB Moller Auto Keturi Žiedai. The second building of almost three thousand square metres is located on Laisvės pr. 127 and houses a Volkswagen dealership. Its long-term tenant is UAB Moller Auto. The seller was offered legal consultations from TGS Baltic, while the buyer was advised by Fort Legal.
According to EAM CEO Viktorija Orkinė, this investment is considered especially safe because the purchased buildings have been developed by Moller Auto itself, based on the company's own needs. The premises also have long-term lease agreements which can be extended. If a decision is made not to extend the contracts, new projects could be developed on the land thanks to its attractive location within the city.
"We are pleased to have reached a deal with EAM for the sale of these two objects. It is a strategic step in the management of our portfolio. Through the sale of these objects, we will be able to concentrate on our main business operations and make use of the released capital for further business development," says Thomas Sletten, head of Møller Real Estate Baltic.
According to Andrius Švolka, head of transactions for Baltics at investment group Newsec, this deal reflects the new sales leaseback trend. Companies are choosing to sell their real estate and remain as tenants of these objects, diverting any free capital into their main operations. The number of such deals is expected to rise in Lithuania in the future.
Luminor bank real estate financing expert Gediminas Kesminas notes that, despite uncertainty and the constantly changing forecasts, the Lithuanian real estate market remains resistant to the challenges of the pandemic. "While car dealership buildings are a specific type of real estate, the credibility of this deal comes from the long-term experience and success demonstrated by both parties in their areas of operation, as well as the attractive location of the objects and the extra opportunities for developing this land in the future," says G. Kesminas.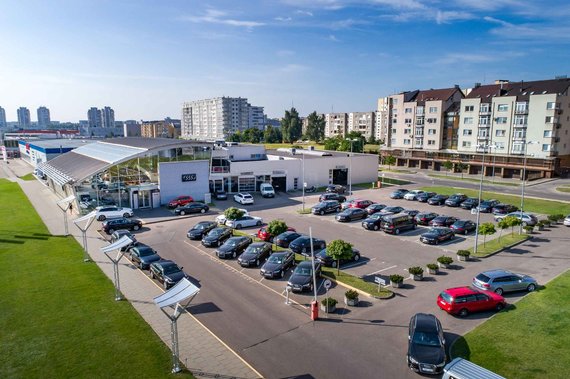 Audi dealership
The Moller Auto property acquisitions became the third and fourth EREF investments, completing the portfolio formation for the investment funding attracted during the first distribution. The fund has previously purchased the business centre Highway in Vilnius and signed a deal with UAB DHL Lietuva for construction of an express delivery terminal near Vilnius Airport.
EREF is the second real estate fund managed by EAM, investing in commercial-purpose objects which operate already or are still under development. EREF invests in traditional commercial real estate – office buildings, shopping centres and logistics in the Baltic States – and is aimed at informed investors. Alongside the external investors, EIKA Group's capital is also being invested.
Šis turinys skirtas
tik prenumeratoriams
Prisijungti
Mėnesinis
planas
Pirmas mėnesis – tik 0,99 Eur,
vėliau – 4.99 Eur/mėn.
Geriausias
pasiūlymas
-40%
Metinis
planas
Jūs gausite:
15min prenumeratą
Filmus ir serialus ŽMONĖS Cinema
Naujienlaiškį BNS Sprintas
Išsirinkite mokėjimo būdą
Apmokėti
Nutraukti prenumeratą galėsite bet kada.
Įvesk savo mobilųjį numerį, atsiųsime kodą
Į mobilųjį išsiuntėme kodą. Įvesk jį ir skaityk toliau
Norėdamas tęsti – prisijunk
Norėdamas tęsti – užsiregistruok