Real estate trends highlighting these needs will also dominate in 2020. Thus employers competing for the best specialists already have guidelines set for them, Linas Savickas, the property management director of Darnu Group wrote in an editorial.
The guidelines suggest an office in the city centre or close to it, in a modern and technologically advanced building with quality planning of its internal spaces. A unified criterion will continue to be a variety of popular eateries in the vicinity, sports clubs within a few minutes of reach, bars, other leisure and entertainment venues and various services.
Market absorbs quality projects immediately
Employers themselves concede that employing a young specialist outside areas in the city centre or around it, where everything is within hands reach and after work, there is active socialising, is becoming an increasing challenge. A similar trend is also enveloping broader employee age groups because increasingly many young families and older ones, who already have children and are often returning from the suburbs, want to live and work in the centre.
All the new offerings of quality and well-placed offices in good locations in the capital have been rapidly occupied by the market this year, and in Vilnius, just within the first three quarters, the same number of new offerings have been employed as throughout all of 2018. This year, one of the most extensive office space offerings for the market in the form of the Park Town business centre's second building's 15 thousand square meters already had newcomers on all its floors on its very opening day. A 14.9 thousand square metre class A office space area named Paupyje, which is due to be completed next year, is also rapidly filling in its vacant spaces.
Despite vast demand, tenants are becoming increasingly demanding as well, expecting from both developers and building owners excellent building quality and location, more flexible tenancy agreement conditions, various extra service, easily transformed spaces. The desire of employers to raise the bar of office quality is displayed by statistics as well: the data of the first three quarters of 2019 shows that 32.8% of tenants changing their offices to new premises chose higher class spaces, while the rest retained ones at the same level.
As such, it comes as no surprise that in Q3 this year, the company Ober-Haus calculated that the vacancy of class A offices were only 1.9%, while class B+ offices – 3.5%. Other than us, only Germany's major cities can boast of such numbers – Berlin, Cologne, Munich. Of course, we cannot match these cities in the number of our offerings.
Demand to continue to grow due to three reasons
The need for quality, well-placed workspaces continues to rise to the development of global companies, their competition for specialists, as well as the growth of the start-up ecosystem – these trends have been observed for several years now and are likely to remain the main driver of growth in 2020. Every week, there is news of a new company obtaining Bank of Lithuania electronic finance license or an interview with a tech or client service company newly establishing itself in Vilnius.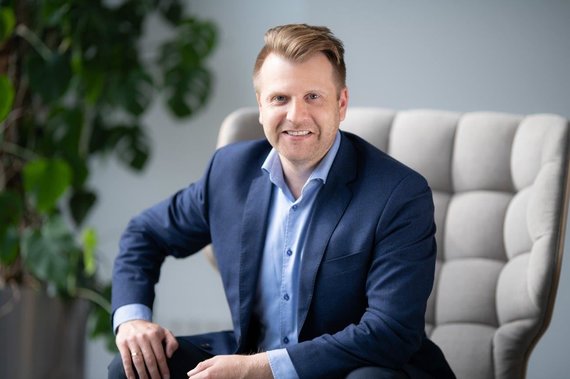 Linas Savickas. Photo Darnu Group
In the European context, we have an advanced regulatory environment, friendly infrastructure and rapidly developing financial technology start-up ecosystem; thus we attract various modern companies, which employ millennials and later generation staff, who raise the bar for office requirements. There is a real possibility for a protracted Brexit process next year, which in part leads a slew of fintech companies to search, through what country to "return" to the European Union.
Lithuania and specifically Vilnius put much effort into attracting such companies. Thus we have all the opportunity to continue these processes next year as well, thus retaining this year's office development trends.
A slightly more complicated situation may likely emerge in a different area – soon there will be especially many new class B+ business centres built rather far from the city's central part. Filling them may become a puzzle for developers not only due to growing competition in such products but also due to the tendency mentioned above of employers to shift toward the centre. As such, filled vacancy numbers may decline in buildings with some distance to the city's heart, perhaps even leading to a small price correction downward.
The desire to be at the centre of events is also reflected in the development of coworking spaces – most of them offer their services in the central part of the city. Coworking space developers observe that limited parking opportunities become an ever lesser problem due to growing and more convenient integration of alternative means of transport (bicycles, scooters, car-sharing services).
In Vilnius, coworking spaces currently comprise only three and a half per cent of the overall office offerings, while in mainly developed cities, it reaches 5%. However, studies by various real estate companies show that over the past four years, the amount of coworking spaces in Europe has grown more than 200% and this pace has not slowed. As such, there are no doubts that similar trends will also be reflected in the Lithuanian capital in coming years.
Favourable signs before challenges
While the trends as mentioned above for commercial real estate projects show promising signs, the topic of financing raises more questions for developers – rising loan costs and declining borrowing opportunities. Other significant challenges are the rapidly increasing costs of construction, this market's resources reaching their limits and the rising price of land. These aspects will likely adjust final project prices and developer profits next year. An undeniable impact will also be exerted on the market by stalled city general plan approval.
However, despite the challenges, in 2020, there are plans to complete office projects in Vilnius that will create 120 thousand square meters – twice as much as this year (64.1 thousand square meters). The main difference is that if this year, it was only class A business centres opening their doors, next year, 56% of new office openings will be for class B+ premises.
The market's dynamic nature is illustrated by how an entire 45% of new offices in Vilnius have been built in Vilnius over the last five years and 57% of workspaces currently in the capital have been established in buildings no older than ten years old, according to Newsec data. Nevertheless, when comparing square meters per resident, we are still far behind the Scandinavian capitals – Stockholm and Oslo, for example, surpass us tenfold. Thus, all players in the market still have space for expanding.
The author of this comment Linas Savickas is the property management director of one of Lithuania's largest developers of home, recreation and business spaces Darnu Group.