The Finnish green investment perception
"When searching for ways to use the saved up money to create more value, it is always commendable to explore at least several different alternatives, and perhaps to even analyze what residents of other countries are doing. For example in Finland there is a saying that "a forest is both a church and a bank". This forest perception shows that when people nurture their long held traditions and become capable of growing forest value, the benefits can be felt by all people in the country," says Justas Kaveckas, the CEOof the green investment platform Foros.
The platform's experts claim that there's a limited understanding of a forest as an investment tool, often this asset class is understood as old school, and forest asset management wrongly seems unattractive, is entangled in various myths, and as a result is often not even considered.
"I can confidently say that we were the first in Lithuania to offer a modern approach towards a forest as an investment. By successfully organizing digital forest auctions for the last three years, we have proved that timberland is a liquid asset class and that forest auctions, as a traditional and widely acclaimed way of buying and selling forests, ensure a transparent process and open market conditions. Regrettably the change of forest owner does not add value to the forest, but the value is added via sustainable and smart forest management, which today is accessible with a few button clicks. This means that one doesn't need to obtain special knowledge to be able to manage the forest properly - once connected to the platform the forest owner can see the forest portfolio market value, can confirm the actions that will grow forest value, observe the process, get reports, whilst the work is performed by carefully selected professionals", explains J.Kaveckas.
According to experts, unfortunately, Lithuanian forest owners often do not become advanced investors in the true sense of the word because they see a forest as an object that will create value on its own, and so they leave it up to fate or for unprofessional caretakers. However a forest can both quickly lose value or grow it, depending on what actions are performed in the forest and what kind of plan for growing forest value devised and implemented.
Forest resistance to inflation
Global investors acknowledge that a forest is an inflation resistant asset and often does not correlate to many of the other asset classes, therefore it is a good investment alternative. On top of that, in some countries forest investments are already understood as green and convey a responsible approach, therefore increasing numbers of investment managers can be seen directing some of the money to private forests and by managing sustainably, thus growing the value.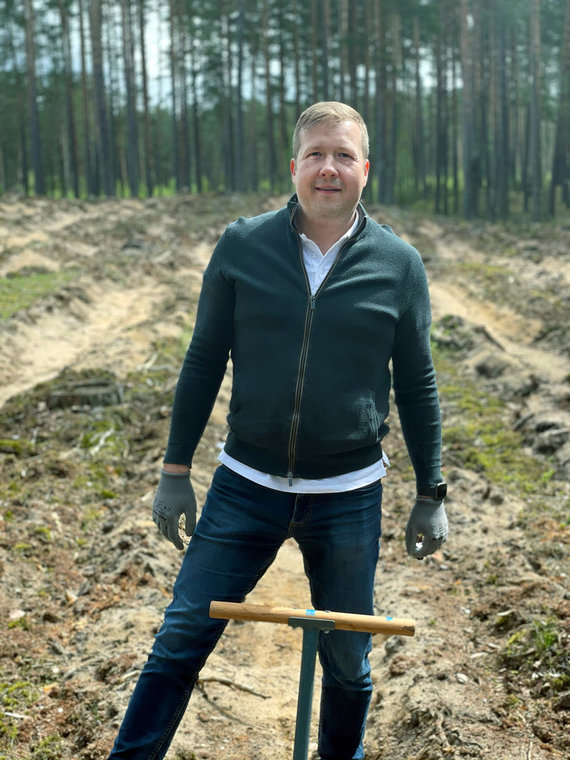 Foros/Justas Kaveckas
"There are ongoing discussions and signs that in the post-pandemic times Lithuanian residents will be especially concerned with the inflation issue and there will be a search for a wealth alternative that will preserve its value in the long-run, however is also very liquid when needed. Most recently we noticed that Lithuanian people have been actively buying forests and have become interested in more convenient opportunities to manage forests. The platform creates a possibility for forest owners to become investors, which will also allow the forestry market to finally contribute to the economic growth in Lithuania in a meaningful and significant way," assured the head of Foros Justas Kaveckas.
Jau prenumeruoji?
Prisijungti
Išsirink planą ir skaityk be ribų
Mėnesinis
planas
15min prenumerata

Kasdienis naujienlaiškis
BNS Sprintas

ŽMONĖS Cinema prenumerata
Pirmi trys mėnesiai – po 0,99 Eur,
vėliau – 4.99 Eur/mėn.
-50%
Metinis
planas
15min prenumerata

Kasdienis naujienlaiškis
BNS Sprintas

ŽMONĖS Cinema prenumerata
Apmokėti
Įvesk savo mobilųjį numerį, atsiųsime kodą
Į mobilųjį išsiuntėme kodą. Įvesk jį ir skaityk toliau
Norėdamas tęsti – prisijunk
Norėdamas tęsti – užsiregistruok