Construction work on the Hilton hotel is due to start in 2021 and conclude in 2023. When work is completed, the hotel will be among the largest in the city. Venice greatly limits the possibilities of new constructions due to especially high heritage conservation regulations. The construction permit for this project has already been issued, and a selection process is underway for contractors, with this step due to conclude in November.
It is planned for investment in this especially advanced hotel to reach up to 60 million euros. A significant part of it will be directed to reducing its environmental footprint. The building will feature environmentally friendly lighting, heating-cooling and ventilation solutions, as well as a solar power system. An underground parking lot with space for 106 vehicles will also require particularly complex and innovative solutions because the water level in Venice almost reaches up to the ground level.
Hanner will be the main financial partner in this project, with Apex performing project and hotel management functions. Hanner will own 65-70% of the project's shares, while 30-35% will go to Apex Alliance. The latter partner's share could change depending on achieved results.
"This is a unique opportunity to invest in and build a hotel in Venice, which is one of the most popular tourist destinations in Europe. We believe that the pandemic's impact on the hotel business is limited and that now is the best time to invest in this sector," Arvydas Avulis, Hanner's chairman of the board, says.
The investors chose the Hampton by Hilton franchise model intentionally. This brand is oriented towards travellers seeking the best price to quality ratio and exceptionally high service quality standards. Hotels of this concept displayed the fastest recovery rates during the global pandemic and were the least impacted by it, if compared to other market participants.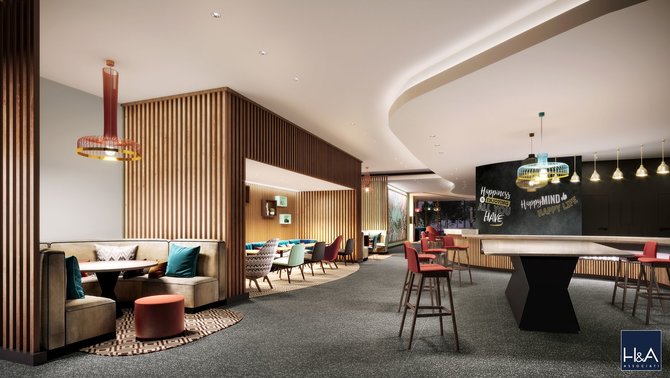 Hanner/Hampton by Hilton Venice interior
"The purposefully chosen hotel location in the city and the completed Hampton by Hilton hotel concept are an excellent match for the needs of contemporary travellers and will allow adaptation of effective and innovative hotel management methods. Furthermore, the tourist-oriented mid-price hotel niche is not yet filled in Venice. In 2019, the city's hotel occupancy was over 70%, and in August this year, it already reached pre-pandemic levels," Arūnas Beleška, chief shareholder of Apex Alliance, explained the choice of building a hotel in Venice.
Tronchetto Isola Nuova, which will host the hotel, has access to convenient and rapid water transportation. From here, it is possible to reach Venice's Old Town in four minutes and the airport in twenty.
The Hampton by Hilton hotel project and its interior were created by the Italian company H&A Associati.
About the project partners
Hanner is a real estate management company with more than 25 years of operation in the Lithuanian, Latvian, Romanian, Ukrainian and Russian markets.
Apex Alliance is a hotel management and operating business, managing Hilton and Marriott brand hotels in Lithuania, Latvia, Estonia, Poland and Romania.