It was Lithuania that chose me and not the other way around
This is how Jorge Costa starts his story, cracking a joke from the very beginning. He completed journalism and communications studies in Portugal and worked various jobs for daily papers, TV channels and news portals. With time, Jorge started feeling down and lacked the motivation to do better. "I decided to take a break and try something completely new. I took the chance to join the volunteer exchange program where I had two choices. I could go to Norway to work with the homeless or to Lithuania to help out in a forest kindergarten. I applied for both and got placed in Lithuania," said J. Costa. He admitted that all he knew about our country came from high school geography, such as where Lithuania was located, its capital city and its flag. Many things were new and unexpected to him, such as snow in March, when he came to Lithuania. However, the snow did not scare Jorge off. On the contrary, he found it to be a magical phenomenon that he had never had the chance to witness before as he was born in the seaside region of Portugal.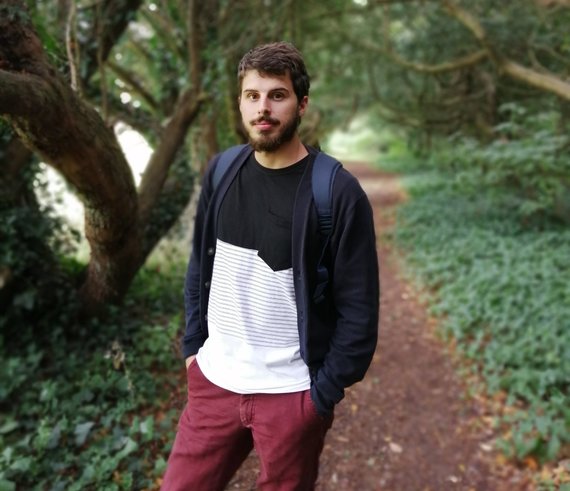 Personal album/Jorge Costa
The forest kindergarten in Vingis Park in Vilnius, where children spend all their days, except the coldest ones, outdoors, was also a completely unexpected discovery. "The forest kindergarten was a novel experience for me. I had never seen such a system before. I realized that connecting with nature was very important to Lithuanians and this is how they tried to convey it to their children, without restricting their freedom. It is truly amazing. In the mornings, when I would go to work and enter Vingis Park, I would feel like I was in a completely different world," said Jorge, having worked 10 months in the forest kindergarten. His duties and responsibilities included various activities and games with the children, taking care of their nutrition, nap time and teaching them English. "Of course, I had to learn a little Lithuanian as well, especially some phrases I could not do without at work, such as "go wash your hands", which I am never gonna forget," said Jorge Costa, laughing out loud, "While in the kindergarten, I came to realize that the Lithuanian language is the perfect language for communicating with children as it has so many diminutives and sweet words," said Jorge Costa.
Vilnius gave love and a new job
When asked for a reason he decided to stay in Lithuania after the volunteer program ended, Jorge smiled. "Love is the culprit here. I met a girl. She was Italian and not Lithuanian, as many would expect. She was also a volunteer in Vilnius. After her program ended, she found a job and stayed here. I also decided to hunt for a job and see where our relationship would take us." This is how Jorge started working at Fortis Media, a digital marketing agency, where he could finally put the communications degree he gained in Portugal to good use. Jorge is responsible for the content presented to the clients and its distribution and visibility in search engines. Jorge remembers joining the company soon after its establishment, when they had only several clients. Now, the agency is expanding quickly, the number of clients, mostly from the USA, increasing. His duties and responsibilities are growing as well. According to Jorge Costa, he enjoys his work as it is far from being monotonic. He has to communicate with people from all other the world and work with well-known international trademarks.
When asked to compare the work culture in Lithuania and Portugal, Jorge found more advantages in the Lithuanian one. "While working at Fortis Media, I noticed that we all have open relationships with our manager. Here, the manager is not some sort of a warden. He does not need a separate office or a strictly defined hierarchy. I had a completely different experience in Portugal and these differences can be felt heavily. In Lithuania, a manager is more of a leader than a boss. Also, here, employees are taken care of better and they have all the necessary conditions for work and social guarantees. Unfortunately, the situation is different in Portugal, where we have to resort to strikes to protect our rights," said Jorge. As for relationships between employees, they are similar both in Lithuania and Portugal, as colleagues enjoy spending their free time together after work and meeting up in the city.
Enjoying the Lithuanian weather and serenity
Jorge Costa said that it was not difficult for him to find his place in Lithuania. Even though Lithuanians are more reserved than the Portuguese, we only need a bit of time to get to know others, open up and start trusting. "When I go to a bar in Lithuania, I find myself enjoying the peace and quiet. In Portugal, everyone is interacting freely and speaking up louder. But I do not miss this too much as I do not like noise. I like it that the Lithuanians are polite and quiet and become so warm and open with you when they get to know you. This kind of relationship seems truer to me," explained Jorge. The fact that Jorge is far from being fluent in Lithuanian does not impede communication. According to him, this is the living proof that the Lithuanian language is a difficult one and has little similarities to any other language known to Jorge. His endeavor and lessons to learn Lithuanian have yet to bear the desired result.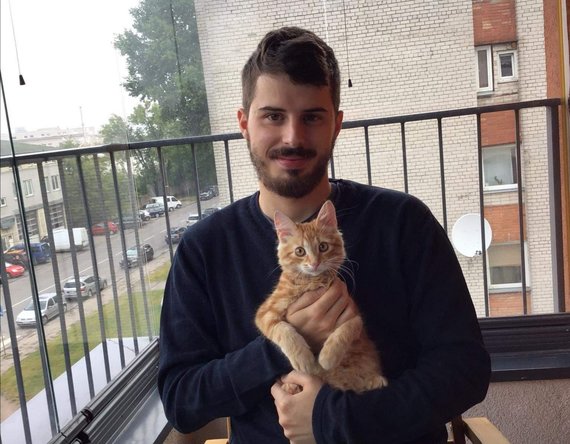 Personal album/Jorge Costa
Differently from others, though, the young Portuguese man has many good things to say about the Lithuanian weather. Despite not being used to the cold, Jorge believes it to be more bearable than the southern hot summers. All you need to do is put on something warm or stay at home. Dealing with the heat, however, is not as simple. Moreover, the change of the seasons is a gift that people rarely know how to appreciate. "Lithuania has all the four seasons and you can watch them change together with the nature all around you. It is nothing short of impressive when you can witness a lake covered in ice in winter and then the same lake teeming with life in summer. The seasonal changes are not that different in Portugal and you will most certainly not be able to see such a beautiful phenomenon," said our guest from Portugal.
Jorge Costa has many compliments to Vilnius as well. According to him, it is the ideal city to live in. Any place can be reached on foot or by public transport but it has the liveliness and the action of a real metropolis. Vilnius has many places where one can spend their free time and a number of events being held. As for other places Jorge has visited, Nida has left the deepest impression. "I visited Palanga as well, when my family came to see me, but it did not surprise me much. I was born in a seaside town, after all. However, Nida is a different matter altogether; it has unique sand dunes and a beautiful landscape, the likes of which I have never seen before," said Jorge.
Leave the interpreting to us! Translated by Pasaulio spalvos
Prenumeruoji MAX?
Prisijungti
Išsirink planą ir skaityk be ribų
Mėnesinis
planas
Pirma savaitė - 0,01€,
vėliau po 3,5 €/mėn.
Apsimoka
Metinis
planas
Mokant iš karto
už 12 mėn. – 33,50 €
Apmokėti
Įvesk savo mobilųjį numerį, atsiųsime kodą
Į mobilųjį išsiuntėme kodą. Įvesk jį ir skaityk toliau