"Innovation and sustainability are some of the main drivers of growth for the SBA Group's business. Thus, this newest investment of almost 100 million euro is only the beginning in displaying the SBA Industrial Innovation Valley's potential. Over the coming years, we plan to establish centres here, which will focus on the creation of industrial innovations and the manufacturing of sustainable and innovation-based products. Of course, this would be impossible without bringing together the best talents in their areas who we intend to attract here. By leveraging our skills, creativity and innovations, we will also create patented technologies here so that Lithuania could successfully compete on the global market," SBA Group vice president, SBA Home board chairman Egidijus Valentinavičius said.
The Inno Line manufacturing complex, which will be managed by the manufacturing group SBA Home, will produce foil on board furniture.
Greeting from the president
President of Lithuania, Gitanas Nausėda, who participated in the Inno Line introduction event, emphasised that the SBA Group's project is the fruit of successful cooperation between science, business, and society.
SBA Group/President Gitanas Nausėda
"One complex already installed demonstrates that the SBA Group is first and foremost future-oriented, professes the green economy and its principles, thinks about CO2 emissions and builds business on the right footing. I can easily imagine how robots will soon be working here and skilled, well-paid jobs will be created, which I, as head of state, can enjoy. This object also testifies to the economic viability of Klaipeda and its region - as a logistics hub, Klaipeda will be able to make better use of its potential. I congratulate all the employees and managers of the company for looking forward all the time. You are on the right path, do not stop," President G. Nausėda noted in his congratulatory speech.
The SBA Home's Inno Line will be the most robotised and automated furniture factory in Lithuania – the 50 thousand square metre factory will feature modern, efficient and innovative equipment. Some manufacturing devices will be among the fastest and most modern on the market. For example, the solution of robots concurrently putting together furniture parts into two separate packages on the packing line will be implemented for the first time in Europe. It is planned for sales to reach 100 million euro already in 2023.
The factory will comply with the highest energy efficiency standards to ensure sustainable manufacturing, with its environmental footprint being measured and consistently reduced, particularly in relation to CO2 emissions. The energy used by the factory will be sourced from renewables. Every year, major partners will be presented with an environmental conservation and sustainability report.
Minister of the Economy and Innovation Aušrinė Armonaitė, who participated in the event, welcomed Inno Line as the first factory in Lithuania to be recognised with the status of a major investment project (SIP).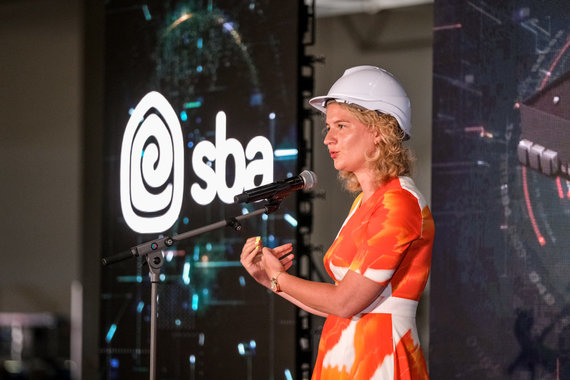 SBA Group/ Minister Aušrinė Armonaitė
"Today is a joyful day for the SBA community, the Klaipeda region, and for all of us, decision-makers who work every day to have more such success stories. This day is also joyful for me personally as a minister, as the construction of this complex is the first major investment project. 92 million euro investment is impressive figure. We expect many new applications for large investment projects as possible," said Minister A. Armonaitė.
Seeking staff already
The new factory will contribute to resolving employment challenges in the Klaipėda region. Inno Line will have a staff of around 600, and future employees are already actively sought out and trained. Jobs are offered to manufacturing equipment operators, equipment maintenance, technology and other specialists.
According to Rolandas Baltuonis, the head of the new manufacturing complex, the major investment project status granted to Inno Line will help create jobs faster and implement more innovative solutions.
"The SIP status granted by the Ministry of the Economy and Innovation will allow the allocation of greater investment to the Klaipėda region and to scale up manufacturing capacities faster. When creating new jobs, we commit to investing not only into manufacturing lines and robots but also into creating the best conditions for our staff," R. Baltuonis states.
Greetings reach outer space
During the Inno Line introductory event, a signal was released into outer space through satellite uplink, which will be possible to register even decades later when it is reflected from cosmic bodies, relaying greetings from state and the SBA Group's leaders.
The SBA Group is one of the largest in Lithuania. It operates in the furniture manufacturing, textile and real estate sectors. The SBA furniture manufacturing sector includes the soft furniture manufacturer Kauno Baldai, as well as SBA Home, which manages six manufacturing companies: Klaipėdos Baldai, Šilutės Baldai, Germanika, Visagino Linija, Mebelain, Laminn and the logistics centre operating out of the SBA Industrial Innovation Valley, Innovo Logistika.
SBA also controls the company Robotex, which offers robotics solutions and SBA Modular, which is to begin producing modular multi-storey buildings. The SBA Group employs around 5,000 staff members, exporting its production to 50 countries worldwide, with sales reaching 342.5 million euro in 2020.
Prenumeruoji MAX?
Prisijungti
Išsirink planą ir skaityk be ribų
Mėnesinis
planas
Pirma savaitė - 0,01€,
vėliau po 3,5 €/mėn.
Apsimoka
Metinis
planas
Mokant iš karto
už 12 mėn. – 33,50 €
Apmokėti
Įvesk savo mobilųjį numerį, atsiųsime kodą
Į mobilųjį išsiuntėme kodą. Įvesk jį ir skaityk toliau