International expansion
Based on SBA Urban's long-term strategy, international expansion will be a priority, and so only ideas with potential for implementation on the global market are being developed.
"We will develop projects which, through their exceptional ideas, attention to sustainability and expressive implementation, create long-term value for society and to us as the developers, and will grant a sense of purpose and pride. We will focus our operations on four core directions, all of which are bound by the traits of sustainability, architectural aesthetics and innovative solutions. By the end of 2025, we intend to invest more than 400 million euros in these directions and the total developed space since our business start will double, drawing close to 500 thousand square metres," says SBA Urban board chairman Lionginas Šepetys.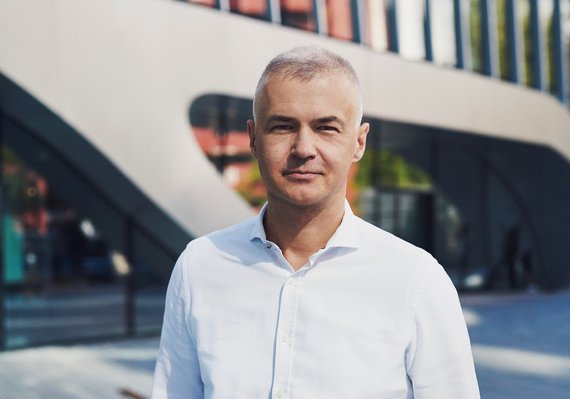 SBA Urban/Lionginas Šepetys
According to him, just by 2023, SBA Urban looks to invest 106 million euros, increasing to twofold in later years.
Four strategic directions
The first strategic development direction for SBA Urban is innovative business centres whose ideology will be based on staff health and wellbeing. According to Šepetys, the new generation offices will look to care for the employees' health "from A to Z" starting with healthy food, clean air and exercise opportunities, and ending with innovative personalised diagnostics solutions.
The second direction is future high-tech campuses. The campuses will bring together science and high-tech business communities whereby members can exchange ideas, create future projects, live and experience purposeful leisure activities.
The third direction of strategic development is e-commerce hubs. SBA Urban has created a perspective real estate concept which is aimed at exclusively the currently thriving e-commerce businesses.
The fourth direction is entirely unique: wind towns. SBA Urban intends to create a unique space on the Lithuanian seaside for windsurfers, kite surfers and other wind-sports enthusiasts.
"These will be exceptional oases for those who love nature, the wind, and the sea. They will feature not only sports but also attractive leisure locations such as cafes and cinema halls, and will contain ecological CO2 neutral houses, which will be available for sale, and the entire town's concept will be tailored to ensure it is impossible to be bored. Around the world, wind sports are rapidly gaining in popularity, but in Lithuania the fans of these sports are somewhat neglected. We are confident in our ability to develop this visionary project here, just as we are confident in prospects to later export it to various continents as we seek to create a network of unified concept wind towns," he states.
According to the SBA Urban board chairman, they have been working in all four priority directions for some time, and prospective land has already been purchased for some of the projects, while for others the search for suitable territories continues. Meanwhile, concepts that are easily modifiable and adaptable to various markets and their specifics are being prepared alongside world-renowned architects. SBA Urban will start with a specialised high-tech campus project, which will settle in between Riga's old town and airport.
About SBA Urban
Operating since 2007, the real estate company SBA Urban has developed the architecture award-winning modern business valley Green Hall in Vilnius. In Kaunas, the company developed the business centre BLC and renewed the Unity Square, which has earned an award from the German Design Council, and has developed the only river water-cooled business centre in Kaunas – Kauno Dokas, which is owned by Capitalica Asset Management. In 2020, the portfolio of projects developed by SBA Urban was supplemented by the logistics centre and furniture component factory buildings constructed in the SBA Industrial Innovation Valley near Klaipėda, which were successfully handed over at the end of last year to the Estonian capital investment company Eften Capital's fund. SBA Urban maintains the principle to develop its projects while adhering to green productivity philosophy, sustainably using environmental resources, and focusing on renewable resources.
The SBA Group is one of the largest Lithuanian capital business groups operating in real estate, textile and furniture sectors. The group's companies employ a combined 5,000 staff.
Išsirink planą ir skaityk be ribų
Mėnesinis
planas
Pirmas mėnuo - 1€,
vėliau po 3,5 €/mėn.
Apsimoka
Metinis
planas
Mokant iš karto
už 12 mėn. – 33,50 €
Apmokėti
Įvesk savo mobilųjį numerį, atsiųsime kodą
Į mobilųjį išsiuntėme kodą. Įvesk jį ir skaityk toliau