BTT Cloud is becoming a part of the cloud service provider Skaylink. Skaylink continues to expand by bringing together leading managed service providers and building its portfolio of competences. The group employs over 500 cloud enthusiasts alongside the newly joining Lithuanians colleagues.
Currently, Skaylink is one of the largest managed service provider in Germany, Austria, and Switzerland (DACH). The joint ambition – further expanding within the EU and become a leading Cloud Service Provider in Europe.
UAB BTT Group will operate under Skaylink's name in Lithuania, so partners and clients will not experience administrative changes. Donatas Zaveckas continues to lead the company as he remains committed to BTT Group and Skaylink with a shareholding in the combined group. The company's service spectrum in Lithuania will remain unchanged, and the service and competence package, as well as coverage for cloud and DevOps services, will be greatly expanded.
The brand BTT Cloud is to be withdrawn from circulation by July 2022.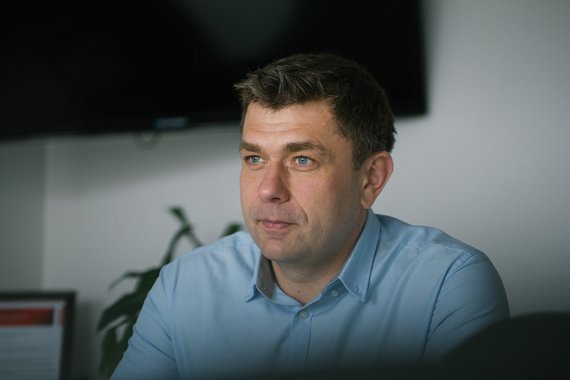 Skaylink/Donatas Zaveckas
"My ambition has always been to work from Lithuania for the entire world, to create jobs here, implement interesting, valuable, and profitable projects. Over a decade, we have walked an impressive path together and today, we are turning a new page. I know that we are excellent, but this deal is a recognition of our entire team. We will offer our clients an even higher standard of service quality alongside Skaylink," Donatas Zaveckas says.
Waterland is an independent private equity investment group that supports businesses in realizing their growth ambitions. With substantial financial resources and industry expertise, Waterland enables its portfolio companies to achieve accelerated growth both organically and through acquisitions. Waterland has offices in the Netherlands (Bussum), Belgium (Antwerp), France (Paris), Germany (Hamburg and Munich), Poland (Warsaw), the UK (Manchester), Ireland (Dublin), Denmark (Copenhagen), and Switzerland (Zurich), and currently manages more than eight billion Euro of investor commitments.
Since its founding in 1999, Waterland has consistently achieved above-average investment performance with its investments. Globally, Waterland holds rank four in the HEC/Dow Jones Private Equity Performance Ranking (December 2019) and ranked eighth in the Preqin Consistent Performers in Global Private Equity & Venture Capital Report among global private equity firms. In addition, Real Deals has awarded Waterland the title "Pan-European House of the Year 2020".
According to Tomas, Skeivys, the head of the Lithuanian branch of Norne Securities, the Waterland Private Equity is considered as one of the best investment professionals in the world, with an astonishing track record in the tech sector.
More:
About Waterland – https://waterland.de/en
About Skaylink – https://www.skaylink.com/
About BTT Cloud – www.bttcloud.com
Jau prenumeruoji?
Prisijungti
Išsirink planą ir skaityk be ribų
Mėnesinis
planas
15min prenumerata

Kasdienis naujienlaiškis
BNS Sprintas

ŽMONĖS Cinema prenumerata
Pirmi trys mėnesiai – po 0,99 Eur,
vėliau – 4.99 Eur/mėn.
-50%
Metinis
planas
15min prenumerata

Kasdienis naujienlaiškis
BNS Sprintas

ŽMONĖS Cinema prenumerata
Apmokėti
Įvesk savo mobilųjį numerį, atsiųsime kodą
Į mobilųjį išsiuntėme kodą. Įvesk jį ir skaityk toliau
Norėdamas tęsti – prisijunk
Norėdamas tęsti – užsiregistruok