It is silently conceded, though, that this year's fair will also be full of other characters that have nothing to do with St Casimir, patron saint of Lithuania in whose honour Vilnius has been having a fair every spring for several hundred years. For example, the festive procession on Saturday shall include several puppets lent by the Old Town Theatre: two bats, two bugs, two cats, and a giant stork.
On 10 May 1604, a festive parade greeted St Casimir's purple flag that was carried from Rome with the Pope's benediction. The procession extended across the entire medieval town, from the Cathedral to the Gates of Dawn and beyond, to St Stephen's church.
The latter could find some justification: in the olden days, people believed that it was birds that bring back spring on their wings. But what about the other creatures?
"We take whatever we get," laughs dismissively Marija Liugienė of Vilnius Ethnic Culture Centre, the Fair's cultural program coordinator.
It's nothing short of a headache to provide costumes for the entire parade as well as other indispensable paraphernalia of the Fair.
"We rent a lot of things from the Old Town Theater – including the puppet of St Casimir. We're currently negotiating with prop artists to make a better nose as it broke off over the years," Liugienė says.
Challenge of the flag
Leading the procession – that starts 11 AM on Saturday in Lukiškės Square – are a group of heralds blowing their horns. They are the ones who must part the crowd in order to make way for the procession. Right behind them are standard-bearers with flags of St Casimir and St Christopher, patron saint of Vilnius.
St Casimir flag was created by artist Nijolė Stunskaitė. "She is very knowledgeable in heraldry. The flag is made of leather and so is very heavy. Whoever  has to bear it one year, refuses to do it again," Liugienė reveals the secret behind the purple flag.
As it is customary, standard-bearers are followed by St Casimir himself. Behind him  – damsels with paper lilies, townspeople, and eight knights.
"When he was still a little boy, prince Casimir was sent to war with Hungary and therefore any procession in his honour must include soldiers," the coordinator remarks.
Behind the prince, there should follow a wolf – a giant puppet lent by the National Drama Theater, carried by four people. It is hoped that one day a sculpture of the Iron Wolf – figure from the town's founding legend – might replace the puppet.
The wolf is followed by characters of the Baltic mythology: Žemyna, Medeina and other gods and goddesses. "We are sometimes reproached that we lump together catholic and pagan symbols, but what can one do – such are the times, everything's a flux," Liugienė explains.
Teliavelis and "Kūlgrinda"
Ethnologists themselves fight over how Kaziukas Fair should look like, so the organizers do not feel much obliged to stick to any strict framework.
"Of course, there is something cacophonous about the procession, but in the olden days, every year had a slightly different fair. For example, sometimes a group of bright and enterprising students would come up with plays about St Casimir's life. We can't find them now."
Not even artisans always do their best: proper attire is sometimes missing, or a flag is nowhere to be found. Still, the Saturday's procession includes stained-glass artists, amber craftsmen, blacksmiths, potters, carpenters, goldsmiths, curriers, guests from St Bartholomew Fair, woodcarvers, and – most importantly as no Kaziukas Fair is imaginable without their products – palm makers.
There's also Teliavelis, a giant blacksmith god who wrought the Sun and threw it into the sky. He's followed by a folk band "Kūlgrinda"
Old stump
Special guests from the west, žemaičiai, will have their column at this year's procession too. Žemaičiai are to carry "baublys" – a hollow oak trunk that was worshiped well after the country was Christianized.
The parade also includes žemaitukai – Lithuania-bred horses that žemaičiai are particularly proud of. Hounds too. Žemaičiai are even bringing a bear that roars in their coat of arms. This time it is symbolic rather than real. But perhaps next year. Such ambition is not plucked out of the air – as bishop Motiejus Valančius writes in his 1847 letter, bears were usual guests at home sanctification ceremonies in Žemaitija.
According to sources, pre-war Kaziukas Fairs had a pair of polar "bears" inviting visitors to hug them for a picture.
At the very tail of the parade there will be a bluka – huge stump that symbolizes all the evils of the yesteryear, people's troubles and unfulfilled dreams.
"According to tradition, bluka must be pulled around before Christmas, but the "bluka pullers" invited themselves to our festival – well, the more, the merrier!" Liugienė laughs.
The theatrical procession sets off 11 AM from Lukiškės Square and proceeds towards the City Hall.
Picture reconstructed
On 10 May 1604, a festive parade greeted St Casimir's purple flag that was carried from Rome with the Pope's benediction. The procession extended across the entire medieval town, from the Cathedral to the Gates of Dawn and beyond, to St Stephen's church.
The marchers were grouped into four big crowds. The first one included town's artisans with flags, emblems and signs of their respective guilds. They formed a line according to the date their guild was founded. Goldsmiths stood at the front as they had received royal privilege back in 1495. At the time, Vilnius had a total of thirty two artisan guilds; later the number reached sixty.
Artisan guilds were followed by merchants and mercenaries of the night guard. Both artisans and soldiers were carrying full armour. Behind them stood the black cloth – clergy, monks, students from monastery schools.
Then marched the nobility accompanied by their liegemen and courtiers. Townspeople were greatly impressed by ladies from the noble families whom they saw from this close for the first time – still, they were covered by veils in token of humility.
A separate crowd was formed by university students or academians as they were know back then. Lined up behind them were the orchestra and "earthly and heavenly escort" of St Casimir – young men dressed as knights and angels, carrying paper lilies and blossoms of white roses in their hands. These ornaments finally came to become the famous Vilnius palms. The tail of the procession was made up of worshipers who came from more distant parishes.
This is how ethnologist Libertas Klimka, author of a book entitled "Kaziuko mugė," reconstructs the origins of the Fair that evolved from processions honouring Prince Casimir.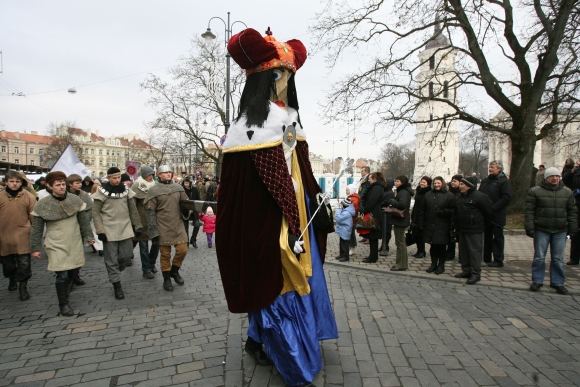 J.Kalinsko nuotr./St. Casimir got his nose broken off over the years.
History of Kaziukas Fair
1604 procession in the honour of St Casimir, accompanied by a festive kermesse ("kermošius")
1827 Vilnius merchants received a privilege to hold a "jomarkas" on St Casimir day – a longer three-day fair
1901 Kaziukas Fair moves to Lukiškės Square and the banks of Neris between the Green and Žvėrynas bridges
1935 theatrical fair procession got resurrected
From after the War, the Fair took place in Kalvarijos market, on the other side of the Neris bank
From 1991 Kaziukas Fair returns to the Old Town and becomes a three-day festival
2006 the Fair spills into Tymas quarter
2007 a procession of artisans was organized following the old traditions
Mėnesinis planas
Mokant už 1 mėn.
Pasirinkti
Tik nurodytoms banko kortelėms
Metinis planas
Mokant iš karto už 12 mėn.
Iš viso 47,88 €
Pasirinkti
Tik nurodytoms banko kortelėms
Išsirink tinkamą planą!
Apmokėti