– Russia has followed through with its threats to ban Lithuanian dairy imports, it has also ordered a more stringent supervision of Lithuanian meat and fish. Just recently, our haulers were subjected to unreasonably tight checks at the Russian border. In your recent address at the United Nations, you asked world leaders to take note of Russia's intensifying pressure on the EU Eastern Partnership countries and Lithuania. How is it possible to remain on friendly terms with Moscow?
– The situation deteriorated over a month ago, towards the end of the summer. We've seen the signs before, they are not new. When Russia feels geopolitic changes approaching, something that is not entirely in its interests, it reacts inadequately, shows its irritation, intolerance, sometimes even, I'd say, uncivilized behaviour towards countries or organizations. In spite of that, Russia has just become a member of the World Trade Organization (WTO).
Whenever Russia feels geopolitic changes approaching, something that is not entirely in its interests, it reacts inadequately, shows its irritation, intolerance, sometimes even, I'd say, uncivilized behaviour towards countries or organizations.
Let me remind you recent history. In 1990, after we signed the Declaration of Independence, Russia instantly – and I'm saying it frankly – retaliated with an economic blockade. In 2006, right before we sold Mažeikių Nafta (Mažeikiai Oil, the biggest oil processing plant in the Baltic States currently owned by Poland's Orlen), the pipeline Druzhba broke down and has not been operational since. In 2009, after a change of government, we saw the onslaught of the "milk war" and queues at the border. Today, the same story again.
Reasons behind this are probably numerous, including potential geopolitical changes to do with Eastern Partnership countries gravitating away from Russia, our own economic and energy independence, probably the LNG terminal construction, our decreasing dependence on Gazprom. Many reasons, not one, have caused such an inadequate reaction on Russia's part.
What I am a little surprised at is our own Government's attitude – I have just seen the statement by Agriculture Minister Vigilijus Jukna. He insists that there is no need to turn to the WTO, that these border checks are no big deal. Sure, if the Lithuanian Government does not think that a big deal, let's wait and see what comes next.
The Government must make preparations for turning to the WTO, collect information and evidence. That is indisputable. Certainly, international organizations will react, but we will still have to talk directly to Russia. A neighbour is a neighbour, we cannot ignore it.
I think this situation is the first serious challenge to the current Government. The ministers and the Cabinet as a whole will have to show what they can.
The examples I mentioned before and the current situation shows – and I am sorry to say this – that Russia gives itself an image of an unreliable partner, particularly in matters of trade and economic cooperation. Doubtlessly, we have to talk to Moscow, try to talk, engage in trade, economic wars should not exist in the 21st century. So far, however, we've seen evidence of unreliability, therefore our businesses should consider very seriously and make provisions for refocusing on other markets, including those of Eastern Partnership countries.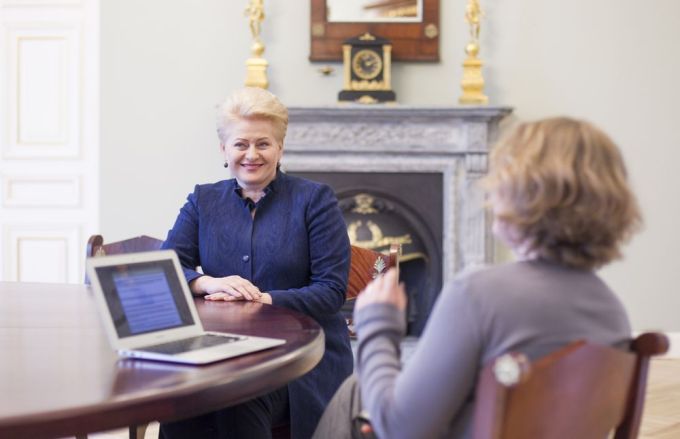 Dalia Grybauskaitė
– For the second time, parliament rejected the operations report of Prosecutor General Darius Valys. Even other prosecutors have been critical about the reform he has initiated – they say it brings more chaos and less quality. What are the achievements of this officer whom you yourself appointed to the office?
– Let's start with the reform. Indeed, a reform was endorsed in 2011 in parliament, initiated by a parliamentary task force and voted in favour by 103 MPs (out of 141), including the social democrats who make up the core of today's ruling majority. The prosecutor general is implementing a reform invented not by himself, but by the Seimas.
Under the reform, the office has significantly cut the number of commanding prosecutors and their deputies – of 190 remains only 91. Most of the internal discontent is about this reduction of "commanders," less privilege and more work.
I see this as a very positive development. I think that the current prosecutor general is comprehensively implementing the reform adopted by parliament. Having examined the report, I can say that, over 2012, prosecutors have closed 20 percent more cases than in 2011 – and more than in any other year since the Independence. More tempo, shorter preliminary investigations – on average, the duration of preliminary investigations was cut to five months; we can recall that some high-profile cases were investigated for two decades – and breakthroughs in high-profile cases. For example, concluding the preliminary investigation in the Medininkai checkpoint massacre case, suspicions brought against 78 foreign nationals in the 13 January (1991) case – something that has not been done in over two decades.
Another possibility – that some members of the Seimas did not come here to work for the people of Lithuania but to put their hands on the European money.
The reasons (for parliament's vote) are most likely to not lie with the prosecutor general's office but elsewhere – they are probably to do with politics. Some members of the current Seimas find such destructive behaviour acceptable, engaging in revenge, getting even with the law enforcement instead of working for the good of the country. We have seen this kind of destructive revanchism going on for a year. This Seimas has yet to put forward any serious bills or show accomplishments of any consequence.
A reason why this has been so might be that they are simply incapable of anything. Another possibility – that some members of the Seimas did not come here to work for the people of Lithuania but to put their hands on the European money that will start coming in 2014. Perhaps that's why they adopted amendments to the Law on Public Procurement that have been deemed vulnerable to corruption by the Special Investigations Service, Transparency International, other law enforcement institutions.
Obviously, efforts and loyalties of some MPs lie elsewhere. And when this is the case, a prosecutor general who does not succumb to pressure and does his job is not to everyone's liking.
I think – and this is not just my opinion, it is shared by constitutional law experts – that parliament's attempts to oust the prosecutor general by rejecting his report is a way of politicizing law enforcement institutions, including the Prosecutor General's Office. I'd say that by doing so, some MPs are demonstrating disrespect for the Constitution.
– Vydas Gedvilas, (MP of the Labour Party which was recently tried for fraud) who was the parliament speaker until last week, has stated that should parliament's opinion on the prosecutor general's work be ignored, it would mean disrespect to citizens who elected it. What will you do in response to parliament's decision?
– Such claims by any member of the Labour Party are a form of pressuring law enforcement institutions, particularly bearing in mind that the Labour Party case goes to a court of higher instance on 10 October. In general, the fact that Labour MPs took part in the vote (on Darius Valys' report) is a breach of the Constitution and this decision cannot provide grounds for either dismissing the official or taking any other action against him.
– The country has been shocked by a series of violent crimes. A 17-year-old was gunned down in Biržai, a teenaged girl was raped and burnt to death near Panevėžys. Who's job is it to prevent such things from happening? Is it enough just to sack a few officials?
– To a great extent these are old problems, their sources, both objective and subjective, run deep. I'd like to classify them into two sets.
One of them relates to the so-called historic project of creating an emergency response system which has already cost us over 80 million litas. What we see is a massive waste of money and a lack of responsibility – at the end of the day, we still haven't got a well-functioning system.
The other is the general situation of criminality which has gotten more complicated following the economic downturn, when we see people struggling to get by, big fluctuations in quality of life, massive emigration. The general environment in the country is not very good. Therefore simply replacing a few officials will not do much good.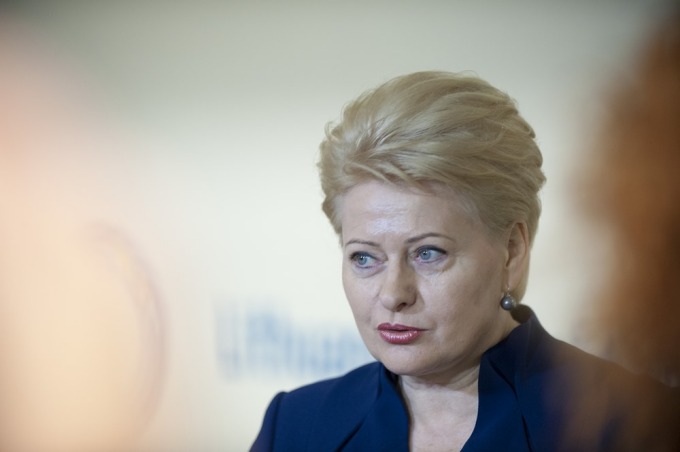 BFL/Butauto Barausko nuotr./Dalia Grybauskaitė
We must keep these general circumstances in mind as well as create better conditions for the police and other institutions to work, clearly delineate who's responsible for what. The call centre system was pushed around with everyone trying to escape responsibility for it. We must also keep investing into our law enforcement system – maintaining skills, conducting training, improving the material base.
– Experts have slammed your decision to sign into law the bill on repealing downturn-era pay cuts in the public sector. You yourself have been vocally critical of the law, which will mean pay rise for the higher-earning officials, and have called proposals to raise pay for low-earners populist. Why did you do it? (The law was drafted in response to a ruling of the Constitutional Court which said that when the previous conservative government introduced "progressive" pay cuts in the public sector – so that high-earners took bigger cuts than low-earning state employees – it violated the Constitution.)
– It's hardly populist to sign into law a bill that will raise pay for those who already earn much. I must have done a very unpopular thing. I signed it because it's a purely technical law – following a Constitutional Court ruling, had the Government made any other decision, the old pay rates would have come into effect automatically on 1 October. Without any provisions to cover the additional costs.
Since the Government drafted the bill very late, towards the end of September, I had only two choices: Either to leave things as they were, in which case the old pay rates would have been reinstituted automatically, or sign the bill – voicing my reservations and criticism at the same time – which envisages a mechanism and financing sources and gives a more convenient timeframe for the Government to come up with extra funds.
What we've got is a not at all optimal and quite poor solution whereby, hiding behind the Constitutional Court ruling, we raise the pay for people who already earn more than the rest.
Why was I critical about the bill and said it was not the most optimal decision? The Constitutional Court said that it was only the different proportions of pay cuts that went against the Constitution, not the pay cuts as such. Therefore, when the Government was looking into ways to implement the ruling, it should have worked with the proportions, but instead it went for an easier and less inventive way – it decided to go back all the way to the former rates, which is much more expensive than it might have been.
Had they tried to come up with a formula to perhaps average the rates out and include all areas of public service – doctors, teachers, social workers, etc. – it would have been less expensive and more inclusive.
Whereas now, when I look at the list of who are getting their old pay rates back, honestly speaking, I am a little ashamed. Because it is not a pleasing list and makes it harder to look people in the eye. But it was the social democrats themselves who, back when they were in the opposition, turned to the Constitutional Court (about the pay cuts made by the then ruling conservatives) and now it is the Finance Ministry they run that lacks the ingenuity and imagination to settle the issue less expensively and more horizontally; eventually, what we've got is a not at all optimal and quite poor solution whereby, hiding behind the Constitutional Court ruling, we raise the pay for people who already earn more than the rest. That's what I had in mind.
– What would you suggest the Government should do now? The pay raises will set us back some 200-250 million litas (58-72 million euros). Where will this money come from?
– That's the problem. They picked the most expensive solution. Knowing full well that the budget was tight and that we must stick to fiscal discipline, they went for the option that will, sooner or later, be invoked as a precedent obliging to do the same for all other state employees. I criticize the Government for failing to consider both the state finances and all the people.
The extra cost might be covered, simply, from economic growth.
– We might start the year 2015 with the euro. What should we expect next year? Will we have to isuffer some austerity in order to control inflation? The economic situation is still quite fragile, while the ambition to join the euro zone will force us to economize.
– I think that the kind of austerity we had during the crisis is not in view in the near future, economic growth is stable enough, approaching 3.5-3.7 percent this year. It is a good rate, providing us with enough manoeuvring space to give a minimum boost in areas of pay, economy, and investment while at the same time sticking to Maastricht criteria and the fiscal compact.
We won't need austerity. Everything will depend on next year's budget. Next March, we will be scrutinized according to our indices, both those in this year's budget and next year's project endorsed by parliament. I think we stand a quite good chance.
– What do you make of the negotiations with Gazprom, when the Government opened talks and the president said there was nothing to talk about? It seemed that you held opposite positions on key negotiating points. Was it a tactical move or did the Government indeed not coordinate this thing with you?
– It was the truth, I never engage in tactics in the public. In fact, the talks started without consulting the state leader, but then things were straightened out. At the moment, we have coordinated all our positions among myself, the prime minister, and the minister of energy, we cooperate with the Government. We all agreed on the reply that was sent to Gazprom.
– It is still unclear what will happen to the Visaginas Nuclear Power Plant project, the shale gas issue also hit the rocks. Can you tell us when we are to expect the end to this toing and froing?
– Indeed, these projects have not been going smoothly so far. I'd only like to wish to this Government the capacity to follow through with the projects that are well underway – to finish the LNG terminal which is so important to us. I still have a lot of doubts about the capacity of the current Government and parliament to launch new projects. Little is known and I would not like to speculate or speak on their behalf.
It's a matter of political will and ability to see interests of the state beyond the four-year term whether or not Lithuania will launch any strategic projects. As things stand now, I see little of this ability and we won't probably get answers anytime soon.
– We're half-way through our presidency over the European Union Council. We've taken on the mission for the first time and the period is quite tough – negotiating with the US on a free trade agreement, the NSA spying scandal, debates on action in Syria, uncertainty about the Association Agreement with Ukraine...
– We're presiding during a very intense period, both internally and internationally. It includes economic challenges in many European countries, the US, Russia, and other regions as well as international tensions. The period is beneficial to Lithuania, because we have ample opportunity to show what we can. We engage directly and actively in many of these processes, like the talks on Eastern Partnership, negotiations with the US, looking for solutions in the Syrian crisis. All this gives us opportunity to learn, to showcase our capabilities, to raise our profile.
I would not like us making assessments of our own performance – let others do it. So far, from what I've heard, the feedback has been moderately positive. I would not like to indulge in optimism yet, because the final results will come in December. We are finishing talks on the financial perspective, should have a vote in the European Parliament in October or November.
I hope we stand a good chance to sign agreements with Ukraine, Moldova, and Georgia. If that happens, we'll be able to say that our presidency was successful.
There are many who want and try to put a spoke in our wheel, but so far things have been going well.